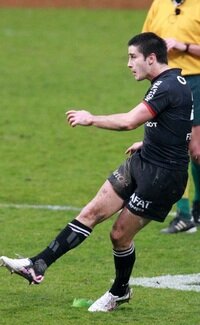 Match-winner:
 Nicolas Bézy
Photo: Eoin Mundow/
Cleva Media
Stade Toulousain 15 (3)
Montpellier 10 (7)
Stade de France, Paris
They left it late, not taking the lead until the 71st minute, but French giants Stade Toulousain eventually claimed their 18th national crown after downing brave Montpellier 15-10 in Paris on Saturday night.
For so long Fabien Galthié's Mediterranean underdogs appeared set to cause one of the biggest rugby upsets in recent French history, but 21-year-old Nicolas Bézy proved Toulouse's match-winner just in the nick of time as he calmly slotted two late penalties to secure the Bouclier de Brennus.
Up until Bézy's late intervention it appeared that starting fly-half David Skrela would mark his last match in Toulouse colours by frittering away his team's victory chances by missing with his five of his eight penalty attempts. But Skrela was eventually replaced by Bézy and the talented youngster showed nerves of steel as he landed the knockout blows that Toulouse's overall dominance had deserved.
If titles were won on heart alone then Montpellier - only formed in 1986 - may have been celebrating their inaugural French championship, but sport rarely deals with fairytale romance. Their defence was superb all night, led bombastically by their brave heart captain Fulgence Ouedraogo, who was playing despite a broken hand. They shackled the much-vaunted Toulouse back-line and showed a pickpocket's opportunism when Fijian winger Timoci Nagusa raced in for the game's first and only try just before the half hour mark.
The former Ulster player chipped over countryman Rupeni Caucaunibuca and then zoomed past Cédric Heymans to touch down under the posts for Argentine Martin Bustos Moyano to convert and leave the blue and white masses celebrating a 7-0 advantage.
Skrela, who had a night to forget on his farewell appearance for Toulouse, did at least get Guy Noves' side on the board with a penalty before the break, but the 1/5 favourites made too many mistakes - both out of foot and hand - as the prospects of a huge upset began to formulate.
Montpellier and France fly-half Francois Trinh-Duc edged his team further ahead with a neatly taken drop-goal soon after the resumption, and then it was all hands on deck as the underdogs attempted to defend their lead.
Skrela's continuing profligacy offered Montpellier further hope, but the Clermont-bound fly-half did at least land two more penalties as he narrowed the gap to just one point before departing in the 67th minute.
That left the stage clear for Bézy, and the precocious youngster duly stepped up to the plate with successful kicks in the 71st and 75th minutes, the latter while Montpellier were down to 14 men following the sin-binning of Benoit Paillaugue.
It was a cruelly late execution for Montpellier and their fans, but head coach Galthié later on spoke of this being the beginning rather than the end of the story. The former French international has surpassed all expectations by leading his team to this year's final, and he has done it primarily with a young side trying to play attacking rugby.
If they can go on from here and build on this experience - they will make their Heineken Cup debut next season - then Montpellier could yet emerge as a true force in French rugby. Toulouse head coach Guy Noves was fulsome in his praise of the vanquished after a gripping final, but few neutrals would deny that the south-west giants eventually deserved their 18th French title.
It may not have been achieved as they would have wished, but finals are for winning - by whatever means. This latest silverware will help dissipate the loss of their Heineken Cup crown, and as a full-stop to a tremendous season it was thoroughly deserved. Toulouse have been top of the pile since ascending the Top 14 summit in October, and this result was ample reward for a consistency that remains the envy of clubs throughout France and beyond.
They will be back again next year for another tilt at European glory as they seek to add to their record four titles, this time bolstered by the newly acquired playing skills of Luke McAlister, Luke Burgess and Lionel Beauxis. Frédéric Michalak may have departed, but the big red and black machine rumbles on.