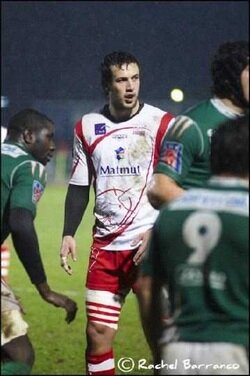 Locked-in: Harry in action for Tarbes
FRC columnist and Tarbes lock Harry Spencer gives his thoughts on what makes some clubs successful while others either flounder, or appear happy to plod along in mid-table obscurity...
One month ago a team-mate of mine wrote on his Facebook wall ?Cherch club avec ambition!!? which, to those of you who don?t know, translates as "Searching for a club with ambition!!".  It got me thinking, and over this past month I have gone over it many times. What is it that players look for in a club or team? How important is it? What characterises 'ambition'?
My first thoughts take me back about three years; I was a new addition to the Saracens academy at the time and we were coming to the end of my first season with the club. Then, if you were to ask someone to describe Saracens as a team you may well have come across the terms ?Mid-table?, ?Making up the numbers? and ?Team of mercenaries?. However harsh these might seem, they were ultimately true.
Fast-forward two years and Saracens took part in their first premiership final and only lost in the last five minutes to an all-conquering Leicester Tigers. Few had seen such a dramatic turnaround in such a short space of time. Let alone a repeat of that this season. What has happened? How has it happened? Why has it happened?
Ambition is at the heart of any successful club
Ambition, you probably could have guessed from the start of this article, is at the heart of any successful club. Chairmen and CEOs need ambition to keep backing their team to achieve their goal, and coaches require ambition to continuously seek new ways of improving training and tactics. Most of all, players need ambition in order to constantly strive for improvement and success. It is this ambition for improvement that I believe is the difference between the mid-table mediocrity and the repetitive success of the top teams in world rugby.
It may seem pretty obvious that an ambition to improve and win is the key to success, but I do think that this ethos is often lost in the modern world of professional rugby and the businesses that most clubs have become. What many people don?t see is that success breeds success and without that ambition the ?business? is destined to produce negative returns.
So, going back two years, in club house just outside of St Albans in rural Hertfordshire, a new Chief Executive and Director of Rugby were unveiled, bringing with them a great passion for success, and the ambition required to transform Saracens into one of the top teams in England. They assembled a good squad of like-mined and enthusiastic players, giving them the opportunity to prove themselves at the top level. They invested in the players' welfare, looking after them as if they were part of a large family, similar to how I believe Northampton have done during their ascension after regaining their place at the top table. Being well looked after, the players had no excuse but to focus on their performance and their ambition to succeed.
Shared goals
I think it is an important lesson for clubs to learn, that if they look after their players, then the players are free to focus on their performance and improvement as athletes, and essentially employees of the club. If all members of that squad then buy into the shared goals and ambitions of the group and stick by that, then they are well on their way on the road to success. If, however, players take advantage of the club or don?t buy in to the team ethos, problems are bound to occur. A key example of this is Gavin Henson?s recent foray into the premiership; clearly a talented player, I have been told his attitude conflicted with that of the Saracens squad, and sure enough, problems arose, and his premiership experiment ended prematurely. These problems also seem to have followed him to Toulon, where you can see that there is clearly a tight-knit team spirit.
This also works in reverse. If the clubs take advantage or mistreat players, this allows their attention to shift, often out of necessity, to off-field matters. When ambition to succeed becomes the least of their worries, the performance of the team and the atmosphere at the club suffers, leading to somewhat of a snowball effect which is very difficult to halt without wholesale change within the club.
Players often find themselves with two options, either finding a club who share similar goals and ambitions, or try and have an input into their current club by making suggestions for improvement. The latter option is potentially the more difficult due to the hierarchy within a team environment, where not everyone sees the same way, and the balance of power is unequal.
Feel free to share your views, thoughts and opinions on anything to do with French rugby in the frenchrugbyclub.com forum. Is Harry right about ambition, and can that 'ambition' be bought? Join in the debate and get those Gallic (or should that be garlic?) juices flowing... Forum
Previous Columns:
22.03.2011: There is something strangely satisfying about a good old rant 
16.02.2011: Land Rovers, Limoges and learning the language - Life as a ProD2 lock 
Harry Spencer Biog: Harry Spencer plays in the second row at Tarbes Pyrenees Rugby. Before joining in the summer of 2010 he had spent three years at Saracens Rugby Club as part of their academy, which also included brief loan spells at Southend, London Welsh and a season-long loan with Bedford Blues last year, as well as representing Devon in the County Championship and being part of the England Counties tour to Canada in June 2010 . He started playing rugby as his main sport when he was 17, after playing cricket, basketball and football whilst growing up. He attended Ivybridge Community College and hails from Plymouth, having made his debut for Plymouth Albion while still at school.