News: Chabal to appeal ban; Armitage joins Toulon; RC Narbonne relegated by DNACG
14 May 2011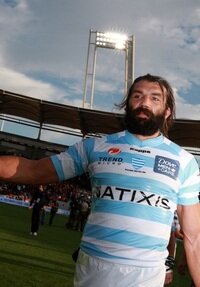 In the spotlight: Racing's
Sébastien Chabal will appeal
Photo: Cleva Media/Eoin Mundow
As bad weeks go this must rank as one of the worst in Sébastien Chabal's career. On Wednesday he was left out of the provisional France World Cup squad and then on Thursday he was banned for 60 days - meaning he will miss Racing-Metro's attempt to win their first French title in 21 years.
Chabal's lengthy ban was handed down by the LNR after comments he made in an interview with Journal du Dimanche criticizing Top 14 referees. Chabal branded them "useless" and further got himself in hot water by claiming they also favoured Castres and Biarritz - due to past and present links to the LNR presidency.
The interview had been meant to drum up publicity ahead of Chabal's autobiography 'Ma Petite Etoile' being published, but he has subsequently ended his ties with the newspaper.
Racing had tried to pre-empt the ban by having already suspended Chabal for two weeks, but their efforts proved in vain. The player has subsequently announced he will appeal - with the backing of his club - while the LNR's punishment included the offer that 30 days of his suspension will be chalked off if he agreed to carry out "activities in the general interest" of the game. In reality that means the 33-year-old must commit to doing some youth development coaching, undertake a referee's course and subsequently take charge of at least three youth matches before the end of 2011.
Chabal said he was "sad and disappointed" by his omission from the France squad - a decision coach Marc Lièvremont insisted was "solely performance based" - while adding that his criticism of referees was explained fully in his book.
"I do not expect there to be controversy around the book because my words are shortened in a newspaper article," he explained, adding that he had not meant to write a "polemic".
Chabal has refused to comment on his punishment in light of his pending appeal, but Racing head coach Pierre Berbizier has backed the player.
"I am surprised and sad for Sébastien," he said of Chabal being left out by France, adding: "He has paid for his comments about referees. He is the victim, not of sporting performances, but of the parasites that surround him and prevent him from concentrating solely on rugby".
London Irish have finally released England flanker Steffon Armitage to take up his two-year deal with big-spending Toulon.
The 25-year-old, who grew up in the south of France, joins a growing enclave of international stars at the hugely ambitious Cote D'Azur club.
Armitage has been capped five times by England, but the last of those was against Italy in the 2010 RBS Six Nations.
They already have the likes of Jonny Wilkinson, Carl Hayman, Gavin Henson and Joe Van Niekerk on their books, and are in an ongoing process of strengthening their squad with further global stars.
Toulon, who failed to make the Top 14 play-offs (and thus qualify for next season's Heineken Cup), have already secured the signatures of Matt Giteau, Bakkies Botha, Alexis Palisson, Sébastien Tillous-Borde, David Brown and Eifion Lewis-Roberts.
London Irish had originally denied any deal had been done when Armitage's move was first announced by Toulon in April, but it seems the Exiles were merely waiting until they had found a "suitable" replacement.
That now appears to have happened, although Irish could find themselves in hot water after Leeds accused them of unsettling Hendre Fourie and then making an illegal approach. Fourie made his international debut for England this season but is still under contract at relegation-threatened Leeds until 2012.
Leeds chief executive Gary Hetherington said Fourie's agent James Adams "contacted London Irish and negotiated a lucrative contract for Fourie in the weeks leading up to the end of the league season in full knowledge that the player was under contract."
Another transfer completed this week saw highly-rated Scottish youngster Mark Bennett, 18, sign for current French champions Clermont Auvergne.
The Ayshire teenager had a four-day trial at the French club last month - under the supervision of Clermont's former Scotland captain Jason White - and has now opted to take up their offer of a two-year deal despite recently making his Glasgow Warriors debut.
"I'm disappointed not to have Mark in my squad for next season, but I do wish him all the best," said Warriors coach Sean Lineen.
Bennett is already an Under-20 international and will be part of Scotland's Junior World Championship squad in Italy next month. The exciting centre paid tribute to his coaches in Scotland and said his decision to leave had not been easy.
"It was a great feeling to make my professional debut with my local club, and I would have been happy to stay in Glasgow, but the opportunity to join Clermont is one I cannot turn down," he added.
Clermont had already signed experienced Scottish international Nathan Hines, while team manager Neil McIlroy is also Scottish.
The latter told The Scotsman: "We're really happy. We identified Mark as having genuine talent and he made a positive impression when here on trial. He has a good head on his shoulders, which you need with the challenges you have coming to France and a new culture, but we'll look after him and make sure he develops into a fine player for us but also for Scotland."
McIlroy also stressed that Bennett had been signed on an Academy contract "not a big money French deal".
Elsewhere, it's been reported in the French press that Stade Francais could be over their financial problems if a Canadian consortium goes ahead with its plans to buy a 51% interest in the Paris club. That €12m investment would give the club a vital cash injection, but still leave president Max Guazzini with a 16% stake.
The proposal also reportedly includes a return to the Paris club for former coach Bernard Laporte, although in what capacity remains unclear.
The news was not so good for RC Narbonne, the ProD2 club which has reported a deficit of €1.2m. Club officials went before the DNACG this week to explain their situation, with the league's financial watchdog subsequently announcing that Narbonne would be relegated to Fédérale 1 as a result.
Narbonne has 10 days to appeal the decision, but if it stands it will mean a reprieve for Colomiers, who finished 15th in ProD2.