Special Feature: Rugby takes centre stage (briefly) as Barcelona play the perfect hosts
By Colin Spiro, 14 April 2011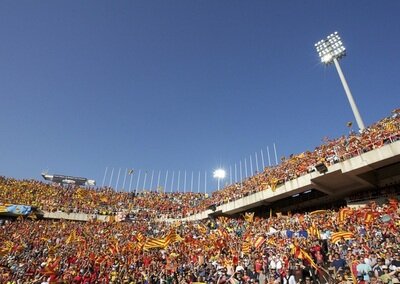 Awash with colour and noise at the Estadi Olympic
Photo: Eoin Mundow/Cleva Media
Think of Barcelona and what springs to mind? The city's famous unfinished Gaudi cathedral, the buzzing central street of La Rambla, or perhaps an image of Lionel Messi netting his latest dazzling effort for Catalan footballing giants?
Not for me, not any more.
For me Barcelona will now be forever linked with rugby, and that's not a sentence I ever expected to be writing.
When Perpignan announced that their Heineken Cup quarter-final against Toulon would be switched to Barcelona it seemed too good an opportunity not to pop across the border from my French Pyrenean base and sample what the Catalan heartland had to offer.
Hopes were high of a spectacle to remember as I headed south-east in company with my wife and young son in our 19-year-old Land Rover, but not in my wildest dreams did I anticipate what greeted us at the Estadi Olympic when we pitched up on Saturday afternoon.
The sky was a beautiful azure blue, the heat beating unrelentingly down from a dominant sun as the 'sang et orr' of Perpignan dominated the coliseum-like stadium. The noise was simply deafening, the colour spectacular and the overall atmosphere a heady cocktail of celebration and anticipation.
Toulon brought their own contingent of fans - they quickly sold all 6,000 of their allocated tickets - and their star-studded squad even briefly threatened to perform the mightiest of party 'poops', but ultimately the right winner emerged - not just in terms of play on the day, but equally importantly for the future growth of the game.
That may sound pretentious in the extreme but taking a top-grade club rugby match to Barcelona was unchartered territory - even if it was the fulfillment of a life-long dream for Perpignan president Paul Goze.
The scale of the challenge was quick to ascertain after I arrived at my city centre hotel and enquired about organizing a baby-sitter for my seven-month-old son while the match was played.
"No problem," said the kindly concierge as I explained my situation. "We'll organize it for 7pm," he added, naturally assuming that I meant the evening football match between Barcelona and UD Almeria.
"No, that's far too late, the game starts at 4.30pm," I replied, to quizzical looks all around.
To save further confusion I spelled out the fact I was attending the RUGBY match between Perpignan and Toulon at the city's famous Luis Campanys Olympic Stadium, to which I got a kind of "whatever" shrug of the shoulders and further bafflement.
It turned out the fully-booked hotel was occupied almost exclusively by groups of men in their 30s-40s, but that almost all were there to sample the city's famous night life and to try and catch a glimpse of Messi and company at the Camp Nou on Saturday evening. This is the true challenge facing rugby fans in Barcelona, and the game in general in Spain.
Football is king, with basketball the prince. Rugby, by contrast, is a minority sport.
And yet...
Come Saturday afternoon the city was awash with 'sang et orr' as the Perpignan fans began to emerge from their hideouts. Some 35,000 travelled across the border from France, with 6,000 more journeying from Toulon, but that still meant that 14,000 of the 55,000 sell-out had come from Barcelona itself. That's enough to fill most Top 14 stadiums on their own, and how they must have enjoyed it.
No segregation between the fans, no fighting, just unadulterated enjoyment of the game in hand. It wasn't a classic in terms of free-running rugby, but it will go down as an historic occasion nonetheless as Barcelona played glorious host to a match which turned out to be an afternoon, evening and early morning of Catalan celebration.

Catalan joy: Perpignan players soak up the
post-match party atmosphere in Barcelona
Photo: Eoin Mundow/Cleva Media
Toulon did their best to silence the crowds, but this was not their day - and nor was it meant to be. Saturday April 9th 2011 will go down as the day Perpignan finally made it to their spiritual homeland. Sunday April 10th 2011 will probably be remembered as the day the hangover began to kick in.
The eventual match-winner was the unlikely veteran prop Perry Freshwater, but perhaps it was fitting that an outsider (an English-Kiwi adopted by the Catalan faithful) should make the telling contribution. This was his first try in eight years since joining Perpignan, and the significance of his achievement wasn't lost on the former Leicester and England front-rower.
"Ever since I've been at the club the idea of getting a game in Barcelona has been the whole goal. Barcelona, Barcelona, Barcelona... and it was a fantastic occasion. But it wouldn't have been if we had lost, and we could have," he said afterwards.
Freshwater the unlikely hero as Perpignan pip Toulon
Defeat, glorious or not, would have been the biggest of bummers for the swathes of Catalan fans. A loss associated with the city, a dejection draped in blood and gold. But they didn't lose, and the memory banks will now be forever etched with victory, with sunshine, with noise and celebration.
Indeed, for the last six minutes, after Freshwater's try had secured the win, the Estadi Olympic reverberated with a noise I have never previously experienced in all my years as a sports journalist. I've been to 100,000 strong football crowds, 60,000 sell-out cricket matches, but I have never witnessed colour and volume on the scale I experienced in Barcelona.
The region's Sunday and Monday sports pages remained dominated by football and basketball, but for those 14,000 Barcelona-based fans, and the huge travelling support, this will be remembered as the day the Catalans' capital played glorious host to its rugby cousins.
Heineken Cup 2010/11 Results and Tables