Ollie Phillips column: 'I'm gutted to miss out for England, but my first loyalty is to Stade'
By Ollie Phillips, 22 May 2010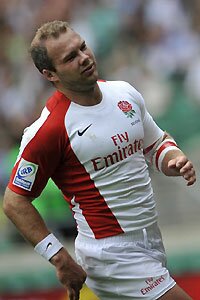 Not this time:
Ollie Phillips
Photo: Michael Paler
[FRC columnist Ollie Phillips, IRB Sevens Player of the Year, Stade Francais winger and  FRC columnist Ollie Phillips talks about missing out on playing fort England, reflects on his first season in France and looks ahead to the arrival of Michael Cheika].
The season may be over as far as Stade Francais are concerned ? indeed, it finished two weeks ago - but until Friday I thought I still had a few games left to play, but this time for England?s sevens team. Unfortunately that opportunity to play a couple of IRB tournaments, including this weekend at Twickenham, has now been taken away from me due to an ongoing player-release dispute in France. Essentially it involved four players who were not released by their clubs to play for the France sevens team, and who have now been dropped from the full French side to tour South Africa and Argentina this summer.
It didn?t really have anything to do with me, but with the clubs hardening their stance after the four players were dropped I have now been told by Stade Francais that I can?t play over the next two weekends either.
It is extremely frustrating, because I love playing for my country and I think it is the highest honour you can have as a sports professional, but at the same time I have to stress that my first loyalty at the moment is to my club, especially as Stade Francais have been so good to me.
Read More...