Exclusive Feature: Where Eagles Dare - SU Agen winger Kevin Swiryn flying the flag
By Colin Spiro, 17 May 2011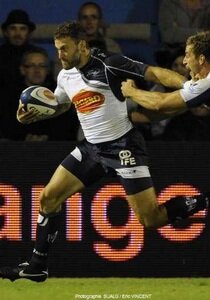 Soaring Eagle: Agen's American
winger Kevin Swiryn in action
Photo: Eric Vincent / SU Agen
Seven years ago Kevin Swiryn was a talented American footballer pursuing his sporting dreams courtesy of a scholarship at St Mary's College in California. As a wide receiver he had pace, nimble feet, good hands and a knowledge of the game – all valuable attributes - but then fate played its card. St Mary's were boxing above their weight and couldn't afford to continue funding their successful but over-stretched team. The football budget was terminated, the entire programme closed down and the dream appeared to be over.
As 19-year-old Kevin pondered his future, and considered switching universities, he took up an offer from two friends to join them for an afternoon of rugby – a sport he had never seen, let alone played. Within a week he was hooked, within a year he was touring with America's combined universities side, and by the age of 24 he was a fully-fledged international after making his debut for the US against Ireland in Santa Clara.
Two years later and he has come to the end of his first season with SU Agen, the historic French side which has managed to retain its status in Top 14 at the first attempt after gaining promotion as ProD2 champions.
Swiryn has certainly played his part, starting half of Agen's 26 league games. It's been a roller-coaster ride and a tumultuous season as he's made the transition from amateur to full-time club professional, and once it's all over he's got the Rugby World Cup in New Zealand to focus on as the US prepare for their Group 3 games against Ireland, Russia, Australia and Italy. He may play for the Eagles, but it's all a long way from California.
The move to Top 14 – the most moneyed league in world rugby – came after success with the US sevens team, and he finally made the switch in March of last year after SU Agen beat off interest from a couple of English clubs and signed him on a two-year deal with the option of a third.
The seven-time French champions have one of the richest histories in a country that overflows with rugby tradition. Agen have also been runners-up on six further occasions, the last of which was in 2002.
But this season was their first back in the top flight after running away with the 2009/10 ProD2 championship, and Swiryn was one of several new signings brought in to bolster the playing squad assembled by Christophe Deylaud and Christian Lanta. It was always going to be a tough season, especially for an American settling in a foreign country for his first ever stint at professional club rugby. But both he and Agen have survived, flourishing at times while floundering at others. The good has outweighed the bad and both he and the club will surely reap the rewards in 2011/12.
Tough start
"It's been great, it's been a wonderful experience, but it's been tough at times," he told frenchrugbyclub.com. "At the beginning of the season we started off pretty poor and it was tough to find a win, however I was getting a lot of game time as well, so that was good. But between the new language, the culture and not winning at rugby it was a tough start."
All coaching and team sessions were held in French and Swiryn – a self-admitted disciple of learning – found it difficult not to be able to mull over the game's finer points with Deylaud and Lanta. He was very much learning on his feet, both the language and the game, but it was a simple question of sink or swim.
"At the beginning it was really tough because I'm the kind of player that really enjoys learning the intricacies – the reasons why we're doing certain things, rather than just doing them. I don't just want to do it, I want to know why, and what the coach's thinking is behind it, especially a coach like Christophe because he's an unbelievable coach. So it was really frustrating for me in the beginning, but I'm starting to pick some of those nuances up now. Every coach is different and has their different systems, and it helps to understand every piece of the puzzle."
Swiryn's attention to detail was one of his strengths as a wide receiver, but he says the relatively narrow skill sets required to master the position are as nothing compared to what rugby requires. There is more fluidity in rugby – backs becomes forwards and vice versa – and that grander challenge was what first drew him to the sport.
Learning curve
"As a wide receiver I got to the point where I could catch the ball really well, I could run with the ball really well, I could run my routes really well, and by that point it was a case of 'how do I run my routes that much better?' It's taking half a step left rather than going straight, it's bending your knees a little bit more before you start, it's having your hands up in this position – it's the little things that in rugby you never ever think about. Meanwhile in rugby you're trying to practice your kicking, your passing, your tackling, your running, your up-and-unders, your high ball… there are so many skills you just don't have enough time."
And yet here he is, nearing the end of his first season in France. "I would never have guessed that I would end up playing rugby," he admits. "I didn't even know what rugby was until I was 19, so it's definitely a big change, but I'm glad I've pushed and done what I've had to do to get here, and there's been a lot of help along the way. There's no way I would have done it on myself and I wouldn't be here if there was only me. There's so many people that have helped me along the way."
His success on the IRB's sevens circuit had part prepared him for his moved to Top 14, but the major difference after joining Agen is that his twice-daily sessions are all done as a squad, rather than individually as was previously the case.
"Club rugby in the US is two days a week training as a team and then you do the rest of your training on your own. I was playing with the sevens team full-time, so I was training all year round anyway. It was similar to how we train here, two times a day on most days – doing weights and running – but of course it's not the same when you're doing it by yourself. It's been a lot different, but it's been good. You're in it all the time, whereas if you're training on your own – running, weights or rugby skills – it's just not the same as if you're doing it with your team. So you progress more, things become fine tuned with the help of other players and coaches."
That thirst for learning and undimmed desire for improvement single out Swiryn as an unusual student of the game. Betterment is the way forward, but lack of baggage has also been a blessing at times.
Agen registered just one league win in their first 10 games and despite playing attractive rugby they were heading for a swift return to ProD2. Some in the squad were clearly overawed by the transition up to Top 14.
No Baggage
"It's different for me because I didn't grow up playing rugby and I didn't grow up watching a lot of these teams or players. With some of our younger players it was like 'Oh, I'm really here now, I'm in the Top 14'. So I felt like in the first couple of months maybe they didn't believe in the possibilities. I believed we had a great team but why weren't we producing? Yeah, I think self-belief was part of it, but we also changed some of our systems part-way through the year to adapt. You can't just run from everywhere in Top 14 all the time, you have to play a bit smarter because if you make a mistake in your own half they're either going to score a try or get three points pretty quick," reflected the international winger.
A key 29-14 home win against La Rochelle proved the ice-breaker and Agen then went on to beat Racing-Metro (21-20) and Brive (30-12) in successive games as they began to turn their season around. Unfortunately for Swiryn he didn't feature in that initial win against La Rochelle and the coaches kept faith with their winning squad. It was frustrating, but the good of the team outweighed personal frustration.
"That's how it works at Agen, and it's good – it's about the team, it's not about individuals – but it kind of put me in a low for a little bit. Every season you have ups and downs - whether it's injuries, playing time or losses – but in the end when the team achieves its goals your personal goals should be achieved as well," he said.
Subsequent league victories against Bayonne, Bourgoin, Toulon, Clermont Auvergne, Castres and La Rochelle (again) ensured those goals were met, with Swiryn even having the satisfaction of scoring a try against the defending French champions Clermont.
The passion of the French crowds has also been enlightening, with Swiryn admitting he was stunned by the ferocity of support generated by the Agen faithful at Stade Armandie.
"Man, I was taken aback when I went to and played in my first game. I didn't realise that 12,000 fans can make so much noise. I've played in stadiums of 40,000-50,000 in Hong Kong and Dubai – the stadium in Wellington holds 30,000 and they get really loud - but it doesn't compare. And the great thing about is that they all understand the game so well. Man, they are so involved in the game. In American sports I would say that the average spectator is there for the food and the ambience, it's not necessarily about the game."
Swiryn may not have got as much game time as he had hoped this year, but he's sure he's a better player and can't wait to show that both at the World Cup and back in Top 14 next season.
"The improvement is mostly in the understanding of the game and in the awareness of my position as a winger. There's less hesitation in my game and the reaction time has decreased. My positional sense is better than it's ever been and I'm understanding the game better than I ever have," he said.
At the end of the season he'll take a couple of weeks off before reporting for international duty as the US team prepares for a tour of England culminating with the Churchill Cup. After that there's more training camps, warm-up matches and then the World Cup.
Honour
"What an honour to come into a sport like rugby and then play at such a world class event. Rugby does such a great job of treating their players at such high quality at an event like that, rugby does it really well. I've played at a sevens World Cup and that was unbelievable, I can't imagine what they'll do for a 15s World Cup. I think it will be really tough but I just hope I can take part in that," he adds.
Swiryn's also acutely aware that the 2011 Rugby World Cup presents another opportunity to boost the sport's profile in a country dominated by baseball, American football and basketball.
"There's a lot of universities playing it [in the US], but it's a lot more amateur [than other sports], even though college sports are amateur anyway. It's usually student run, but in the better colleges they have a lot better coaching and administration, they're running the programmes a lot better. It's definitely growing as a sport, with the money being put into it and the athletes coming out of it as well."
The likes of Takudzwa Ngwenya (at Biarritz), Chris Wyles (at Saracens) and Swiryn are helping to change preconceived ideas, and their success is also drawing more agents, scouts and coaches to have a closer look at American rugby. "If we play better and better then guys will start to get picked up because of our name," reasons the Agen winger.
The adjustment can be tough, but the rewards are ample for those that succeed.
"These guys [Ngwenya and Wyles] are ambassadors for our sport and it's important for the development of American rugby because kids can see these guys as tangible people that 'Maybe I have a chance', there's other options, there's chances to live overseas and live a different life from American football and basketball," he says.
Swiryn certainly doesn't rue discovering a new sport and a new life.
"I've had my ups and downs, but finding myself as a player and understanding myself more as a player has been great. You can't run over everyone, you can't run through or past everyone either. It's about knowing when to do one and when to do the other, especially in my position as a winger. In the US maybe you can do one or the other all you want, but here it's about picking and choosing your moments. This first year has gone by and I'm really, really excited to start a second season in Top 14 and show my progression more."
Ngwenya has certainly done that at Biarritz – racking up 47 tries in 106 starts for the Basques since joining after an eye-catching 2007 World Cup. If Swiryn can produce that sort of return the Agen will have been more than re-paid on their investment.