By Harry Spencer, 12 May 2011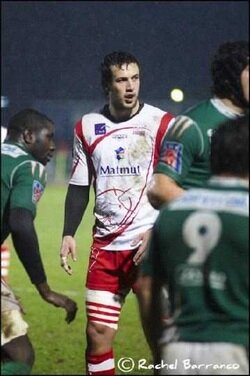 Locked-in: Harry in
action for Tarbes
FRC columnist and Tarbes lock Harry Spencer gives his thoughts on what makes some clubs successful while others either flounder, or appear happy to plod along in mid-table obscurity...
One month ago a team-mate of mine wrote on his Facebook wall ?Cherch club avec ambition!!? which, to those of you who don?t know, translates as "Searching for a club with ambition!!".  It got me thinking, and over this past month I have gone over it many times. What is it that players look for in a club or team? How important is it? What characterises 'ambition'?
My first thoughts take me back about three years; I was a new addition to the Saracens academy at the time and we were coming to the end of my first season with the club. Then, if you were to ask someone to describe Saracens as a team you may well have come across the terms ?Mid-table?, ?Making up the numbers? and ?Team of mercenaries?. However harsh these might seem, they were ultimately true.
Harry's Game:
"There is something strangely satisfying about a good old rant"
By Harry Spencer, 22 March 2011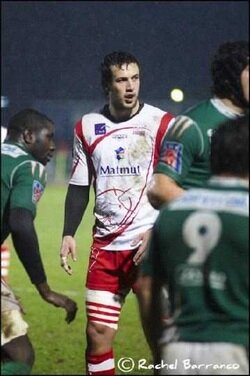 Locked-in: Harry
in action for Tarbes
FRC columnist and Tarbes lock Harry Spencer talks about the club banter, on and off-field expectations and why he believes mid-table mediocrity will do just fine, for now...
With six games of the regular season remaining Tarbes lie in 7th place in Pro D2, seven points under the play-offs and 15 points clear of the relegation zone. Not bad for a team who were facing demotion to Fédérale 1 only two seasons ago due to financial problems. It seems that, with a new president and new coaching set-up, a certain degree of stability has been brought to the Bigourdan club over the last two years.
A club with a rich history, albeit under a different name, and not shy of some controversy (RE: attempted merger with Lannemezan), is well on its way to establishing its new identity within French rugby. However, financial restraints still remain, results can be unpredictable, and the holy grail of the Top 14 still seems a million miles away.
Read More...
Harry's Game: Land Rovers, Limoges and learning the language - Life as a ProD2 lock
By Harry Spencer, 16 February 2011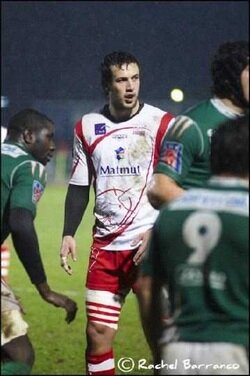 Locked-in: Harry Spencer
in action for Tarbes
FRC is delighted to welcome Tarbes lock Harry Spencer as its latest player columnist. The 23-year-old second row joined Tarbes (in ProD2) from Saracens last summer and is now adjusting to the life of a professional rugby player in the French Pyrenees... For a fuller biog see the foot of this article.
In many ways my experiences of moving to France and a French rugby club are quite unique, but I get the impression that to a lot of people they are in no way surprising. It all really kicked off in the middle of June 2010, one day after returning from Canada with England Counties. From a number of rather expensive phone calls and frequent emailing, I had been made aware that the day I returned to England would also be the day before the deadline for French ProD2 contracts to be signed. Therefore hasty decisions were made and I ended up agreeing terms with Tarbes Pyrenees Rugby, a place I had never heard of, let alone visited.
This started three weeks of frantic communications with the English speaking finance director at Tarbes, and what seemed like the mobilising of a small army to move everything and the kitchen sink from Hatfield, Herts - where I had been living for the past three years whilst playing at Saracens - to the heart of the French Pyrenees.
Read More...