Ollie Phillips column: Losing the plot, future uncertainty and James Haskell's versatility
By Ollie Phillips, 11 March 2011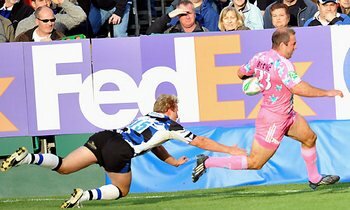 Ollie Phillips has scored 17 tries in 27 starts
during his two season with Stade Francais
Photo: Michael Paler
[FRC columnist, IRB Sevens Player of the Year, Stade Francais winger and this season's third-highest try-scorer in Top 14, Ollie Phillips talks about losing at home to Perpignan, why James Haskell should be a World Cup shoe-in, and what his future plans are beyond this season...]
Judging by some of the press coverage this week you might have thought Stade Francais were on the edge of collapse after our home defeat by Perpignan, but it?s not suicide watch or anything like that ? although everyone is a bit frustrated and keen to get back on track.
We certainly didn?t make things easy for ourselves against Perpignan but at the same time we?re not dead in the water and there?s still a lot to play for, starting with our home match against Agen on Saturday. We?re not within touching distance of that top six spot ? we?re nine points adrift - so if we?re going to qualify we probably need to pull some results out of the bag that are going to surprise a lot of people.
But the belief is there within the squad to go and do that and I think that this league is so tight and teams are so much alike that on their given day anybody can go and beat anybody. That gives us hope and the beauty of rugby is that you can re-adjust the balance, but let?s make no bones about it ? we need to win all of our remaining games and get as many points as we possibly can.
We can?t afford to reflect too much on the Perpignan defeat, we just need to make amends and show that the club means something to everyone. I think that is the general message that has been coming out all week. Obviously we were disappointed because there were high hopes going into that game, but we?ve still got things to play for both in the league and in the Amlin Challenge Cup, where we have a home quarter-final against Montpellier.
'I don?t know what happened, we just went off the rails'
The really frustrating thing about this season is we know the talent is there, it?s the application that we?ve been lacking. We were ahead of the game at half time against Perpignan, and we?d even missed a few penalties, but we had a period where we lost our heads really after the break. I don?t know what happened, we just went off the rails and they scored two tries, and then the game was over to be honest. You can?t gift sides like that points like that. We?ve lost three at home this year, and you?ve got to be strong at home, but it?s not the end of the world. Whilst it is going to be difficult to qualify for the league play-offs it is still do-able, so we just have to beat Agen this weekend and then go to Montpellier in two weeks? time and try and beat them. Then we play Toulon away, so every game we go to now we?ve got to try and beat everyone we play. We?ll have all our internationals back by the time we play Montpellier and Toulon, so you never know really. It?s not over until the fat lady sings as they say.
Talking of internationals I have to mention my flat-mate James Haskell who?s been playing outstandingly well for England in the RBS Six Nations. I?m really pleased for him because people didn?t necessarily back him, they?d written him off after the performances of Croft and Moody but I think he?s done exceptionally well. He merits a place in the back row for England, who are playing really, really well, and he merits a place in that World Cup squad as well.
He?s a guy who can play six, seven or eight at international level, so he?s a pretty talented player. And England don?t use him that much in the lineout but he?s pretty deft in the lineout as well to be honest. So I think he?s done himself a world of favours with how he?s played because I think a lot of the press were looking to shoot him and write him off before the tournament, so it?s just great he?s proved them wrong.
For some reason he seems to annoy the media, but maybe that?s because he?s not your conventional ?stick my head down and work hard? type - he embraces the other side where some players don?t, and commercially he?s astute.
'I?ve still not got myself sorted for next season'
There?s been plenty of transfer talk around France recently but I?ve still not got myself sorted for next season yet. My contract is up this year and to be honest I am still in the process of looking ? looking either at a new club or to stay at Stade. Nothing?s been decided so far which is frustrating but these things happen in professional sport.
The main thing is I just want to win. I want to win trophies and I want to win the league. I really want to do that with Stade, and I think it?s still plausible to do that with Stade this year, but I?m not in this game for a long time, so I want to play for a side that has ambition to win things, is going places and where I can help contribute to that. So, we?ll have to wait and see because I don?t know at that this present point in time where that is going to be next year.
I have already told myself that ideally I would like to stay in France. That really is the goal at the moment, to stay in France and play my rugby here. I like my life in France, I like French culture and I like the style of rugby that French teams play, so for me at the moment that is my priority - to stay in France. I?ve really enjoyed my time at Stade Francais so ideally I would also stay at Stade Francais, but at the moment it?s progressing and not progressing at the same time ? if you see what I mean?
I think my stats back me up too, with 17 tries in 27 starts for Stade over two years. I certainly enjoy the brand of rugby here and I enjoy playing for Stade and scoring tries for Stade ? that?s what I?m there for after all ? and luckily this year they?ve given me a lot more of a chance and I think I?ve taken that opportunity. I just hope that they see that too.
But my focus right now is on beating Agen this weekend and let?s not hide from the fact we need to get maximum points from every game if we can. First and foremost we?ve got to win it, but at the same time we?ve got to try and pull as many points out of every game as we possibly can, starting with Agen. We?ve got a massive margin to make up, but if we can go to Toulon or Montpellier or Bayonne ? which are our three away games ? and get a win then that would be huge for us. But let?s not get ahead of ourselves. Hopefully I?ll talk to you again in three or four weeks time off the back of wins against Agen and Toulon and things will be looking a lot rosier.
Previous columns:
'I'm gutted to miss out for England, but my first loyalty is to Stade'
'We're not broke, and we still think we can win the Heineken Cup'
Snow, injuries and playing away - all in a day's work at Stade