If there's one thing the French love more than off-the-cuff back moves then it's a pile-driving scrum pummelling the opposition's pack into the dirt.
They may admire their free-running backs - just look at the esteem in which Serge Blanco is still held - but they revere their props.
Just look at last season's Heineken Cup final - the all French affair between Stade Toulousain and Biarritz. Space was at an absolute premium, meaning such free-spirited runners as Takudzwa Ngwenya, Iain Balshaw and Maxime Médard were largely cosseted in a final where the pack proved king. Both sides have fiercely powerful front fives, and last season's mighty clash is set to be repeated in two weeks time when they come face-to-face again in this season's Heineken Cup - although this time at the quarter-final stage and across the Basque border in San Sebastian.
For one player in particular it will be an extra special encounter as Stade Toulousain's 29-year-old Samoan prop Census Johnston hopes to pack down against the club he previously represented in France, before joining London outfit Saracens.
Johnston is now in his second season at Toulouse and had to swallow the bitter disappointment of starting last year's final on the bench. He puts that largely down to an injury-hit season which meant a staccato stop-start left him unable to convince the club's coaching staff that he warranted a starting berth.
This year has been less interrupted - although there was a timely month off earlier in the campaign - and the big fella (he measures 6ft 3ins and weighs in at 135kg) is set on making amends.
But let's not get ahead of ourselves. League leaders Stade Toulousain have a mouth-watering fixture this weekend when they travel to Paris to play second-placed Racing-Métro 92, before heading to the Catalan coast to take on 2010 runners-up Perpignan on April 2nd. The comes the Biarritz clash in the Heineken Cup, before a fourth successive away trip sees them front up to Toulon. It's quite some fixture list, but Johnston can't wait to get stuck in.
"Obviously the guys know we've got a tough month ahead of us but I think we know what the deal is and it's important that we play well, especially leading up to the Heineken Cup quarter-final. We have to start moulding together – the French boys have just come back in - and we're trying to get a rhythm again. But our team has always been able to peak at the right time, so I think we're heading in the right direction at the moment," he told FRC this week.
Last season Toulouse head coach Guy Noves made no bones about the fact he was targetting success in the Heineken Cup above league glory, but Auckland-born Johnston says this year the 'double' is most definitely on.
"I think at the moment both competitions are a priority for us. Doing the double will be difficult for us to pull through but we have the potential in the squad to perform in both competitions, and I think we're in a good position to do both. We're top of the table in France and we're in the quarter-final of the Heineken Cup against Biarritz. It will be tough but I'm sure we have the confidence to be able to pull through both."
To that end victory in Paris on Saturday would be a major result as it would virtually guarantee that Toulouse would bypass the quarter-final stage of the Top 14 play-offs. At present they are six points clear of Racing, and 10 ahead of third-placed Castres.
'The boys know what the deal is'
"I think the way we've been preparing this week the boys know what the deal is. Racing-Métro is going to be a hard test with the quality of players they have. I think it will come down to who makes the most mistakes because I think the teams are pretty much even, but Toulouse has always been in a situation where they've had to perform at their highest at certain times and I think we're all pretty confident at the moment," he added.
The re-integration of French internationals will give both sides a boost, especially with the likes of Yannick Jauzion out to prove Marc Lièvremont wrong. In previous seasons Toulouse have struggled to maintain their league momentum while the Six Nations is on, but this time around they kept grinding out victories, albeit by the skin of their teeth on occasions.
"It's always hard to miss the quality of players we have to the French but when we have them back it's definitely a confidence booster for us. With guys like William (Servat) and Thierry (Dusautoir) they bring so much to the team, not only leadership but just the way they play – they always lead from the front. In the last couple of weeks we have just been winning but obviously we're stronger for having these guys back, so hopefully we can continue putting in match-winning performances," said the proud Samoan.
Johnston has recently signed a contract extension to keep him at Toulouse for another couple of seasons, and he says he's loving his time at Europe's most successful rugby club.
"I think you are always expected to win (at Toulouse) and there's always a lot of pressure week-in and week-out to win. With the quality of players we have at the moment there's always pressure on your position as well. You know that as soon as you have a bad game the you could be dropped. You could be starting every game and then have one bad game and lose your position, so I think that's one of the advantages of being in a team like Toulouse. There is pressure on us to win every game but we just know how to win, we're a team that knows how to win at the right times," he said.
And he has nothing but praise for head coach Noves, often portrayed as the angry man of French rugby.
"Guy has very much mellowed out," says Johnston. "I think a lot of people have the impression of Guy being hard and difficult, but Guy's a pretty mellow sort, until we get into difficulties and he starts to put his foot down! I really think that Guy knows how to manage the squad well and how to treat players. And it's not only Guy, but the forwards coaches Yannick Bru and 'Jean-Bo' Elissalde. They know the players and they know what motivates the players, so they manage the team real well and I think they've got it sorted."
Johnston's rugby playing experiences have taken him from New Zealand to France to England and back again to France. So, how does he rate the Gallic lifestyle and the south's unquestioned devotion to the sport?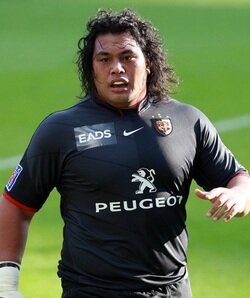 "You get to play in front of unreal
crowds," says Census Johnston
Photo: Eoin Mundow/Cleva Media
"I love the fans over here because they're so passionate," he says. "I'm not saying the fans in England aren't passionate, but when you've got 80,000 people screaming at you every few weeks it's amazing. Our next four games are all at big stadiums and that's one of the things of playing for such a successful team – you get to play in front of unreal crowds. It's probably one of the best things about playing for Toulouse because you are playing hard games and it doesn't matter whether it's against teams at the bottom of the table or the top of the table because everyone just wants to beat the top team. I think that is probably one of the hardest things for us in that no matter who you play you are always in for a hard game, but the crowds make that so much better because they are right up for it and so passionate," he admits.
His travels have also allowed him to take in differing rugby styles, with the French being unashamed lovers of the scrum - his speciality.
"I think since I've played a few years in Europe I've realised the importance of everything. When I was back playing rugby in New Zealand they tended to just put the ball in and pop the ball out, but in Europe in general I think 'pas de mêlée, pas de victoire' [no scrum, no win] is very true. If you don't win up front then you don't win the games, especially with the back line we have at the moment. If we don't perform up front then we can't provide quick ball for our backs. It's helped being in Europe and I am learning all the time and I think other props will be able to see that. It doesn't matter if you're 27, 28 or over 30, you're still learning all the time. I think it's something that you learn in each and every game."
Johnston is an unashamed France lover, although he admits the language might not be quite at the level he'd like.
"Its not too bad, it's pretty good at the restaurants - I'm fluent at ordering things at restaurants," he says with a smile befitting the hulk that he is.
Johnston may love France but he is a fiercely proud Samoan despite being born and raised in New Zealand. To that end he has a highly impressive tattoo covering his upper left arm and shoulder.
"I first got them done in 2003," he said. "It was something that I thought of having because I was born in New Zealand but my parents were born in Samoa and moved, so for me playing for Samoa I wanted to have a bit of Samoan culture not only inside of me but outside of me to show (especially being in Europe) my culture and my heritage, because I'm a really proud Samoan. Playing for the Samoan team is just a huge honour and I wanted to have something that paid tribute to my family, my culture and my heritage."
The tattoo took five hours of pain - immediately after a rugby match, no less - but Johnston has no immediate plans to add to it after recently having had it "redone and straightened up". Still, it has led to some interesting changing room conversations with fellow Tattoo enthusiast Byron Kelleher.
"Yeah, Byron's got a few but I would say that my one is better than his," brags Johnston. And at 135kg who's really going to argue with that?