World Cup: Chabal, Jauzion and Poitrenaud out; Lakafia, Picamoles and Heymans in
11 May 2011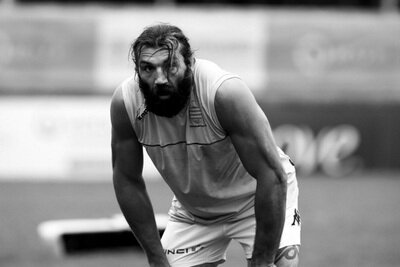 Dropped: French sporting icon Sébastien Chabal will
not be going to New Zealand for the 2011 World Cup
Photo: Eoin Mundow/Cleva Media
Sébastien Chabal, Yannick Jauzion and Clément Poitrenaud have all been jettisoned from France's 2011 World Cup squad.
The experienced trio - who boost 176 caps between them - have all paid for indifferent club and international form this season.
Head coach Marc Lièvremont said insisted Chabal had been dropped for sporting reasons alone, denying the Federation Francais de Rugby (FFR) had put pressure on him not to select the Racing-Métro star following his recent criticism of referees. Chabal, capped 62 times, can play either at lock or number eight and has effectively been replaced by two players in Lièvremont's squad - Louis Picamoles and Raphael Lakafia.
Picamoles, 25, plies his trade with Stade Toulousain - the most represented club in the French 32 - but has been largely overlooked by Lièvremont in the past 12 months. The former Montpellier number eight has been capped 17 times by France and is a powerful ball carrier. Lakafia, 22, is the only uncapped member of the squad, although the Biarritz youngster has been in Lièvremont's radar after enjoying a hugely impressive debut season with the Basques this year.
"Some players have deserved to be in this group. I think of Alexandre Lapandry, who has always had exemplary behaviour, or Sébastien Chabal," admitted Lièvremont. "I spoke to him [Chabal] by phone a few days ago and I said that we had not considered the controversy of recent days. We judged him solely on sporting performance," he added.
Lièvremont went on to describe Lakafia and Picamoles as "the great hopes" for France's future. "The choice was not easy as Sébastien Chabal is important in the squad, but I chose to focus on younger players to keep progressing," he affirmed.
Jauzion, 32, was one of five players dropped from the French squad following their humiliating Six Nations defeat against Italy, and his end-of-season club form has failed to win him his squad berth back. His omission may not surprise those who have been watching French rugby this season, but his absence will be noted on the global front after being a mainstay of 'Les Bleus' for the past decade.
The Stade Toulousain centre, who has 72 caps, has been overlooked together with Stade Francais' Mathieu Bastareaud, with Lièvremont preferring Perpignan pair Maxime Mermoz and David Marty, together with Clermont Auvergne's Aurélien Rougerie. Two other players in the French squad can also play in the centres, with Biarritz's Damien Traille and Brive's Alexis Palisson getting the nod.
Lièvremont's squad announced on Wednesday was 32-strong, meaning two players will agonizingly lose out when he names his final 30-man squad (by August 22). Injuries could yet prove the decisive factor in that with Rougerie at the start of an expected three-four month lay-off following a dislocation and fracture of his left ankle at the weekend. Mermoz, additionally, is still recuperating after a lengthy lay-off for a shoulder problem, and Traille is also sidelined at present.
Rougerie's injured club-mate Thomas Domingo (ruptured anterior cruciate ligament) has also been included, along with Stade Francais hooker Dimitri Szarzewski (Achilles), while Perpignan's Fabien Barcella (ruptured Achilles) is another player currently on the crock list.
Poitrenaud's non-selection follows a torrid season for the 28-year-old as he lost both his international and club berth to fellow Stade Toulousain Cédric Heymans.
Elsewhere in the squad Stade Toulousain's Jean-Baptiste Poux was one of six props named, with he and veteran Sylvain Marconnet being included ahead of Perpignan's Jérôme Schuster, while the versatility of Heymans, Palisson and Maxime Médard means there is no place for Clermont Auvergne winger Julien Malzieu.
Those going to the World Cup will not have the chance for on-field glory, but also financial benefit after the FFR confirmed that the squad was on a per-player bonus of €180,000 should France lift the Webb Ellis Trophy.
The French squad is due to convene at their Marcoussis training centre on July 4th before heading to an 11-day camp at Chambon-sur-Lignon (Haute-Loire) on July 8th. A further week in the Pyrenees follows at the end of July, with the squad then returning to Marcoussis at the start of August.
France are scheduled to play a friendly against Ireland in Bordeaux on August 13th before travelling to spend a week in the Emerald Isle, culminating with a return match in Dublin on August 20th. The squad will then depart for New Zealand on August 29th.
| | |
| --- | --- |
| Provisional French World Cup Squad | |
| Forwards: | |
| William Servat | Stade Toulousain |
| Dimitri Szarzewski | Biarritz |
| Fabien Barcella | Perpignan |
| Thomas Domingo | Clermont Auvergne |
| Jean-Baptiste Poux | Stade Toulousain |
| Luc Ducalcon | Castres |
| Nicolas Mas | Perpignan |
| Sylvain Marconnet | Biarritz |
| Pascal Papé | Stade Francais |
| Julien Pierre | Clermont Auvergne |
| Romain Millo-Chluski | Stade Toulousain |
| Lionel Nallet | Racing-Métro 92 |
| Julien Bonnaire | Clermont Auvergne |
| Imanol Harinordoquy | Biarritz |
| Thierry Dusautoir (capt) | Stade Toulousain |
| Fulgence Ouedraogo | Montpellier |
| Raphael Lakafia | Biarritz |
| Louis Picamoles | Stade Toulousain |
| Backs: | |
| Morgan Parra | Clermont Auvergne |
| Dimitri Yachvili | Biarritz |
| David Skrela | Stade Toulousain |
| Francois Trinh-Duc | Montpellier |
| Fabrice Estebanez | Brive |
| Maxime Mermoz | Perpignan |
| David Marty | Perpignan |
| Aurélien Rougerie | Clermont Auvergne |
| Maxime Médard | Stade Toulousain |
| Alexis Palisson | Brive |
| Vincent Clerc | Stade Toulousain |
| Yoann Huget | Bayonne |
| Cédric Heymans | Stade Toulousain |
| Damien Traille | Biarritz |