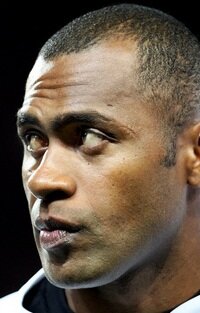 Clermont bound: All Blacks
winger Sitiveni Sivivatu
Photo: Eoin Mundow/Cleva Media
France, it seems, will be awash as never before with some of rugby's biggest stars in 2011/12 as more and more stellar arrivals get confirmed.
Among the latest internationals to sign with Top 14 clubs are Australia's Matt Giteau (to Toulon), Scotland's Max Evans (to Castres), and Wales trio Lee Byrne (to Clermont Auvergne), Mike Phillips (to Bayonne) and James Hook (to Perpignan).
More transfers are bound to follow in the days, weeks and months to come - with a raft of southern hemisphere players expected to flock to France - and we'll keep you bang up to date with all developments at frenchrugbyclub.com.
Other confirmed transfers include internationals Sébastien Tillous-Borde (Montpellier to Toulon), Alexis Palisson (Brive to Toulon), David Skrela (Stade Toulousain to Clermont) and Benjamin Kayser (Castres to Clermont).
All Blacks winger Sitiveni Sivivatu (pictured) has also confirmed his arrival in France, with the 43-times capped international winger joining defending champions Clermont Auvergne on a two-year deal. He has been followed to France by fellow All Blacks Joe Rokocoko and Neemia Tialata (who have both signed for Bayonne), while Luke Fitzgerald has signed for recently crowned French champions Stade Toulousain.
Toulon have confirmed their taste for rugby league converts by signing Sonny Bill Williams' former team-mate Willie Mason, as well as bringing former Kangaroo Luke Rooney back to the Cote d'Azur.
Also included in the list below are players who have been signed, either as mid-season transfers or as "medical jokers" during 2010/11. They have been denoted with an asterix (*).
So far confirmed...
| | | | | |
| --- | --- | --- | --- | --- |
| SU Agen | | | | |
| Players Signed | Age | Position | Previous club | Nationality |
| Dewald Senekal * | 30 | Back row | Toulon | South Africa |
| Martin Scelzo | 35 | Prop | Clermont Auvergne | Argentina |
| Sylver Tian * | 30 | Full-back | Bourgoin | Ivory Coast |
| Hendro Scholtz * | 31 | Back row | Free State Cheetahs | South Africa |
| Marc Giraud | 25 | Back row | Montpellier | France |
| Pat O'Connor | 26 | Lock | Waratahs | Australia |
| John Schwalger | 27 | Prop | Hurricanes | New Zealand |
| Jean-Francois Coux | 30 | Wing | Bourgoin | France |
| Jonathan Garcia | 26 | Prop | La Rochelle | France |
| Julien Janaudy | 21 | Hooker | Bourgoin | France |
| Juan-Manuel Leguizamon | 27 | Back row | SU Agen (tbc) | Argentina |
| Andrew Hore | 33 | Hooker | Hurricanes (tbc) | New Zealand |
| Out | Age | Position | Club | Nationality |
| Brice Mach | 25 | Hooker | Castres | France |
| Florent Cazeaux | 29 | Winger | Carcassonne | France |
Bayonne
Bayonne
squad page
Players Signed
Age
Position
Previous club
Nationality
Mike Phillips
28
Scrum-half
Ospreys
Wales
Joe Rokocoko
28
Winger
Blues
New Zealand
Sione Lauaki
29
Back row
Bayonne
New Zealand
Marvin O'Connor
19
Winger
Grenoble
France
Cédric Heymans
32
Wing/Full-back
Stade Toulousain
France
Neemia Tialata
28
Prop
Hurricanes
New Zealand
Mark Chisholm
29
Lock
ACT Brumbies
Australia
Vitolio Manukula
26
Prop
Aurillac
France
Out
Age
Position
Club
Nationality
Rémy Martin
31
Back row
Montpellier
France
Ross Filipo
31
Lock
London Wasps
New Zealand
Jean-Baptiste Peyras
26
Winger
Montpellier
France
Arnaud Heguy
26
Hooker
Biarritz
France
Sébastien Fauqué
34
Fly-half
Bayonne
France
Biarritz
Olympique
Biarritz
squad page
Players Signed
Age
Position
Previous club
Nationality
Matt Dunning
32
Prop
Western Force (tbc)
Australia
Arnaud Heguy
26
Hooker
Bayonne
France
Benoit Baby
27
Full-back
Clermont Auvergne
France
Out
Age
Position
Club
Nationality
Laurent Tranier
21
Centre
Lyon OU
France
Ayoola Erinle
30
Centre
-
England
Fabien Alexandre *
25
Back row
Grenoble
France
Yann Fior
24
Wing
Brive
France
Arnaud Mignardi
24
Centre
Brive
France
Alexandre Barozzi
24
Prop
Brive
France
B

ourgoin
*RELEGATED*
Bourgoin
squad page
In
Age
Position
Previous club
Nationality
Benjamin Sore
24
Prop
SCA Albi
France
Grégory Puyo
26
Centre
Pau
France
Randall Kamea
24
Winger
Otago
Fiji
Filipe Manu
25
Back row
Saint Etienne
New Zealand
Pierre Saby
27
Hooker
SCA Albi
France
Antoine Nicoud
32
Scrum-half
Lyon OU
France
Fabio Da Silva
25
Scrum-half
Saint-Etienne
Portugal
Thomas Vervoort
24
Lock
SCA Albi
France
Christophe André
25
Flanker
Tarbes
France
Franck Montanella
28
Prop
Aix-en-Provence
France
Elvis Sealai'i
32
Centre
London Irish
Samoa
Romain Sola
23
Fly-half
SCA Albi
France
Cristian Spachuk
29
Prop
Colomiers
Portugal
Out
Age
Position
Club
Nationality
Alexandre Dumoulin
21
Centre
Racing-Métro 92
France
Gaetan Germain
20
Wing
Racing-Métro 92
France
Connie Basson
29
Lock
Lyon OU
South Africa
Jean-Francois Coux
30
Wing
SU Agen
France
Julien Janaudy
21
Hooker
SU Agen
France
Alex Tulou *
23
Flanker
Montpellier
Samoa
Sylver Tian *
30
Full-back
SU Agen
Ivory Coast
Nemani Nadolo *
22
Winger
Exeter Chiefs
Fiji
Rudi Coetzee *
29
Centre
Perpignan
South Africa
Olivier Milloud
35
Prop
Stade Francais
France
Arnauld Tchougong
30
Prop
Lyon OU
Cameroon
Brive
Brive
squad page
Players Signed
Age
Position
Previous club
Nationality
Yann Fior
24
Wing
Biarritz
France
Arnaud Mignardi
24
Centre
Biarritz
France
Alexandre Barozzi
24
Prop
Biarritz
France
Petrus Hauman
24
Back row
Aurillac
South Africa
Olivier Caisso
25
Lock
Colomiers
France
Poutasi Luafutu
23
Back row
Tasman
Australia
Virgil Lacombe
26
Hooker
Stade Toulousain
France
Shane Geraghty
24
Fly-half
Northampton Saints
England
Jacques Boussuge
25
Wing
Bath Rugby
France
Irakli Natriashvili
26
Prop
Saint-Junien
Georgia
Out
Age
Position
Club
Nationality
Jean-Philippe Bonrepaux
32
Hooker
Lyon OU
France
Regis Lespinas
26
Fly-half
Lyon OU
France
Luciano Orquera
29
Fly-half
Aironi
Italian
Gerhard Vosloo
31
Back row
Clermont Auvergne
South Africa
Benoit Cabello
30
Hooker
Clermont Auvergne
France
Alexis Palisson
23
Winger / Full-back
Toulon
France
Shaun Perry
32
Scrum-half
Worcester Warriors
England
Fabrice Estebanez
30
Fly-half / Centre
Racing-Métro 92
France
Damian Browne
31
Lock
Leinster
Ireland
Castres
Olympique
Castres
squad page
Players Signed
Age
Position
Previous club
Nationality
Josh Tatapu *
24
Centre
Otago
Samoa
Max Evans
27
Centre
Glasgow Warriors
Scotland
Saimone Taumoepeau
31
Prop
Toulon
New Zealand
Brice Mach
25
Hooker
SU Agen
France
Thierry Lacrampe
23
Scrum-half
Tarbes
France
Rémy Tales
26
Fly-half
La Rochelle
France
Rémy Lamerat
21
Centre
Stade Toulousain
France
Pierre-Gilles Lakafia
24
Winger
Stade Toulousain
France
Marc-Antoine Rallier
22
Hooker
Colomiers
France
Out
Age
Position
Club
Nationality
Sébastien Tillous-Borde
25
Scrum-half
Toulon
France
Carl Hoeft
36
Prop
Stade Toulousain
New Zealand
Yoan Audrin
29
Centre
Montpellier
France
Benjamin Kayser
26
Hooker
Clermont Auvergne
France
Cameron McIntyre
29
Fly-half
-
New Zealand
Josh Tatapu *
24
Centre
Exeter Chiefs
Samoa
Danie Saayman
36
Prop
Pau
South Africa
Clermont
Auvergne
Clermont
squad page
Players Signed
Age
Position
Previous club
Nationality
Benoit Cabello
30
Hooker
Brive
France
Riaan Swanepoel
25
Centre
Natal Sharks
South African
Sitiveni Sivivatu
28
Winger
Waikato Chiefs
New Zealand
Mark Bennett
18
Centre
Glasgow Warriors
Scotland
George Pisi *
24
Centre / Full-back
Auckland Blues
Samoa
Nathan Hines
35
Lock
Leinster
Scotland
Gerhard Vosloo
31
Back row
Brive
South Africa
Benjamin Kayser
26
Hooker
Castres
France
David Skrela
31
Fly-half
Stade Toulousain
France
Lee Byrne
30
Full-back
Ospreys
Wales
Regan King
30
Centre
Llanelli Scarlets
New Zealand
Daniel Kotze
23
Prop
Aurillac
South Africa
Andrei Ostrikov
23
Lock
Aurillac (tbc)
Russia
Out
Age
Position
Club
Nationality
Napolioni Nalaga
24
Winger
-
Fiji
Agustin Creevy
25
Hooker
Montpellier
Argentina
Benoit Baby
27
Full-back
Biarritz
France
Mario Ledesma
37
Hooker
Forwards Coach, Stade Francais
Argentina
Thibault Privat
32
Lock
Montpellier
France
Sione Lauaki
29
Back row
Bayonne
New Zealand
Tasesa Lavea
30
Fly-half
Sale Sharks
New Zealand
Marius Joubert
31
Centre
Natal Sharks
South Africa
Martin Scelzo
35
Prop
SU Agen
Argentina
La Rochelle
*RELEGATED*

Players Signed
Age
Position
Previous club
Nationality
Greg Goosen *
27
Full-back
Racing-Métro 92
South Africa
Benoit Lecouls
32
Prop
Stade Toulousain
France
Alfie To'oala
30
Back-row
Leeds Carnegie
Samoa
Damien Cler
27
Winger
Mont-de-Marsan
France
Sébastien Fauqué
34
Fly-half
Bayonne
France
Rodriguez Muedra
20
Fly-half
-
Argentina
Out
Age
Position
Club
Nationality
Rémi Tales
26
Fly-half
Castres
France
Romain Frou
27
Prop
Toulon
France
Jonathan Garcia
26
Prop
SU Agen
France
Thomas Combezou
24
Centre
Montpellier
France
Lyon OU
*PROMOTED*
Lyon OU
squad page
In
Age
Position
Previous club
Nationality
Connie Basson
29
Lock
Bourgoin
South Africa
Juan-Manuel Leguizamon
27
Back row
Stade Francais
Argentina
Ricky Januarie
29
Scrum-half
Western Stormers
South Africa
Mark Van Gisbergen
33
Full-back
London Wasps
England
Laurent Tranier
21
Centre
Biarritz
France
Sisa Koyamaibole
30
Back row
Sale Sharks
Fiji
Alipathé Fatafehi
26
Wing
Saint-Etienne
Tonga
Arnauld Tchougong
30
Prop
Bourgoin
Cameroon
Jean-Philippe Bonrepaux
32
Hooker
Brive
France
Regis Lespinas
26
Fly-half
Brive
France
Arnaud Marchois
27
Lock
Stade Francais
France
Anthony Roux
27
Prop
Colomiers
France
Out
Age
Position
Club
Nationality
Antoine Nicoud
32
Scrum-half
Bourgoin
France
Mont

pellier
Montpellier
squad page
Players Signed
Age
Position
Previous club
Nationality
Maximiliano Bustos
25
Prop
Universitario de Sante Fe
Argentina
Rémy Martin
31
Back row
Bayonne
France
Jean-Baptiste Peyras
26
Winger
Bayonne
France
Alex Tulou *
23
Flanker
Bourgoin
Samoa
Yoan Audrin
29
Centre
Castres
France
Agustin Creevy
25
Hooker
Clermont Auvergne
Argentina
Lucas Amorosino
25
Full-back / Winger
Leicester Tigers
Argentina
Clément Marienval
25
Winger
Toulon
France
Thibault Privat
32
Lock
Clermont Auvergne
France
Thomas Combezou
24
Centre
Montpellier
France
Out
Age
Position
Club
Nationality
Marc Giraud
25
Back row
SU Agen
France
Fabien Rofes
29
Hooker
Union Bordeaux-Bègles
France
Sylvain Mirande
26
Centre
Dax
France
Jean-Mathieu Alcalde
25
Winger
Dax
France
Perpignan
Perpignan
squad page
Players Signed
Age
Position
Previous club
Nationality
James Hook
24
Fly-half / Centre
Ospreys
Welsh
Rudi Coetzee *
29
Centre
Bourgoin
South African
Out
Age
Position
Club
Nationality
Rimas Alvarez-Kairelis ***
36
Lock
Retired
Argentina
Manny Edmonds
34
Fly-half
Retired
Australia
*** Rimas Alvarez-Kairelis has now been signed as a "World Cup Joker", so will stay with Perpignan for the first three months of next season (2011/12)
Racing-Métro 92
Racing-Métro
squad page
Players Signed
Age
Position
Previous club
Nationality
Josh Matavesi
20
Back
Exeter Chiefs
Fiji
Thomas Bianchin
23
Hooker
Grenoble
France
Fabrice Estebanez
30
Centre
Brive
France
Guillaume Boussés
29
Centre
Stade Francais
France
Alexandre Dumoulin
21
Centre
Bourgoin
France
Gaetan Germain
20
Wing
Bourgoin
France
Guillaume Boussés
29
Centre
Stade Francais
France
Sébastien Descons
28
Scrum-half
Pau
France
Out
Age
Position
Club
Nationality
Fabrice Culine
27
Back row
tba
France
Carlo Festuccia
30
Hooker
tba
Italy
Andrea Masi
29
Centre
Aironi
Italy
Jérôme Fillol
33
Scrum-half
Stade Francais
France
Greg Goosen *
27
Full-back
La Rochelle
South Africa
Simon Raiwalui
36
Lock
tba
Fiji
Dan Scarbrough
32
Full-back
tba
English
Stade Francais

Stade Francais
squad page
Players Signed
Age
Position
Previous club
Nationality
Paul Warwick
30
Fly-half
Munster
Australia
Byron Kelleher
34
Scrum-half
Stade Toulousain
New Zealand
Stan Wright
32
Prop
Leinster
Cook Islands
Olivier Milloud
35
Prop
Bourgoin
France
Francisco Tetaz Chaparro
21
Prop
Pampas
Argentina
Morgan Turinui
28
Centre
Dax
Australia
Scott La Valla
22
Back row
Dublin University
America
Paul Williams
28
Utility back
Sale Sharks
Samoa
Paul Sackey
31
Winger
Toulon
England
Felipe Contepomi
33
Fly-half
Toulon
Argentina
Arthur Chollon
22
Back row
Union Bordeaux-Bègles
France
Jérôme Fillol
33
Scrum-half
Racing-Métro 92
France
Out
Age
Position
Club
Nationality
Arnaud Marchois
27
Lock
Lyon OU
France
Ignacio Miéres *
23
Fly-half
Exeter Chiefs
Argentina
Juan-Manuel Leguizamon
27
Back row
Lyon OU
Argentina
Lionel Beauxis
25
Fly-half
Stade Toulousain
France
James Haskell
26
Back row
tba
England
Ollie Phillips
28
Winger
tba
England
Mauro Bergamasco
32
Back row
tba
Italy
Hugo Southwell
30
Full-back
tba
Scotland
Noel Oelschig
31
Scrum-half
tba
South Africa
Guillaume Boussés
29
Centre
Racing-Métro 92
France
RC Toulon

Toulon
squad page
Players Signed
Age
Position
Previous club
Nationality
Willie Mason
31
Centre
Hull KR
Australia
Romain Frou
27
Prop
La Rochelle
France
Luke Rooney
27
Full-back
Melbourne Rebels
Australia
Bakkies Botha
31
Lock
Bulls
South Africa
Steffon Armitage
25
Flanker
London Irish
England
Alexis Palisson
23
Winger / Full-back
Brive
France
Sébastien Tillous-Borde
25
Scrum-half
Toulon
France
Julian Dumora
22
Fly-half
Pau
France
Matt Giteau
28
Fly-half / inside centre
ACT Brumbies
Australia
Eifion Lewis-Roberts
30
Prop
Sale Sharks
Wales
Seva Rokobaro
33
Lock
Aix-en-Provence
Fiji
Jone Tawake
29
Back row
RC Narbonne
Fiji
David Smith
25
Winger
Western Force
Samoa
Out
Age
Position
Club
Nationality
Dewald Senekal *
30
Back row
SU Agen
South Africa
Gavin Henson *
29
Centre
tba
Wales
Mehdi Merabet
25
Prop
Oyonnax
France
Clément Marienval
25
Winger
Montpellier
France
Tom May
31
Centre
Northampton Saints
England
Saimone Taumoepeau
31
Prop
Castres
New Zealand
Felipe Contepomi
33
Fly-half
Stade Francais
Argentina
Mafileo Kefu ***
28
Centre
-
Australia
Fotunuupule Auelua
27
Number eight
Brumbies
Australia
Pierre Mignoni
34
Scrum-half
Backs coach, Toulon
France
Romain Barthélémy
21
Fly-half
SCA Albi
France
Paul Sackey
31
Winger
Stade Francais
England
Thierry Brana
24
Winger
Union Bordeaux-Bègles
France
Rudi Wulf
27
Winger
Blues
New Zealand
*** Mafileo Kefu has now been signed as a "World Cup Joker", so will stay with Toulon for the first three months of next season (2011/12)
Stade
Toulousain
Stade Toulousain
squad page
Players Signed
Age
Position
Previous club
Nationality
Luke Burgess
26
Scrum-half
Waratahs
Australia
Carl Hoeft
36
Prop
Castres
New Zealand
Timoci Matanavou
26
Winger
Mont-de-Marsan
Fiji
Luke McAlister
27
Fly-half/centre
Auckland Blues
New Zealand
Gurthro Steenkamp
29
Prop
Bulls
South Africa
Rupeni Caucaunibuca
30
Winger
SU Agen
Fiji
Lionel Beauxis
25
Fly-half
Stade Francais
France
Out
Age
Position
Club
Nationality

David Skrela

31
Fly-half
Clermont Auvergne
France
Benoit Lecouls
32
Prop
Stade Toulousain
France
Byron Kelleher
34
Scrum-half
Stade Francais
New Zealand
Frédéric Michalak
28
Fly-half
Natal Sharks
France
Rémy Lamerat
21
Centre
Castres
France
Pierre-Gilles Lakafia
24
Winger
Castres
France
Cédric Heymans
32
Wing/Full-back
Bayonne
France
Virgil Lacombe
26
Hooker
Brive
France
Union Bordeaux-Bègles
*PROMOTED*
UBB
squad page
In
Age
Position
Previous club
Nationality
Fabien Rofes
29
Hooker
Montpellier
France
Thierry Brana
24
Winger
Toulon
France
Out
Age
Position
Club
Nationality
Arthur Chollon
22
Back row
Stade Francais
France