Top 14: Financial crisis deepens at Stade Francais after Max Guazzini files for fraud
22 June 2011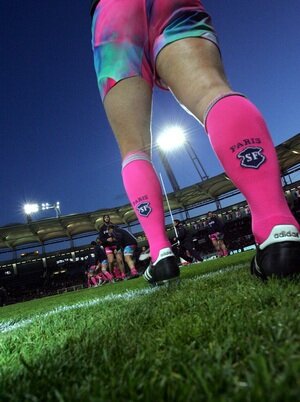 Uncertain future: Stade Francais
Photo: Eoin Mundow/Cleva Media
Once mighty Stade Francais are facing up to the very real prospect of beginning next season in ProD2 - or worse - after the latest twist in their ongoing financial drama.
The 13-time French champions appeared saved from that possibility when FACEM - a previously unheard of Canadian company - appeared to come to their rescue with a €12m investment on June 6th which would have given them a 66% stake in the Paris club. But that deal has now been thrown into turmoil amid allegations of fraud from current Stade Francais president Max Guazzini.
The flamboyant Stade owner had wanted to downscale his own investment in the club after more than a decade of dipping into his own pocket, but the deal bringing in the Canadian investors - which was brokered by Bernard Laporte - now appears to have collapsed in spectacular style.
Guazzini claims that "documents and guarantees provided by FACEM in the name of a major international bank are falsified", and has subsequently called the French fraud squad to investigate.
FACEM's president Job Ariste, a Haitian-born Montreal businessman, claims there has been no wrong-doing and that all proper documentation (and cash) will be forthcoming once his own organisation has completed its own due diligence.
"We were only give two weeks to wrap up everything," he told Canadian media. "You have to understand that a deal of that scope can't be done in such a short time. We already provided financial guarantees. I don't know why people are panicking over nothing," said Mr Ariste.
"Once everything is clear and we have a full grasp of the situation and know where we're putting our feet, at that time the funds will be transferred and they can have their funds," he added.
FACEM is a private foundation claiming to carry out humanitarian work for underprivileged children around the world, but as it is not a registered charity it doesn't have to open its books and Ariste has consistently refused to identify where the money for its Stade investment has come from.
Ariste, who is an elder and secular deacon in the Seventh Day Adventist Church, merely claims that FACEM does business around the world and was hoping that any profits from its investment in Stade would be used to held fund further projects.
FACEM was originally approached by Laporte as he sought financial investors to rescue Stade's parlous situation, but French newspaper L'Equipe reported that the relationship is more than advisory. According to L'Equipe FACEM has a 51% stake in a corporation which was only created last month by Laporte.
The upshot of Guazzini filing for fraud means that Stade are now once more in the firing line of the DNACG - the French league's financial watchdog - as they are €5m in debt for the season which has just finished. Under normal circumstances that would almost certainly mean relegation to ProD2, although Montauban's example of two seasons ago could yet see them slip all the way down to Fédérale 1.
That prospect has clearly set alarm bells ringing in the French capital and the race is now on to try and find new investors before the club once more goes before the DNACG next Monday (June 27th).
Following news of the collapsed deal there have been plenty of calls of support for Guazzini, who is seen as something of a visionary within the sport for his exceptional marketing of Stade Francais in the modern professional era. Vocal support for Laporte, however, has been conspicuous by its absence, although the former coach has also filed for fraud against FACEM.
Laporte help guide Stade from third division obscurity to five French titles in a decade, before going on to take over as France coach. After helping them to successive World Cup semi-finals - in 2003 and 2007 - he then moved into politics as a junior sports minister for Nicolas Sarkozy.
Last season he appeared set for a return to rugby when he was briefly engaged at Bayonne, before a clash of personalities with then president Francis Salagoity - amid claims of broken promises - led him to a highly publicized walk out.
He then re-emerged at Stade Francais at the tail end of the 2010/11 season, appearing to be their new strong man as he first heralded the Canadian investment and then stood firm in the face of Mathieu Bastareaud's stated desire to leave for Toulon.
Laporte's image has now been damaged by both of those incidents, with the FACEM deal appearing to collapse in ignominy, while Bastareaud has since rubbished Laporte's claims that he wished to remain a Stade Francais player.
It all adds up to a mighty mess for Stade Francais, who have been underperforming both on and off the field for the past two years. In 2009/10 they missed out on the league play-offs and Heineken Cup qualification after finishing ninth in Top 14, and in 2010/11 they ended two places lower.
Hope of a backdoor entrance to the Heineken Cup was then dashed when they narrowly lost the Amlin Challenge Cup final to Harlequins, and the club has since shed some of its biggest stars as it attempted to cut its wage costs. James Haskell, Juan Manuel Leguizamon and Mauro Bergamasco were among a host of players allowed or told to leave at the end of the season, with their replacements largely consisting of ageing internationals such as Paul Sackey, Byron Kelleher and Felipe Contepomi.
The entire future of the once-mighty club is now shrouded in doubt, with the prospect of ejection from France's professional leagues being a very real one indeed.
In a separate development ProD2 side RC Narbonne have managed to convince the DNACG about their future finances and have thus been spared relegation to Fédérale 1 - as previously sentenced.
The club's successful appeal followed a two-hour presentation during which Narbonne gave assurances about current and future investment. Australian company FG Management are seeking a buy-out of the ProD2 side, with head coach Henry Ferrero having already been dismissed.