Delon Armitage: "I've always said I would like to return back to play in France one day"
09 March 2011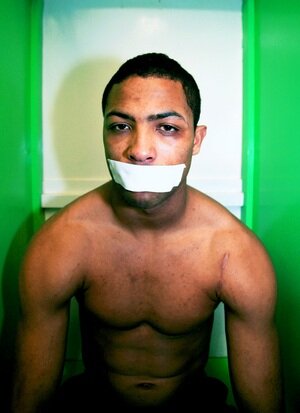 Gagged: England and London Irish
full-back Delon Armitage
Photo: Eoin Mundow/Cleva Media
Delon Anthony Armitage was born in Trinidad, partly raised in France and now plies his trade with London Irish in the Aviva Premiership.
The rangy full-back burst on to the international stage in 2008 but has subsequently fallen down England's pecking order and is currently banned for "pushing and verbally abusing" a doping officer.
His eight-week stint on the sidelines has ruled him out for the entire RBS Six Nations, despite the player himself apologizing for his actions - which occurred in the post-match heat of the London Irish changing room - and explaining they stemmed from the frustration of a last-minute defeat.
In an exclusive interview with the superb SEEN magazine, Armitage talked openly and frankly about the incident, as well as giving his opinion on the current French side and the possibility of joining the international exodus to Top 14.
The 27-year-old is certainly well-placed to make the switch across 'Le Channel' having spent six years living in Roquefort-les-Pins on the French Riviera, where he learned his rugby playing for Rugby Nice Cote d'Azur Université-Racing.
(Photos and interview extracts provided courtesy of SEEN. Click here for full interview, or to sign-up to the free on-line magazine)
SEEN: You spent your formative years in France with Nice, is a return to France something you would consider in the near future? And would you enjoy playing against these guys week in week out?
Definitely, I've always said I would like to return back to France one day and to get the chance to play with or against these guys would be great. I think they are great players and the French philosophy of how they try to play rugby that hasn't changed since I was growing up there and I like to think it's the same.
They like throwing the ball around at the back and I think that is suited to the way I like to play rugby. You know if I one day get the opportunity to go back to France and play I would definitely not turn that down.
Seen: Do you think the Top 14 is the best league in Europe?
From watching a few games on the television this season I haven't been that inspired. At the minute I think the toughest league is the Premiership, but I think the French league with all the world-class players coming and slotting into different teams, I think it's getting a lot better.
Obviously when all the French players left before it wasn't the best, I was watching games that were low scoring, there was a lot of kicking, but I think they have reversed that and there is a lot more attacking in the game. It's a bit more attractive now.
SEEN: France are obviously a very talented team, are there any players that really stand out for you?
I think [Thierry] Dusautoir is playing really well, he is coming on and getting stronger and stronger. He has always been a good player. Obviously Maxime Médard, and I thought [Clément] Poitrenaud had a brilliant year last year and I think he is getting back to that form again, slowly. I think they have a good mix, they are bringing in a player like [François] Trinh-Duc who has grown into that number 10 shirt, he is getting stronger especially with his defence, his attacking game is getting a lot stronger.
The way that they can just bring in guys here and there and obviously their front row with that experienced head in Servat.
(Photos and interview extracts provided courtesy of Seen. Click here for full interview, or to sign-up to the free on-line magazine)
Words and photo courtesy of Eoin Mundow and Cleva Media