Joe (El-Abd) Blogs: Henson's debut, a crucial home win and preparing for Barcelona...
By Joe El-Abd, 07 April 2011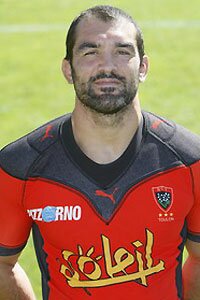 Huge anticipation:
Toulon's Joe El-Abd
© RCN Toulon
(This week Toulon flanker Joe El-Abd reflects on a crucial home win against Stade Francais, a dream debut for Gavin Henson and looks forward to the club's historic Heineken Cup quarter-final against Perpignan in Barcelona...)
As ever Toulon has been at the centre of much press coverage during the past few weeks, firstly after some indifferent league results and now in the build up to Saturday's Heineken Cup quarter-final against Perpignan in Barcelona.
Barcelona back-drop befitting of mighty Perpignan and Toulon clash
We certainly didn't do ourselves any favours in Top 14 by losing successive away games at Agen and Castres, and the players were the first to admit that we had underperformed. Those two losses put us in a difficult position in the league - in terms of securing our place in the play-offs - and both our chairman [Mourad Boudjellal] and Philippe [Saint-André] let us know they weren't happy either!
So it was really important we put in a good performance against Stade Francais last weekend, and thankfully we did just that and even managed to secure the attacking bonus. The pressure was definitely on before the game but we raised our level a notch and we were pleased with how it went. It still means we must treat all of our remaining games at cup finals, but it definitely gave us a timely boost.
It was also great to see Gavin Henson finally make his debut for the club. He had been training hard after getting back to fitness and we were all really pleased to see him out there. I thought he had very good game, although it was quite a nice match for him to make his debut because there was quite a lot of space for him out on the pitch, which suits Gavin down to the ground. Things are obviously only going to get a bit more difficult but I really hope - indeed,  everyone hopes - that he continues in this vein of form and makes a success of his time in Toulon. He?s absolutely loving the sun down here as well because he doesn?t have to wear as much of that self-tanning lotion, which means he's getting a natural positive glow as opposed to orange!
After the Stade game our attention turned immediately to this weekend's Heineken Cup match against Perpignan and the club is really buzzing a the prospect. Obviously it's new ground for Toulon as they have never been in the H Cup before this season and that excitement has only been heightened by the fact the match is being played in Barcelona. It?s a game that every professional player wants to be involved in ? the quarter-final of the biggest cup in Europe - and as a team we can?t wait to get down there.
History being made in Spain
We're flying down on Friday and judging by the weather in Toulon this week it's going to be a really hot match, which is going to test the individual capacities of all the players. We've already won away at Perpignan in the league, but I don't think that will have any bearing on Saturday's game. Being a knockout cup match it's do-or-die for both teams and I think it's going to be a very, very intense affair between two French teams.
The fact we're playing them again in two weeks - at home in the league - won't be significant either, although it obviously wouldn't do any harm to have already beaten them twice. But our attention is solely on Saturday's match at the moment and we're raring to go. We've played our fair share of matches in front of big crowds but I think this will be something else, and we desperately want to win.
A bientot
Previous columns:

18.02.11 - 'Players rarely get to hear about transfers before the press'
03.02.11 - 'Playing for Toulon is like playing for the Harlem Globetrotters'
10.12.10 - 'I can't wait to get stuck into the Exiles after our month-long break'
22.10.10 - The highs and lows of Heineken Cup rugby - it's a learning curve
08.10.10 - All kitted out and ready to make history - Toulon get shirty for H-Cup
30.09.10 - We're not where we want, but we're definitely on the right path
23.09.10 - Life's a beach, and then you've got to play rugby - rehab Toulon style
25.08.10 - Captaining Toulon was a special honour, but winning was my priority
12.08.10 - Coming second is nowhere - we want to win silverware now
02.08.10 - All Revved Up And Ready To Go - It's Time To End The Friendly Stuff
14.07.10 - Fatherhood, Ferraris and 40-degree heat - Pre-season Toulon stylee
14.05.10 - Joe's Q&A session with Jonny Wilkinson and Tom May
12.04.10 - 'It doesn't get any better than this, and what an advert for rugby'
18.03.10 - 'The possibility of Tana Umaga playing again is an exciting prospect'
01.03.10 - 'Boudjellal is chasing Williams hard, and he usually gets his man'
11.02.10 - Siege mentality will help England, but France are still my favourites
08.12.09 - 'I see the Top 14 play-off race going all the way down the last game'
24.11.09 - 'Gym-monkeys, IPGs and the pain of being sidelined by injury'
04.11.09 - Star turns and the glamour play - how to judge a performance
27.10.09 - Why I relish the role of 'gratteur', and the key to back row success
21.10.09 - 'My brothers think I'm mad when they see all my rugby scars'
07.10.09 - 'I keep telling them Rovigo is not Rome, but they're still excited'
28.09.09 - 'The three-part conundrum of winning away in France'
22.09.09 - 'There's more to Jonny than just kicking'
14.09.09 - Lesson number 1 - 'Pas de melée, pas de victoire' 
08.09.09 - 'The money's good, but so is the weather, the rugby and the crowds'