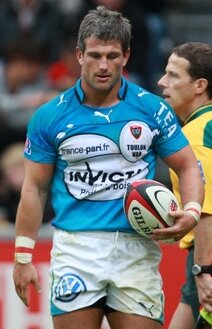 Tough call: Tom May is leaving
to ensure he gets game time
Photo: Eoin Mundow/Cleva Media
(Toulon and England centre Tom May talks exclusively to frenchrugbyclub.com about why he's leaving at the end of the season, what he'll miss about France, and Sonny Bill Williams' extraordinary rugby skills...)
As the ongoing influx of internationals to Toulon continues to gather pace, former England centre Tom May is bucking that trend by leaving the ambitious French club to return to England.
But May?s decision to sign with Northampton Saints is not that of a disenfranchised Brit abroad, but rather a more calculated one resulting from Toulon?s never-ending squad recruitment.
Welsh centre Gavin Henson recently arrived from Saracens, Australian Matt Giteau confirmed last week he would be joining in the summer and rumours of signings continue unabated.
?It?s going to be very difficult to play a lot of rugby here in the future,? admitted May. ?There?s a lot of guys coming here, and there?s going to be a lot of big names playing in the same positions. From my perspective I?m coming towards the end of my career and I want to play as much as I can in the years that remain. I know it?s also going to be difficult to play at Northampton but I?ve got more of a chance there I suppose, and going to one of the top clubs in the UK is a fantastic opportunity,? he explained.
May considered staying on elsewhere in France but admitted playing at another Top 14 club would be difficult after the joys of rugby on the Cote d?Azur. ?I?ve been lucky in that I?ve played rugby in France in one of the best places you can play, and I didn?t want to go and play somewhere we perhaps didn?t enjoy ourselves  so much and become disenchanted with the whole thing,? he said.
But while he will leave with a heavy heart, he will also depart with a suitcase full of fond memories, and perhaps a medal or two as Toulon continue to push for honours in both Top 14 and the Heineken Cup.
"It?s a fantastic way to live your life"
?I?ve had a fantastic time out here, and my wife and I have really enjoyed the experience. I suppose I quite like the way the French live their life. It?s pretty frustrating when you first arrive, but if you buy into it it?s actually a fantastic way to live your life,? he enthused.
Indeed, such is May?s love for the Toulon area he is considering returning there when he finishes playing. ?I?ve had an unbelievable time here and it?s somewhere we will have a lot of close ties to in the future,? he added.
The former Newcastle Falcons player admits it was something of a culture shock coming from the football-dominated north-east to the sunny south of France where rugby is the only show in town.
?That can be good and bad, although the support we?ve got at Toulon is something to really savour. With all due respect we didn?t get big crowds at Newcastle, whereas here it?s really something to look forward to at the weekends.?
And then there?s Toulon?s famous pre-match war cry or ?Pilou! Pilou!? to ensure both supporters and players are revved to the max. ?It?s not something you find in many clubs and the way the fans and the guys buy into it it?s really something that I won?t forget,? admitted the 32-year-old.
Something else May won?t forget is the quality of players he has been fortunate to train and play with down at the Stade Felix Mayol. And he also backed up Tom Palmer?s recent assertion that moving to France had improved him as a player, no matter what the RFU think about it.
"Sonny Bill is probably the best player I?ve ever been on the same pitch with"
?I think you get to learn so many things off so many different players, but I think one of the things I will always remember is playing alongside players like Tana [Umaga] and Sonny Bill [Williams] as well. I?ve been very lucky to play with some fantastic players like Tana and Jonny [Wilkinson], and players like that, but I would say that Sonny Bill is probably the best player I?ve ever played with or even been on the same pitch as. He?s something else,? said May. ?He?s ridiculous basically. He?s got this ability to hold the ball in one hand and send it 40 yards with just the flick of a wrist.?
The twice-capped England international was evasive about rumours that Williams will return to Toulon after the World Cup ? ?There?s loads of rumours about millions of players,? he said ? but he was more forthcoming about others currently at the French club.
Toulon?s most recent acquisition is Henson, although the Welsh star is yet to make his debut due to a lingering calf injury. ?It?s been great having him,? said May. ?He?s a nice guy, pretty quiet and keeps himself to himself, but it?s been good to sit down and have a chat with him, and speak about the things he?s been up to outside of rugby as well. It?s a very accepting bunch of lads we?ve got, which is great for anyone coming in because they?ll look out for you and look after you. It?s been good to have him over and hopefully he will be on the pitch sooner rather than later.?
One player Toulon can?t keep off the pitch is May?s former Newcastle team-mate Wilkinson, who even got special dispensation from Martin Johnson to play at Agen this weekend ? the only member of either the French or English squad to be so honoured.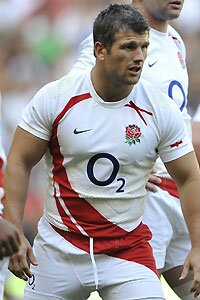 Tom May on England duty
Photo: Michael Paler
?He?s an absolutely fantastic player,? said May, who has been deputizing at fly-half in Wilkinson?s absence. The Northampton-bound centre is perhaps uniquely placed in being able to judge how Wilkinson has changed since his injury-plagued Newcastle days, and he backs up the fly-half?s own assertion that he is now a more contented player and individual thanks to his French move.
?It?s quite strange really because he came from a place where rugby is really not that important [Newcastle] and yet he put himself under huge pressure, whereas now he?s here [Toulon] where rugby is massive and he doesn?t appear under pressure at all. I think it?s been really good for him and he?s obviously happy here.?
Leading try and point-scorers in Top 14
Wilkinson?s return to Toulon might have denied May another league start at the weekend, but he admitted that filling in for ?Wilko? has its own pitfalls, especially when fly-half is not your natural position. To that end May?s ability and willingness to play across the back line has sometimes been a mixed blessing. And he?s certainly no fan of the ?utility back? phrase.
?When I was at Newcastle I just wanted to do the best thing for the team and if that meant playing on the wing or playing at full-back, or finally at fly-half, then I would have done it. But I see myself as an out-and-out inside centre who can also play at 13 if needs be,? he explained.
Pressure
So, filling in for Wilkinson at Toulon recently has been difficult?
?It has been, yes, because I haven?t played a vast amount there for a long time and I think the supporters here get used to having ?Wilko? there all the time, and you certainly feel a bit of pressure from it not being your number one position, and people perhaps not understanding that. For me that?s what gets frustrating ? you?re talked about in all sorts of positions and want to say ?That?s not actually my main position?. But there?s no point whinging about it, you might as well just get on with it,? said the honest-talking centre.
May remains the quintessential team man, an asset that coach Philippe Saint-André strongly admires, and his last remaining goal at Toulon is to try and help the club win its first silverware since the last of its three French titles in 1992.
Last season they came close, losing in extra time of the Top 14 play-off semi-finals to eventual champions Clermont Auvergne, and also going down in the final of the Amlin Challenge Cup. Those double defeats have merely strengthened the squad?s resolve to go one better this season, and Toulon are continuing to challenge on two fronts. They should be good enough to at least secure another league play-off slot, while they have already made the quarter-finals of the Heineken Cup in their maiden season in the Europe?s premier cup.
Top 14 League Table / Heineken Cup Tables, Results & Fixtures
Not many people gave them a hope of emerging from a group including Munster and London Irish, but a crucial away win at the latter was followed by a eye-catching home thumping of the former, with a French showdown against Perpignan in Barcelona their reward.
Toulon owner Mourad Boudjellal continues to insist winning Top 14 is the club?s number one priority, but May says there will be no holding back when they take on the Catalans in April. ?The fact we went alright in the group stages and now find ourselves in the quarter-final means we can chuck everything at it and see what happens.?
As for the league, Top 14 has never been tighter, leading to great viewing but tough playing. After this weekend's results any of the top 10 sides still have realistic hopes of making the play-offs, with Toulon?s HC opponents Perpignan being ninth at present.
?I think it?s good for watching but it?s not great to be involved with. We?d much rather be in the top four and clear, but we?ll just crack on, and at least it helps us remain focused,? said May. 
| | | | | |
| --- | --- | --- | --- | --- |
| Tom May's Toulon stats to date: |   |   |   |   |
| 2009/10 | Games | Starts | Tries | Yellow/Red Cards |
| Top 14 | 13 | 9 | - | 1 / - |
| Amlin Challenge Cup | 9 | 7 | 1 | - / - |
| 2010/11 |   |   |   |   |
| Top 14 | 6 | 2 | 1 | - / - |
| Heineken Cup | 3 | 1 | 1 | - / - |
| Total | 31 | 19 | 3 | 1 / - |