Top 14: Scotland's Max Evans signs for Castres; Shaun Perry to join Worcester
17 February 2011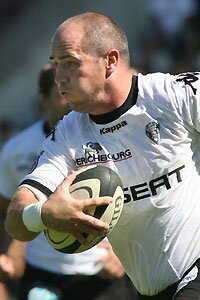 Shaun Perry: A new beginning
© Diarmid Courreges
Scotland international Max Evans has become the latest big-name signing to cross 'Le Channel' after agreeing terms with Castres.
Evans, 27, said it was "time for me to seek fresh challenges" after confirming his switch to Top 14 next season.
He follows the likes of Gavin Henson, James Hook, Lee Byrne and Matt Giteau in committing to play in France in 2012/13, with more international stars set to follow.
Evans will join fellow Scottish international Scott Murray at Castres, having finally agreed to move to France after previously turning down several lucrative offers.
Evans told the Evening Times it had been a "tough decision" to leave Glasgow Warriors, but the prospect of playing in Europe's strongest league had proved too great a lure.
"I have had four great years in Glasgow and made a lot of close friends who will stay with me for life, and many of them wear the Glasgow shirt," said Evans.
The 14-times capped international said he had formed extremely tight friendships with many of the squad following the career-ending injury to his brother Thom. "That meant that I spent more time alone with the guys and the support I got from them during an emotional period was fantastic," he added.
Evans thanked the faith shown in him by Warriors coach Sean Lineen, as well as Shade Munro and Gary Mercer, but said the offer from France was too good an opportunity to turn down this time.
"Even though it has been tough I think it is time for me to seek fresh challenges, and France is a great place to play your rugby," he explained.
Reflecting on his time with the Warriors he said his fondest memory had been their shock Heineken Cup win in Toulouse two years ago, when he scored a try and was also voted Man-of-the-Match. Having confirmed his move to Castres - who are derby rivals of Stade Toulousain - he is now sure to have plenty more opportunities for a repeat performance at the Stade Ernest Wallon.
Evans, who was at Wellington School with Stade Francais' England flanker James Haskell, started his career at Harlequins academy before playing for London Scottish in 2006/7. He is also a cousin of radio star Chris Evans.
Elsewhere on the transfer front, Brive's former England scrum-half Shaun Perry has confirmed he will play for Worcester next season.
Perry's move will see him team up again with former Bristol coach Richard Hill, who also spent time in France before returning home to take up the Worcester job.
Hill has welcomed the capture of 32-year-old Hill, saying the scrum-half wants to challenge for international recognition again.
"I have spoke at length to Shaun. He is very excited about playing again in this area and is really up for the challenge he knows he faces at Warriors. What has impressed me most about Shaun during our talks has been his determination to come back to England and make a very positive impression," confirmed Hill.
Perry, who won the last of his 14 England caps during the 2007 Rugby World Cup, is the third Brive player to confirm his summer departure following on from Alexis Palisson (to Toulon) and Gerhard Vosloo (to Clermont Auvergne).
Welsh international Lee Byrne, meanwhile, has urged his future club Clermont Auvergne to snap up Shane Williams to join him in France next season.
Byrne, who was agreed a three-year deal with Clermont, told French reporters he would welcome the addition of his fellow Wales international.
"That would be great," he said. "Shane is a world-class player and it would be his last chance to move away," added Byrne.
Williams, for his part, has already admitted that he could follow club colleagues James Hook and Byrne to France next season.
The 33-year-old is out of contract with the Ospreys at the end of the current campaign and the international winger is on the radar of several Top 14 clubs.
Moneyed Toulon made an offer to sign him last season but were rebuffed by the Ospreys as Williams was still under contract. Toulon then signed England winger Paul Sackey instead.
But Williams has failed to agree terms on a new deal with the Welsh region and his potential availability is being closely monitored across 'Le Channel'.
Frenchrugbyclub.com understands that several French clubs are indeed considering making a move for Williams, but Clermont is not one of those at present.
His departure would be another major blow for the Ospreys following the deals already agreed by Hook (to join Perpignan) and Byrne (to join Clermont). News of his stalled contract talks also comes just days after club and international colleague Alun Wyn-Jones admitted to considering French leave (possibly with Byrne at Clermont), while former Ospreys star Gavin Henson has already made the switch to Toulon.
And the Welsh exodus - primarily from Ospreys - could yet be further swelled by scrum-half Mike Phillips also moving to Top 14.
"I have been talking to the Ospreys and I want to stay, but I don't have a concrete offer from them at present," Williams told the Western Mail.
Williams, who scored twice in Wales' weekend win against Scotland, said all contract talks were presently on hold until the end of the RBS Six Nations. But he did add that the option of going to France was a very real one.
"I'll have to see what materializes but there is interest in me from France," he confirmed. "I don't want to say specifically where from," he added, "and that is something I may also have to consider."
Williams said he believed current club colleagues Hook and Byrne would both flourish in France, but remained non-committal about joining them in Top 14 next season.
"Whether I would end up following them out there, I genuinely don't know. I've always said I'm a home bird at heart. I've never left my valley and never really had any desire to.
"I think I've got two years left in me playing rugby though and the time will soon come when I have to make concrete plans about where I spent them," said the Welsh record try-scorer.
Finally, Racing-Métro 92 are investing for the future with the Paris club currently running the rule over four Fijian youngsters, with a view to signing them for their academy, according to the Fiji Times.
The four youngsters, who all attend Nasinu Secondary School, are hoping to follow former pupil Vereimi Vakatawa to Racing as the club seeks to swell its already considerable Fijian contingent. Vakatawa has broken through to the club's first team this season after being fast-tracked from the academy side, while Racing also have the likes of Sireli Bobo, Albert Vulivuli, Jone Qovu and Simon Raiwalui on their books.
Top 14 transfers for 2011/12:
(*) denotes transfer already activated
SU Agen
 
 
 
 
 
Players Signed
Age
Position
Previous club
Nationality
Dewald Senekal *
30
Back row
Toulon
South African
Sylver Tian *
30
Full-back
Bourgoin
Ivory Coast
Hendro Scholtz *
31
Back row
Free State Cheetahs
South African
Out
Age
Position
Club
Nationality
-
-
-
-
-
Bayonne
 
 
 
Bayonne
squad page
Players Signed
Age
Position
Previous club
Nationality
-
-
-
-
-
Out
Age
Position
Club
Nationality
Rémy Martin
31
Back row
Montpellier
French
Jean-Baptiste Peyras
26
Winger
Montpellier
French
Arnaud Heguy
26
Hooker
Biarritz
French
Biarritz
Olympique
 
 
 
Biarritz
squad page
Players Signed
Age
Position
Previous club
Nationality
Eusebio Guinazu *
29
Prop
Stormers
Argentine
Arnaud Heguy
26
Hooker
Bayonne
French
Benoit Baby
27
Full-back
Clermont Auvergne
French
Out
Age
Position
Club
Nationality
Ayoola Erinle
30
Centre
-
English
Fabien Alexandre *
25
Back row
Grenoble
French
B

ourgoin
 
 
 
Bourgoin
squad page
In
Age
Position
Club
Nationality
-
-
-
-
-
Out
Age
Position
Club
Nationality
Alex Tulou *
23
Flanker
Montpellier
Samoan
Sylver Tian *
30
Full-back
SU Agen
Ivory Coast
Nemani Nadolo *
22
Winger
Exeter Chiefs
Fijian
Rudi Coetzee *
29
Centre
Perpignan
South African
Brive
 
 
 
Brive
squad page
Players Signed
Age
Position
Previous club
Nationality
-
-
-
-
-
Out
Age
Position
Club
Nationality
Gerhard Vosloo
31
Back row
Clermont Auvergne
South African
Alexis Palisson
23
Winger / Full-back
Toulon
French
Shaun Perry
32
Scrum-half
Worcester Warriors
English
Castres
Olympique
 
 
 
Castres
squad page
Players Signed
Age
Position
Previous club
Nationality
Josh Tatapu *
24
Centre
Otago
Samoan
Max Evans
27
Centre
Glasgow Warriors
Scottish
Out
Age
Position
Club
Nationality
Sébastien Tillous-Borde
25
Scrum-half
Toulon
French
Yoan Audrin
29
Centre
Montpellier
French
Benjamin Kayser
26
Hooker
Clermont Auvergne
French
Cameron McIntyre
29
Fly-half
-
New Zealand
Clermont
Auvergne
 
 
 
Clermont
squad page
Players Signed
Age
Position
Previous club
Nationality
Gerhard Vosloo
31
Back row
Brive
South African
Benjamin Kayser
26
Hooker
Castres
French
David Skrela
31
Fly-half
Stade Toulousain
French
Lee Byrne
30
Full-back
Ospreys
Welsh
Regan King
30
Centre
Llanelli Scarlets
New Zealand
Out
Age
Position
Club
Nationality
Agustin Creevy
25
Hooker
Montpellier
Argentine
Benoit Baby
27
Full-back
Biarritz
French
La Rochelle
 
 
 
 
 
Players Signed
Age
Position
Previous club
Nationality
Greg Goosen *
27
Full-back
Racing-Métro 92
South African
Out
Age
Position
Club
Nationality
-
-
-
-
-
Mont

pellier
 
 
 
Montpellier
squad page
Players Signed
Age
Position
Previous club
Nationality
Rémy Martin
31
Back row
Bayonne
French
Jean-Baptiste Peyras
26
Winger
Bayonne
French
Alex Tulou *
23
Flanker
Bourgoin
Samoan
Yoan Audrin
29
Centre
Castres
French
Agustin Creevy
25
Hooker
Clermont Auvergne
Argentine
Lucas Amorosino
25
Full-back / Winger
Leicester Tigers
Argentine
Clément Marienval
25
Winger
Toulon
French
Out
Age
Position
Club
Nationality
-
-
-
-
-
Perpignan
 
 
 
Perpignan
squad page
Players Signed
Age
Position
Previous club
Nationality
James Hook
24
Fly-half / Centre
Ospreys
Welsh
Rudi Coetzee *
29
Centre
Bourgoin
South African
Out
Age
Position
Club
Nationality
-
-
-
-
-
Racing-Métro 92
 
 
 
Racing-Métro
squad page
Players Signed
Age
Position
Previous club
Nationality
-
-
-
-
-
Out
Age
Position
Club
Nationality
Greg Goosen *
27
Full-back
La Rochelle
South African
Stade Francais

 
 
 
Stade Francais
squad page
Players Signed
Age
Position
Previous club
Nationality
Paul Warwick
30
Fly-half
Munster
Australian
Out
Age
Position
Club
Nationality
Ignacio Miéres *
23
Fly-half
Exeter Chiefs
Argentine
RC Toulon

 
 
 
Toulon
squad page
Players Signed
Age
Position
Previous club
Nationality
Gavin Henson
29
Centre / Fly-half
Saracens
Welsh
Alexis Palisson
23
Winger / Full-back
Brive
French
Sébastien Tillous-Borde
25
Scrum-half
Toulon
French
Julian Dumora
22
Fly-half
Pau
French
Matt Giteau
28
Fly-half / inside centre
ACT Brumbies
Australian
Out
Age
Position
Club
Nationality
Dewald Senekal *
30
Back row
SU Agen
South African
Clément Marienval
25
Winger
Montpellier
French
Tom May
31
Centre / Fly-half
Northampton Saints
English
Stade
Toulousain
 
 
 
Stade Toulousain
squad page
Players Signed
Age
Position
Previous club
Nationality
Timoci Matanavou
26
Winger
Mont-de-Marsan
Fijian
Rupeni Caucaunibuca *
30
Winger
SU Agen
Fijian
Out
Age
Position
Club
Nationality

David Skrela

31
Fly-half
Clermont Auvergne
Clermont Auvergne
Byron Kelleher
35
Scrum-half
-
New Zealand