Joe (El Abd) Blogs: 'My brothers think I'm mad when they see all my rugby scars'
By Joe El Abd, 21 October 2009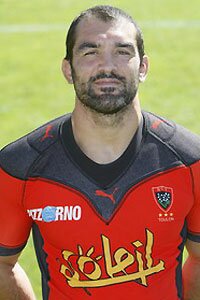 Sheer physicality: Joe El-Abd
© RCN Toulon
Toulon flanker, FRC columnist - and former YTS at Brighton & Hove Albion - Joe El Abd this week reflects on the differences and similarities between the professional sporting worlds of rugby union and football.
I have just finished reading a book called 'Woody and Nord ? A football friendship'. It?s about Gareth Southgate and Andy Woodman and their lives in the world of football, and well worth a read if anyone?s interested. While reading the book myself I got thinking about the differences between the two sports, something that I find particularly interesting given that I have two brothers who both play football - Adam for Brighton & Hove Albion, Sami for Hayes & Yeading - and it?s often a subject that comes up in conversation.
Top 14 Table  / Top 14 try-scorers / Top 14 Results / Top 14 Fixtures
I am sure you have all heard of the description often used to highlight the differences between the two sports of ?Football is a game for gentlemen played by thugs, while rugby is a game for thugs played by gentlemen?. It?s a phrase I love to use to wind up my brothers with. While it's true to say that footballers haven?t done much to help themselves off the pitch in the past, to label them all as thugs is also probably a bit unfair (especially when regarding the recent headlines in the rugby media).
What is probably true, however, is that rugby is a game for ?thugs?. Although the term ?thug? is perhaps a little harsh it's fair to say that the sheer physicality of rugby compared to football is immense. It takes rugby players the full seven days to recover from a match while playing twice a week is the norm in football. My brothers think us rugby players are mad when they see me coming home sporting new scars from the previous week.
Physical
One of the biggest differences between the lives of a rugby player and a footballer (apart from the wages of course) is the training week. As footballers play so often I would think that rugby players train twice as much as their football counterparts. There is just so much to cover in the rugby training week from lineouts to scrums and due to its physical nature rugby players spend far longer in the weights room. While strength and conditioning is growing in football it's still routine for many footballers to be in at 10am and home by 12 noon. Not bad for a day's work some may say!
If you ask any professional sportsman what is the most frustrating part of their job injury will be very high on their list. While there is no doubt footballers do suffer from a range of injuries, the severity and incidence of injuries in rugby is far greater. This high injury rate has a knock-on effect to the training week where periods of recovery and frequent trips to the physio seem to take up endless amounts of time. Also, the end of season trip to the hospital for a scheduled operation seems to be becoming far more commonplace. It will be interesting to see what the long-term effects on the body are in professional rugby players compared to footballers. Will we be doomed to have even more time spent in hospital in our later lives?
There is no question that football is the biggest sport in the world. It's probably the most popular sport in almost every country bar North America. For example if you ask Felipe Contepomi - Toulon's Argentine fly-half - he always says that rugby is a sport but football is a religion. Even out here in Toulon where the support is fanatical you only have to look down the road to Marseille to see where rugby fits in.
I will always remember being back in Brighton when they were in the play-off finals and seeing the whole town out in the pubs watching the match. I remember thinking that the same support just wouldn?t happen back in Bristol even if we were in the premiership final. Rugby is definitely growing though, and while it may never overtake football on the popularity front I think it may come close in some countries.
While I?ve talked about the many differences between the two sports, one thing they do seem to share is banter. Sometimes as a rugby player I feel I have never left school with the number of practical jokes that occur on a daily basis. It may be childish but it seems to keep the spirits up. In football one of the practical jokes that still goes on is cutting off the end of socks and putting deep heat in underwear. I am glad to say I haven?t seen that sort of thing in rugby, or at least these jokes have never been played on me! In every club whether it be football or rugby you always find the club joker, the club professional, the club intellect or the club loner (I could go on) and it doesn?t take long to find out what players slot into where, although I sometimes wonder where I fit in!
So, in essence, rugby players get paid less, train harder and suffer more injuries, all for the love of the game. For as a rugby player there can be no question which is the better of the two sports. To play or to watch rugby wins hands down.
A bientot
Previous columns:
07.10.09 - 'I keep telling them Rovigo is not Rome, but they're still excited'
28.09.09 - 'The three-part conundrum of winning away in France'
22.09.09 - 'There's more to Jonny than just kicking'
14.09.09 - Lesson number 1 - 'Pas de melée, pas de victoire' 
08.09.09 - 'The money's good, but so is the weather, the rugby and the crowds'