Exclusive: Brive CEO Simon Gillham - '
All these people giving us s**t doesn't matter'
02 April 2009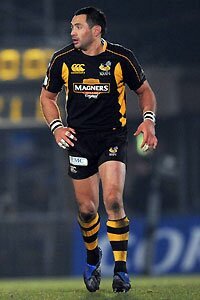 Centre of attention: England's
Brive-bound Riki Flutey
Photo: Michael Paler
In the second of a two-part exclusive interview Brive CEO Simon Gillham explains why he was so riled by BBC commentator Ian Robertson, Brive's unique take on transfer policy, his relationship with Rob Andrew, the club's future plans and why Steve Thompson should be playing for England again.
Part I: The secrets behind Brive's French success
On February 17th 2009 Brive announced they had signed England centre Riki Flutey. It was a big enough story on its own – one of England's best players moving across the Channel to play in Top 14 – but when his club London Wasps also confirmed that international colleagues James Haskell and Tom Palmer would be joining Stade Francais all hell suddenly broke lose.
It was a huge story - three England players announcing they were moving to France in one day. The (largely one-eyed) media uproar was unprecedented, and, as Brive's CEO, Simon Gillham fell well and truly into the firing line.
"There was an extraordinary moment when Riki Flutey's signing was announced," says Gillham. "I was on BBC Five Live being interviewed along with Ian Robertson, and he came out with this extraordinary statement. He said 'It will be the end for Riki Flutey. Where's Brive? Brive's off the map and no-one even knows where Brive is. He's only going there for the dollar, but he'd earn much more if he stayed in England because no-one is going to want his rights down in Brive'.
"I was sitting there thinking 'I've never seen this guy in Brive', so when I got on air their first question to me was pretty aggressive – and I had never met this journalist before in my life. Their first question was: 'Alright Simon, how much are you paying him?'
'The BBC journalist was so rude'
"They were so rude, so rude, and so I didn't answer him. I said 'We are absolutely delighted that Riki is coming to Brive' and I said 'I would like to point out that Mr Robertson doesn't seem to have a very good knowledge of Brive, but he's welcome to come down here whenever he likes'. Also, Andy Goode, who's career was dead as far as England were concerned while he was at the greatest and most visible club in the British Isles (Leicester Tigers) - and on the telly every bloody Saturday – couldn't get in the England team. Bizarrely, he goes off to the sticks in the middle of supposed nowhere and he's playing for England, so we must be doing something right," explains Gillham.
It is the nearest he gets to being riled during our lengthy interview, and hints at the frustration of the two-dimensional picture painted by the English press of the triple signing, and its implications.
From an English perspective it was largely portrayed as a money-driven defection. A snub to the Guinness Premiership as the cashed up French clubs, buoyed by a lack of salary cap and the ever-strengthening Euro, came to plunder.
The high horses were brought out, together with a plethora of soapboxes, and the Wasps trio were largely vilified for having the temerity to turn their backs on the English club game. The fact that Guinness Premiership clubs had been terminating Antipodean careers by the dozen on the back of their own previous economic strength appeared to be conveniently forgotten, and so did the manner of Goode's recall – as Gillham pointed out.
It was England that came to Goode when their fly-half resources were running low at the beginning of the Six Nations. And the reason they came calling? Because Goode was enjoying life in Brive so much that his rugby had moved up a notch.
Brive, of course, were delighted. It's always an honour to have your players selected for national duty and they willingly released him for a weeklong training camp in Portugal and then for all subsequent England duties. Indeed, their total co-operation was greatly admired by the England management team.
"I had lunch with Rob Andrew a couple of weeks ago and we had a really nice time," confirms Gillham. "At the end he said 'Simon, I would really like to thank Brive for how professional you've been in the way you managed Andy Goode for England'. All these people giving us s**t doesn't matter – apart from the fact I was hurt by Robertson's comments," he added.
There was though, inevitably, an official backlash, with the RFU eventually announcing that in 50-50 selection decisions players based in England would be preferred to those playing abroad. It also stipulated that those venturing to France must have certain clauses written into their contracts so as not to negate the RFU's multi-million pound EPS deal with Guinness Premiership clubs.
Robertson aside, Gillham remains remarkably calm about the whole furore.
'The RFU was obliged to come out with that rhetoric'
"I think the RFU were absolutely right. It was very important to them that they made a strong and bold statement and I totally understand what they did," he says. "I think the RFU was obliged to come out with that rhetoric."
He confirms the club has an excellent relationship with the England structure – "Martin Johnson has always been incredibly respectful" – and says his only real gripe is why born-again hooker Steve Thompson hasn't received a call-up. "He's absolutely on fire," croons Gillham.
The likelihood is that Brive will be in the transfer market again this summer, but the swathes of players that have joined over the past two years will be reduced to a trickle as it embarks on stage three of a five year plan. "More evolution that revolution," says the club's non-paid CEO.
When he was first brought on board (in March 2007) by friend and club-owner Daniel Derichebourg – estimated wealth of €500m – Brive were constantly flirting with relegation and struggling to live up to past glories.
"When we took over no French players really wanted to come to Brive, it wasn't fashionable," he admits. "In fact, we lost Yves Donguy to Toulouse, we lost Damien Chouly to Perpignan and we lost Denys Drodz to Stade Francais. So, we were haemorrhaging French players and we weren't bringing in new people, so we decided that all we were going to do was we were going to try and recruit the best regardless of race, religion, sexual tendency, whatever. We wanted to assemble the best we could."
Their two best recruiters were Derichebourg – because of his money, commitment and business track record – and Thompson – because of his connections. The latter was still in retirement at the time due to a neck injury, but the club honoured a contract it offered him before the injury and he came over as a consultant/coach/agent.
"Steve is one of the pillars of the club. He helped with all sorts of things," confirms Gillham. "He said 'Oh, I've got a mate who would like to come', and it just so happens his mate was Ben Cohen!"
The Thompson connection was also integral to bringing over the likes of Damien Brown, Christian Short and Ben Johnstone, but Gillham insists the club follows set procedures when it's interested in signing a player.
"We have a very strict recruitment process. We refuse to discuss money with anybody over the phone. We say, 'Look, if you're interested in coming to Brive you come to Paris (or Brive) and we sit down and have lunch or dinner and we meet you'. Daniel (Derichebourg) always likes to meet them, and Laurent (Seigne), and we usually bring a player. We sit down and tell them all about our plan and what we're trying to do and we ask them what they are about and we all talk.
"Then we get to the end of the dinner and they are very often on their own – or with their agent – and we say 'If you're interested in coming to Brive then tell us tomorrow, or the next day, and then we'll start negotiating'. Twice we've done it through what I call 'mail order' and we've had two bad surprises, so we'll never do that again."
That plan he referred to is a five-year strategy that began with securing Top 14 status, and this year targeted Heineken Cup qualification – a twin track assault that is so far on course in both lanes: finishing in the top six and winning the European Challenge Cup.
European Challenge Cup - Fixtures and Results
Nothing has yet been achieved, as Gillham is quick to point out, but the perception of Brive has changed dramatically, and the club once "haemorrhaging" French players has suddenly become inundated with agents offering their clients.
Last week they signed highly rated France Under-20 international Guillaume Namy, and more look set to follow. "It's very funny," says Gillham. "In the last two or three weeks we have been getting a lot of interest from notable French players."
Attracting French players is key to their future, but he says the club's heart – from president Patrick Sebastien through to director of rugby Seigne – remains Briviste. "You ask any of 'Les Correziens' – like the old boys who go to training all the time – and they don't mind who's got the jersey. They mind that whoever it is, is putting his body on the line for the jersey. They don't care if he comes from Buenos Aries, Bombay or Brive – they care that he's putting his body on the line for the club," says Gillham.
With the playing squad having been strengthened, and results now going their way, the club is turning its attention to other matters. A new gym and training centre has already been built and plans are advanced to turn the Stade Amédée Domenech from an aged 12,000 stadium with terracing into a state of the art 20,000 all-seater.
Top 14 Table / Top 14 Fixtures
But the key to future success remains on the pitch, and Gillham is delighted with the progress they have made in just two years.
""I think we've got the backbone of the team in place now and we'll be doing nothing to upset that chemistry. There's a great buzz in the team and if anything now it's evolution not revolution. There is a huge difference in the squad between last year and this year, although this year it took a while for this squad to get bedded down. Someone like Alex Popham, it took him two to three months to settle down and he started to play some rugby by about December. Now the boy is just on fire. He had a great game on Saturday [against Bayonne], and he's got a dodgy shoulder, but if you see the hits he's putting in you go 'F**k me!' Still, it's taken a while to bed in. But you see them in the changing rooms and you've got this hilarious Esperanto being spoken, or odd Franglais. It's just hilarious, but really moving."
And that's Brive circa 2009. Multinational, aware of their backgrounds, but united – and definitely on the move.
Related articles:
Interview: Simon Gillham, Part I: The secrets behind Brive's French success
Interview: Steve Thompson - 'I want to stay in France after I finish playing'
Interview: Ben Cohen - Time to Brive