Interview: Ben Cohen - Time to Brive
By Colin Spiro, 12 December 2008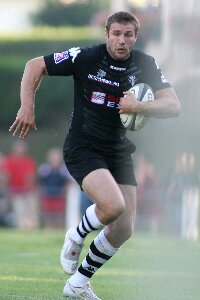 Ben Cohen: French connection
© Diarmid Courreges
Ben Cohen talks to FRC about his move to Brive and how having twins has changed his perspective on life.
"I genuinely do think that French rugby is behind – not necessarily on the pitch, because they can go and beat anyone of their given day – but I think behind the scenes they are" - Ben Cohen
England World Cup winner Ben Cohen says he has no regrets about joining French Top 14 side Brive, where he is currently plying his trade with fellow Brits Andy Goode, Steve Thompson and Barry Davies.
The 30-year-old winger would love to still be playing for his country but is resigned to life on the international hard shoulder after deciding to up sticks and move to France in 2007.
Up until then Cohen had been a one-team man, racing in for more than 100 tries for his beloved Northampton Saints before the relationship broke down when he was overlooked for the captaincy.
A brief break from the game was followed by his transfer to Top 14 side Brive - or Club Athlétique Brive Corrèze Limousin to give it its full name - with whom he is now enjoying his second season as they fight for Heineken Cup qualification.
"I would have liked it to end better at Northampton but things happen, and happen for a reason. But we parted on good terms," he reflected.
So, how did England's second highest try scorer then end up playing for Brive - a town with less than 100,000 people and twinned with sleepy Dunstable. The former European Champions are not exactly a glamour club, having fallen back into the pack since making consecutive Heineken Cup finals in 1997 and 1998, although they are now beginning to make proper strides towards becoming a Top 14 force once again.
"I had a lot of offers – a lot from England and a couple from France – but I'm not a person who stands by my trophy cabinet and says 'Look at what I've won'. I like to try and go somewhere and make a difference, and I'd like to think I've come to Brive and made a difference, trying to help them awake the sleeping giant.
"Brive is a similar club to Northampton and I think that was partly why it attracted me to it. And obviously one of my friends – Steve Thompson – was also here, which always helps," recalled 57-cap international.
By a twist of fate they are now in a highly select band that have played for the only two clubs in Europe to have won the Heineken Cup but not yet their own domestic league.
'Les Correziens' are ambitious to rekindle their former successes and embarked on an aggressive recruitment policy over the past two years, under the coaching stewardship of Laurent Seigne and Ugo Mola. Cohen is just one of a host of internationals brought in from around the globe, backing the club's stated ambition to become a regular top six side.
"That's really what turned me on – the fact they people really do genuinely want to go out and make a difference," admitted the former England star. "And they've done that. I would say that compared to last year [under then coach Olivier Magne] it's like having gone from Nationwide League six to the Premiership. They are totally different from last year, worlds apart, and a lot of hard work has gone on behind the scenes."
Part of that restructuring has been the laying of truly professional foundations – such as the recruitment of former Saints conditioner Tim Exeter and the building of a new gym – and Cohen believes that is one area where French clubs could learn from their English counterparts.
"I genuinely do think that French rugby is behind – not necessarily on the pitch, because they can go and beat anyone of their given day – but I think behind the scenes they are. Not necessarily internationally, but at club level they are. I think that English rugby and the Premiership could learn from some of the things they [French clubs] do, but in general they are behind with the infrastructure," he said candidly, before adding: "But I have to say that Brive are really closing the gap behind the scenes and once that builds up momentum we will start doing some serious damage, which is what we want to do."
Brive's on-pitch results have steadily improved this season after a torrid start to the campaign, which saw them play six of their first nine games on the road – "a hell of a difficult start," according to Cohen. In recent times they have won four of their last seven league games, and only narrowly missed out on pulling off a huge shock when they narrowly lost away to French giants Stade Toulouse.
Last week's 22-9 away win at Montpellier lifted them to sixth, with former Leicester Tigers fly-half Andy Goode again in commanding form as he kicked 17 points to become the league's highest scorer.
Cohen, who is disarmingly honest for a modern sportsman, admits that Goode's arrival has "made a massive difference" to Brive, but also knows that the club's future lies in recruiting and nurturing French talent as much as overseas stars.
"I think it's really important that we attract French players. I know it's hard – I've been at Northampton and know what it's like when you want to attract internationals or aspiring internationals when you're in the mix down the bottom of the table for a few years. People don't really want to come to that club, but Brive has changed and is looking to change the mould, so to speak. There is countless work going on behind the scenes."
There's also countless work going on chez Cohen, with the photogenic winger trying to get to grips with a new language, a new culture, a new playing style and the added distraction of 14-month-old twin daughters. The hectic nature of his new life means the French lessons have had a limited impact – although Brive are now offering its French players English lessons in an intriguing twist – but Cohen does at least feel more at home with life on the pitch.
"The French look at rugby in a different way and that has taken a bit of getting used," he admitted. "In England and the southern hemisphere they play a very structured game – and don't get me wrong, you need structure in a game – but the French generally have little structure and play what's in front of them. I'm not saying that England don't do that, or the southern hemisphere, but the French probably over-emphasise that and do it a lot more.
"For someone like myself who's been in that [structure] system all of my career, to come over and be involved in something like that takes a little bit of getting used to, but I am getting used to it and I'm enjoying it," he stressed.
"I think that Ugo [Mola] is a good coach and he's got some fantastic skills in the drills department, and I'm enjoying being challenged. That's what I play rugby for."
Brive's British influx is also helping to shape the club's new mentality, with the traditional French acceptance of away defeats slowly becoming a thing of the past. Their 21-15 defeat at Toulouse highlighted the progress, and was further underlined by their win at Montpellier.
"We are trying to break the mould in the fact that the French don't travel well, and I think we're changing that very well at Brive. We're going away and nearly getting results now, and that will change. Those nearly results will become closer, or just wins, and when that starts happening the tide will change," he reasoned.
Off the pitch Cohen is happily settled with his family in a rented house on the outskirts of Brive and said he's delighted by his new surrounds. "I have to say it's a fantastic country," he mused, before adding. "I didn't realise how big it was until I drove across it."
The twins take up much of his off-field energy, and he's even traded in the motorbikes for a nice sensible Renault Espace. But don't get the idea the fire doesn't still rage. Just ask him about England – that's Johnno's mob, not the village green.
"I still want to play for England," he insists. "I'm playing well, which is good, but I don't know..." he adds as his voice trails off.
Cohen knows there's a new generation being blooded, and that playing in France means he's off the radar as far as the selectors are concerned. He accepts his chances of a recall are slim - "It's just one of those things", he says – but perhaps there's security in the knowledge that the lad who didn't even play rugby at school went on to win a World Cup and scored 31 tries in 57 caps for his country, second only to Rory Underwood.
He may not believe in basking in his past glories, but no-one can ever take them away. 'Big' Ben only needs to look at his uncle George [Cohen, who won the football World Cup in 1966] to understand that.
Once a World Cup winner, forever a national treasure.