Interview: Steve Thompson - 'I want to stay in France after I finish playing'
By Colin Spiro, 23 February 2009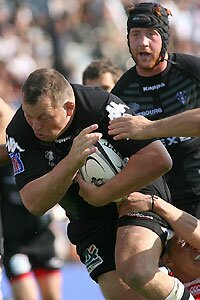 C'est la vie: Steve Thompson
in action for Top 14 side Brive
© Diarmid Courreges
After a dramatic week that saw current England stars Riki Flutey, James Haskell and Tom Palmer sign to play in Top 14 next season, FRC talked to Brive's former England international Steve Thompson about the attraction of earning and living in France, and how he's made a remarkable playing comeback after breaking his neck.
Anyone wondering why England centre Riki Flutey opted to sign for French club Brive this week should pay a quick call on Steve Thompson.
The England World Cup winner and former Northants star heads a growing enclave of British players at the ambitious Top 14 side, and has even been instrumental in the recruitment of some.
Fellow World Cup winner Ben Cohen followed over on Thompson's recommendation, as did Irish duo Christian Short and Damien Browne – all three from Northampton. Even former England and Saracens centre Ben Johnston came over via the veteran hooker after a failed medical had, ironically, scuppered a proposed move to Northampton.
"Steve Thompson knew my situation and gave my agent a phone call," admitted Johnston. "I had a couple of options to stay in the Guinness Premiership, or I could come over here, and I thought 'why not change completely and go to a new lifestyle?'"
'Lifestyle' is a key word that crops up time again when speaking to 'foreign' players based in France. There's something about the country, about the way of life and the visceral yet grounded passion for rugby that appears to strike a chord.
"I really harbour hopes of staying in France after I finish playing," says Thompson as he reflects on his new life in the Limousin.
"I love the country, I think it's really good here. It's the way it's set out and the way people think about life," he explains. "They are not all about big cars and big houses and stuff like that – it's more about life being relaxed and working when you have to.
"As a big city I love Paris – it's probably my favourite city in the world and I love going up there – but being here is brilliant. And you've got Bordeaux and Toulouse if you need to get out and get that little taste of big city life. Then you can come back and it's just nice and relaxed here."
Thompson – capped 47 times by England - trains and plays as hard as ever, but it's life away from the pitch that has so enchanted him. On Wednesdays – his day off – he now goes hunting for sanglier (wild boar) in the nearby Haute-Corrèze forests.
"I've been out five times but I haven't shot one yet," he confides. "It's a big joke at the moment because every time I don't go they [the hunt] catch stuff, but every time I go they don't. I think they send me one way and all the boys go the other… but it's brilliant."
And despite the proliferation of British players at the club – soon to be bolstered by Flutey and perhaps even Geordan Murphy – Thompson, 30, says that learning French is an absolute prerequisite to settling in successfully.
'If you come to France you expect to become French'
"Brive is a really traditional French town so you have to learn the language, otherwise you're never going to get around it. But if you come to France you expect to become French – that's the whole point of it," he reasons.
French lessons are provided twice a week by the club – which is run by English CEO Simon Gillham – and Thompson ensures no national cliques develop.
"The important thing is that when it comes to the actual rugby it's all done in French. That's the whole point – the boys are expected to speak French and everyone wants to learn French. We are a French club when it comes to it. We have a lot of foreign players – including Georgians and Romanians – but we pull together, and when it comes to it we are a French rugby club," he says.
Indeed, they are a French rugby club on the move. When Thompson first signed to join Brive (in 2007) they were flirting with relegation from Top 14. Now, they lie sixth in the league and have an upcoming European Challenge Cup quarter-final away to Worcester. Heineken Cup qualification remains a realistic option and the considerable wealth of owner Daniel Derichebourg is beginning to bear fruit.
Things have changed dramatically since the former England hooker put pen to paper – not least when he subsequently broke his neck in January 2007 and announced his retirement from the sport three months later.
At that stage he hadn't even made it over to play in France and called the club tearfully to announce the news. His dream move, like his career, was over… or so he thought.
"I was still in talks with Daniel Derichebourg and Simon Gillham at that point but I had said that I would still sign for the club even if they went down – because I believed in what they were doing – and Daniel said to me 'You've been loyal to us so I want to be loyal to you'. I had a few things in place, but not that many because I didn't expect to get injured that quickly, and then suddenly Daniel gave me a job in the Derichebourg Group. He asked if I could help out with the club and I thought I could, so I came over in that position and the rest is sort of history," says Thompson.
"I thought my playing career was dead and buried, I must admit, but then suddenly about six months afterwards I thought 'my neck feels good'. So I went to see two French surgeons and they passed me fit to play. I then went to see a surgeon in England and he was really happy and gave me permission to start playing."
Thus, just six months after retiring from the sport he loved Thompson found himself phoning up his insurance company to hand back a six-figure settlement sum. The playing comeback followed in a low-key European match six weeks later, although the initial euphoria of returning to 'le combat' was short-lived.
"Suddenly I realised that I had put on 25kg, so my emotions changed pretty quickly," he confirms. "But it was brilliant. With the fitness coaches here I lost 25kg in three months, which put me in good shape, and after that I just needed to get the rugby into me. Last year it was quite hard but now, with the new management and coaching staff here, it's working really well," he says.
But surely he had concerns about re-entering a sport after such a traumatic injury? "None whatsoever," he replied. "It's like anything. If you fall off a bike the best thing is to get straight back on again. If you start worrying about injuries and stuff like that, then that's when you do get injured."
It was during his enforced time away from playing that Thompson turned into a Brive recruitment officer, but it wasn't simply a case of getting on the phone to all his old mates.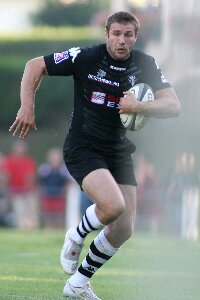 Buying in: Fellow World Cup
winner Ben Cohen is at Brive
© Diarmid Courreges
"The big thing for me when I was looking at the lads coming over – such as Christian Shot, Damien Browne and Ben Cohen – was that not only would they add something as players but that they wouldn't just come over here and be English, because I think that's terrible," he says.
"They all really wanted to buy into the culture and they've all done that. That's the way it needs to be. You need to get real good lads over who are also going to buy into it," he adds.
'It' is a five-year project to break Brive up into the 'Big Four' currently occupied by Stade Toulousain, Stade Francais, Perpignan and Clermont Auvergne. The club may be based in a small town in the middle of the Limousin, but it does have pedigree after winning the Heineken Cup in 1997, and reaching the final again the following season.
That said, it was still in need of an update when Thompson & Co first arrived in 2007.
'It was so pure it was weird'
"What I loved about it when I first came over was that that it was a club that was so sort of pure it was weird. It was such an old fashioned club, but they did need professionalism to come in. They've got a big financial backer now in the Derichebourg Group and the whole town is coming together and really following them.
"Times do change and you have to become more professional, but I like it because it's still got the tradition of an old rugby club and when we talk about it we really want to keep that going at the club."
And Thompson, like the other 'ex-pats' at the club appears to be in 'it' for the long haul.
"I came here first as a player, then became a sort of coach really and now I'm back as a player," he reflects. "For me, I just really want Brive to do well and to put it back on the map. It may be a small town but I really see it as a sleeping giant of a rugby club. They've played in two European finals before, they've got a good history and to me that's where they want to be going."
It seems that for a man who has experienced the highs of World Cup glory and lows of injury-enforced retirement, moving to Brive has brought both playing contentment and inner-tranquility.
"When you think you've suddenly lost something that you love and that has been a massive part of your life, to actually get it back just makes you think a bit more," he says. "Before I used to get so het up, but now I'm just enjoying it – and if you're enjoying it I think you play better. As this season's gone on I'm starting to play better and better and the team is really starting to gel. What is different as well is that we're starting to get a winning mentality, and that's what we're all about really. When it comes to a rugby club like Brive we're here to win games and get up the league."
Time to Brive - Interview with Ben Cohen
Parts of this article were published in The Rugby Paper on February 22, 2009.