Exclusive interview: CEO Simon Gillham on the secrets behind Brive's French success
01 April 2009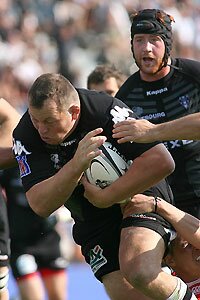 On the charge: Brive's former
England hooker Steve Thompson
© Diarmid Courreges
In the first of a two-part exclusive interview Brive CEO Simon Gillham explains how the former European champions have turned themselves from a team struggling to retain Top 14 status into a League of Nations collective now pushing once more for major honours. Gillham who, remarkably in this day and age, performs his CEO duties unpaid, takes us behind the scenes to help explain one of the stories of the season as the 2008/9 Championship draws to a thrilling climax.
Sport, like politics, is a fickle environment with little room for sentiment as fortunes oscillate between success and failure. Lose and you're out; win and you're a hero.
Five games into this season's Top 14 campaign 'big spending' Brive were being barracked for cobbling together a motley crew of ageing internationals seemingly intent on enjoying a final pay day in the sleepy surrounds of a once mighty fallen giant. They were win-less, bottom of the league and had just four points to their name.
Yet with five games to go until the end of the regular season that same club, and those same players, are now being lauded as a visionary, tight-knit and progressive outfit, hunting down the twin goals of a play-off place and European glory on the back of a run that has seen them lose just once in their last 16 matches - dating back to November 1st.
It is, by any standards, an incredible turnaround, but one which Brive's English CEO Simon Gillham is at pains to explain hasn't brought anything solid to the trophy cabinet just yet.
Their next three games are absolutely crucial to the club's end of season prospectus: Leaders Stade Toulousain at home on Saturday, Worcester Warriors away the following week in the ECC quarter-finals and then a trip to Clermont Auvergne (who currently lie fourth in the final play-off berth, just four points ahead of Brive).
Top 14 Table / Top 14 Fixtures
It is, as sports pundits are keen to point out, make or break time for Les Corrèziens, and the tension is mounting. Their last three victories have been by the relatively slender margins of two, two and seven points – against Dax, Mont-de-Marsan and Bayonne respectively – but wins they have been, and that's all that matters right now.
Three more results like that in their forthcoming fixtures and this season will be considered a massive success. Three defeats, however, and the pre-season goal of Heineken Cup qualification will be seriously under threat.
Not many 'experts' had Brive down as possible play-off contenders back in September, and the torrid opening weeks appeared to confirm that scepticism. 'Too many foreigners and too old', they cried. Yes, the team needed time to bed down after a busy summer in the transfer market, but a cruel fixture list played its part too with six of their first nine games on the road – including trips to Perpignan, Biarritz, Stade Francais, Bayonne and Stade Toulousain.
It was a shockingly lop-sided opening, but they kept themselves going with the knowledge that everything after that would be so much easier. And so it has proved. Since that Stade Toulousain away match on November 1st – which they only lost 21-15 – Brive have been downed just once, and that 15-18 at home to a Dan Carter inspired Perpignan.
Coaches Christophe Laussucq and Ugo Mola – together with director of rugby Laurent Seigne - must of course take much of the credit, along with the club's ever-tightening squad, but Gillham pinpoints a pre-season bonding trip to Limerick, in Ireland, as the root of the Brive success now blossoming into Springtime flower.
"We did an awful lot of work in pre-season in Limerick. We did a pre-season management seminar where we made the players into small groups of all different nationalities and they defined their own objectives for the season and their code of conduct – and that was a seminal moment in our short life because it then became their objectives and their code of conduct, not something imposed by the management.
'Our objective is to qualify for the Heineken Cup'
"And whenever you interview a Brive player today they always talk about 'their' objectives for the season. It was very interesting in the last three to four weeks when a lot of journalists have been saying you might get a top four place, but you will not get a Brive player to say 'We're aiming for the top four'. They say 'Our objective is to qualify for the Heineken Cup'. That's the objective they fixed themselves," says Gillham, with almost paternal pride.
"The other day there was a very interesting discussion internally because someone said perhaps now that we are in fifth place we should let go of the European Challenge Cup and not compromise our position in the Championship – and there was a huge reaction from the players who said 'Hang on, that was our second objective that we fixed in Limerick, there's no way we are abandoning the European Challenge Cup'.
"We might go to Worcester and lose – you never know, that's life – but we're definitely trying to go all the way. We are three games away from a trophy," he reiterated.
Gillham is sharply aware that nothing has been banked so far. There's no silverware in the trophy cabinet – apart from the ghost of past success – and you don't get medals for a mid-season run that takes you from one end of the table to the other. But Brive are a club in transition, awoken at last from their post-Heineken Cup triumphs – winners in 1997, runners-up in 1998 – and heading towards the Goode times again on the back of some shrewd signings and a team spirit built on respect and honesty.
Much has been made of the increasing numbers of "Étrangers" (Foreigners) in France this season, with many pointing the finger at Brive and Toulon as the worst 'culprits'. But whereas the Toulon experiment has definitely floundered - although Gillham expects Philippe Saint-Andre to overcome that – Brive's band of brothers have gelled. It's not easy bringing together a disparate group that includes Argentines, Romanians, Fijians, Tongans, South Africans, French, Irish, Georgians, Italians, Welsh, English and Australians, but Brive appear to have managed it with spectacular success.
"In our club there's never any discussion about foreigners or not foreigners, it's everyone else that enjoys that. It never bothers us, we just get on with our stuff. Everyone is a Briviste," notes Gillham.
'We don't want any mercenaries here'
"There was a moment when we were playing Biarritz the other week and there was one Frenchman in the starting pack, and when they did the warm-up you had seven English speakers and a Frenchman. Yet they did the whole warm-up in French amongst themselves. You had Damien Browne [Irish] talking to Alex Popham [Welsh] in French! I wouldn't say it was Molière, but because they want that Brive identity they have all bought into it. And they are terribly jealous. The players give me such s**t when they hear on the grapevine that we might be recruiting such and such a player. They all get on to me saying 'Make sure he buys into it, we don't want any mercenaries here'. It's really funny, it's great."
Gillham has very much brought his own business and management background to the fore at Brive, qualities he's honed while dealing with the tricky world of post-mergers and acquisitions, or as he put it: "Pulling people together who were before programmed to hate each other".
It's a skill he has successfully applied at Brive. "It's exactly the same in rugby," he says. "You've been playing rugby for England and you've been beating the s**t out of a Welshman who you've been programmed to hate all your life, and now suddenly you're playing in the same team. It's very funny watching. The French are the same with the English
"There was a moment in Limerick when I got them all to talk about where the problems had gone on last year and a lot of people said some honest things. A French guy stood up and 'It was really weird when everyone started speaking English in the changing room and I was at Brive, and I thought what's going on here?' There were lots of things like that and as a result of that particular remark we now have compulsory French lessons for all the English speakers, and they get fined if they don't go. We also have voluntary English lessons for the French boys, and they all appreciate it.
"Then we had this wonderful moment and everyone was going on about all these problems and Alex Popham said 'I don't understand it, we're all rugby players. We go on the field and we play, and we win, and then we go out and try and f**k'. He said that's what being a rugby player is all about, and everyone sort of went 'Yeah, that's right'. Embarrassingly, it was me, the chief executive standing there in my suit, who had to translate into French what he'd just said! But there were lots of things like that. It's all the things that are the invisible part of the iceberg. Really, it's the little things," he said.
Get the details right and the rest will follow. But ignore minor problems and major consequences will arise. It's a standard business lesson, but one that Brive's emerging squad is happy to take on board – and with startling success.
Part II – Simon Gillham explains why he was so riled by BBC commentator Ian Robertson, Brive's unique take on transfer policy, his relationship with Rob Andrew, the club's future plans and why Steve Thompson should be playing for England again.
Related articles:
Interview: Steve Thompson - 'I want to stay in France after I finish playing'
Interview: Ben Cohen - Time to Brive