ProD2: Chabal and Nallet lock in to Racing Metro's dream for fast track to success
29 April 2009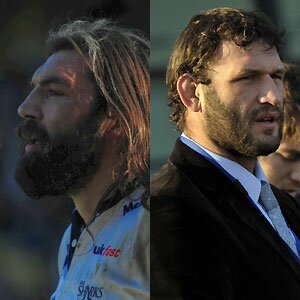 Two of a kind: Sebastien Chabal and Lionel
Nallet have both signed three-year contracts
Photos: Michael Paler
Racing-Metro 92 have confirmed the headline-grabbing double capture of French internationals Sebastien Chabal and Lionel Nallet.
Both had long been tipped to join the newly promoted ProD2 champions, with the pair reigniting a former club partnership they had together at Bourgoin.
Since then Chabal went on to become a cross-Channel hero following his transfer to Sale Sharks, but the iconic second row - who earns a fortune through his off-field advertising - declared he would be returning back to France earlier this season to be with his wife and children.
Nallet - the France captain - joins from Castres after a difficult season at both club and international level.
They are likely to be joined at Racing by Springbok star Francois Steyn in a megabucks deal set to be confirmed later this week.
Racing to the top - A closer look at the ProD2 champions
Racing president gets shirty with Stade Francais
But the double capture of Chabal and Nallet - both on three-year contracts - is a clear signal of intent from Racing president Jacky Lorenzetti.
"We have won our bet," the multi-millionaire told AFP. "We have been engaged for several months now in signing excellent players and not stars, because we have a habit of saying that with us there is not one individual star, it is the team that counts."
Top 14 Table / ProD2 Table / Top 14 Transfers
Chabal (31) and Nallet (32) may be getting on in years but they will still be junior members compared to fly-half Andrew Mehrtens, the 35-year-old former All Black who will be handed a one-year contract extension to continue next season.
Lorenzetti has set his sights on emulating the commercial and playing success of Paris neighbours Stade Francais, under the guidance of Max Guazzani. The city rivalry is likely to be one of the highlights of next season's Top 14 campaign, with the clash of egos off the pitch - between the two presidents - likely to be as explosive as the action on it.
"The team is making its return to the top division after an absence of 10 years," said Lorenzetti. "I would like to thank Pierre Berbizier [coach] who I managed to convince that the project was interesting.
"People have often accused us of being mercenaries but we showed in our last match our qualities in terms of playing as a team, which are indispensable when you play rugby. This bad image which we have been given is not Racing's real one. This team has a soul," he added.
Racing secured promotion with two games to go at the weekend and are set to continue their investment in new players throughout the summer. In addition to signing Steyn they have also lined up a hatful of other players, with Lorenzetti admitting that up to 30% of the squad will be new faces as he seeks to implement a proposed budget of 15m euros.
That would put Racing up in the top six spenders, although money and big-name signings alone does not guarantee success - as witnessed by Toulon's struggles this season. But in Berbizier Racing have an experienced and street-wise coach amply able at dealing with big names and international stars - something that clearly has proved a problem for Tana Umaga at Toulon this season.
Although results have improved of late for Toulon, the guiding hand of incoming director of rugby Philippe Saint-Andre has been integral to that change. Both teams - Toulon and Racing - also shared a desire to sign England fly-half Jonny Wilkinson, although it now seems that Toulon have won that particular race, with their capture of the Newcastle Falcons player set to be confirmed next week.