Feature: Racing to the Top - a closer look at ProD2 Champions Racing-Metro 92
By Colin Spiro, 26 April 2009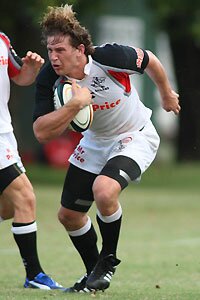 Wanted: Mercurial Springbok
fly-half Francois Steyn
Photo: Steve Haag
Back Page Sport.com
Racing-Metro 92 confirmed their promotion to Top 14 on Sunday, becoming the capital's second club in France's premier division.
But who, or what, are Racing-Metro 92, and what are their chances of making an impact in the top flight given the struggles of Toulon and Mont-de-Marsan this season?
Of last year's two promoted clubs Racing bear strongest comparison to Toulon as they will go up on the back of sustained league success and bankrolled by an ambitious multi-millionaire.
For Mourad Boudjellal read Jacky Lorenzetti, the uber-wealthy boss of real estate giants Foncia who isn't shy of investing his millions into Racing.
Both clubs also shared the same fly-half in their promotion seasons – ex-All Black Andrew Mehrtens – and Racing, like Toulon, are planning some eye-catching summer transfers to help them make the necessary upgrade to Top 14.
Top of their list is mercurial Springbok Francois Steyn, who is reputed to have agreed a lucrative contract to join the Paris wannabes – but only at Christmas owing to previous commitments with the national team.
Mehrtens could hold the fort until then, although the 35-year-old may struggle with the increased pace and pressure of Top 14 after two years away from premier league rugby.
But Racing's transfer ambitions don't stop there. They have already acquired the services of Italian centre Andrea Masi, who joined from Biarritz last month, and are lining up an international second row featuring France captain Lionel Nallet (from Castres) and Sebastien Chabal (from Sale Sharks). In addition they have also agreed deals with Biarritz duo Benjamin Thiery and Benjamin Noirot.
Further signings are sure to follow, especially now that promotion has been guaranteed, but they must have a half decent squad already after clocking 23 wins out of 28 so far this season, wracking up 102 points along the way. They also have the meanest defence in ProD2 under the wise tutelage of former Italian coach Pierre Berbizier.
British fans will recognise the presence of former Saracens duo Dan Scarborough (31) - capped twice by England - and Ben Russell (26), along with Scottish international Craig Smith (30), while their phalanx of southern hemisphere players includes; Fiji's former Biarritz flyer Sireli Bobo (33), fellow Fijian internationals Jone Qovu (23), Julian Vulakoro (27) and Simon Raiwalui (34); Tongans Paino Hehea (30) and Mani Vakaola (27); Kiwis Johnny Leo'o (30), Brent Ward (29) and Mehrtens (35); Aussies Nic Berry (25) and Matthew Jolly (33) and South Africans Ashley Clarke (27), Greg Goosen (25)
They also, like Stade Francais, have a number of Italians on their books – as you expect of a club coached by Berbizier – in the shape of Masi (28), Santiago Dellape (30), Carlo Festuccia (28), Andrea Lo Cicero (32).
Young French talent exists there too with 20-year-old centre Henry Chavancy tipped for good things, while experienced Top 14 players such as prop Patrice Collazo (34), scrum-half Jérôme Fillol (31), lock David Gérard (31) and centre Ludovic Valbon (32) add streetwise savvy.
They also have a Georgian and Argentine flanker - George Chkhaidze and Alvaro Galindo – to complete the cosmopolitan feel to their already bulging squad.
As for the club itself, it is an amalgamation of Racing Club de France – one of the oldest rugby clubs in the country – and US Metro – a club for transport workers in Paris. They merged in 2001 after Racing had struggled with the onset of professionalism, sliding down into ProD2 after its illustrious history became something of a millstone.
The '92' in the name doesn't refer to a year, but rather to the number of the department that Racing play in within Paris – Ile-de-France.
The Racing aspect of the club was first established in 1882, becoming Racing Club de France three years later. Initially it was predominantly an athletics club, although rugby was among more than 17 other sporting sections added in time.
As Racing Club de France they won they inaugural French Championship in 1892 when they beat Stade Francais in a one-off match 4-3, when the championship itself was still limited to teams from Paris alone.
Interestingly, Pierre de Coubertin refereed the match – the father of the modern Olympics - and Racing were awarded the Bouclier de Brennus, which is still awarded to Top 14 winners. They went on to win the Championship again four more times (most recently in 1990) and runners-up on a further six occasions (most recently in 1987).
Their more recent struggles began when they slid into ProD2 in 1995/7, and although they were promoted back in 1998 they fell down again in 2000 and have been in ProD2 ever since. Until now.
They currently play at the Stade Olympique Yves-du-Manoir (capacity 6,500) but Lorenzetti has grand plans for a new all-seater stadium to do justice to his star-studded outfit.
Like Stade Francais, they certainly don't lack ambition, with Lorenzetti proclaiming that his stated aim is to have Racing playing in the Heineken Cup by 2011.
Only time will tell, but they certainly won't lack for finances.