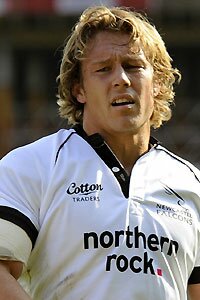 Jonny Wilkinson: Expected to
sign after Toulon's next game
Photo: Michael Paler
England World Cup hero Jonny Wilkinson has held further discussions with French Top 14 side Toulon this week.
Wilkinson, 29, has been the subject of a season-long courtship from Toulon and now appears on the brink of confirming his imminent move.
Toulon president Mourad Boudjellal is desperate to complete the signing of one of rugby?s highest-profile players, but is willing to wait until the club has confirmed its Top 14 status, according to French newspaper L?Equipe.
That means Wilkinson?s proposed transfer from Newcastle Falcons is now not expected to be officially announced before May 8th, when Toulon travel to Dax in a match that would see them finally guarantee their safety should they win.
Boudjellal is reported to be ready to pay Wilkinson between ?800,000 - ?1m per season. But the world?s leading international points-scorer will have to pass a rigorous medical to seal the lucrative switch.
Wilkinson, who speaks French, has not played a competitive game since dislocating his kneecap on September 30th.
Top 14 Table / Top 14 Fixtures / Top 14 Transfers
Perpignan?s Scottish scrum-half Chris Cusiter could become the club?s second representative on the British and Irish Lions? forthcoming tour of South Africa.
Cusiter?s hopes of joining club and national colleague Nathan Hines rest on being selected as the replacement for injured Irish scrum-half Thomas O?Leary, who broke his ankle while playing for Munster in a Magners League match against the Scarlets on Friday.
Cusiter, who has overtaken Scottish captain Mike Blair in the pecking order, is thought to be in the frame with two other possibles ? Sale?s Dwayne Peel and Harlequins? Danny Care. An announcement is expected soon.
One future French-based player definitely not going is England flanker James Haskell ? who was dropped to the bench for his last game with London Wasps. The 24-year-old now has now readjusted his sights on England?s summer tour of Argentina after admitting the last six months had been ?very, very difficult? following his decision to sign for Stade Francais in Top 14 next season.
?I don?t regret my decision to sign for Stade, but it did turn my season,? he admitted. ?It was a massive decision ? it must have been a distraction.?
Haskell, 24, lost both his national and club starting places in the wake of his announcement, but is hoping next season in France will herald a fresh beginning.
?At times I have been a little bit taken aback by the criticism,? he conceded. ?No one of my age has ever made this decision, so it?s a bit galling for people to say it?s a bad one. But I don?t resent people?s criticism. The only thing I resent is that I have not played well enough to get selected,? he reflected.
If Haskell is selected by Martin Johnson he could also be joined in South America by Brive?s World Cup winning hooker Steve Thompson.
The 30-year-old has been in fine form for Brive this year after recovering full fitness and would dearly love to resurrect an international career that has already earned him 47 caps.
Not such good news for Castres? scrum-half Sebastien Tillous-Borde though, who now looks likely to miss France?s summer tour of Australia and New Zealand.
Tillous-Borde, capped four times, sustained a serious knee injury during his club?s 21-16 defeat by Stade Francais on Friday and is set to be out for at least five weeks.
France play the All Blacks in Dunedin on June 13 and in Wellington on June 20, before moving on to play Australia in Sydney on June 27.
Top 14 newcomers Racing Metro 92 ? who sealed their promotion at the weekend ? have confirmed that Agen flanker Fabrice Culine has signed a pre-contract to join until 2011.
Culine?s arrival is the first of many planned by president Jacky Lorenzetti, with high-profile names such as Sebastien Chabal, Lionel Nallet and Francois Steyn expected to also be confirmed this week.
Lorenzetti has said 30% Racing?s squad next season will be comprised of new players, claiming the club?s estimated budget of between ?15-16m will put it in the top six bracket ? in terms of spending.
Bourgoin president René Flamand has sought to reassure fans that the club?s finances are in order and that it can ?validate? this year?s budget to the satisfaction of the DNACG.
The league?s financial watchdog recently said Bourgoin needed to find ?2m quick-sharp to balance its books for the season, with the threat of punishment (including possible relegation) looming if they failed to do so.
But Bourgoin ? who play Worcester Warriors in the semi-final of the European Challenge Cup this weekend ? have released a statement claiming they are confident that all conditions will be met.
?With the commitment of the Municipality of Bourgoin-Jallieu and local government, René Flamand, president of the club, will be able to promptly submit all financial guarantees and assurances required for closure of the 2008/09 season,? said the statement.
The DNACG had ordered Bourgoin to find an initial ?900,000 by April 30, while further seeking assurances that it could cover a projected season?s deficit of ?2m. But this week Flamand said the situation was now under control. ?This problem is completely covered by local and other revenues that have been mobilized,? he said confidently. ?I don?t want to say any more about it yet but I will say that the mayor of Bourgoin-Jallieu keeps his promises,? he told Midi Olympique.
Flamand said the club's sustainability had been safeguarded for 2008/09 "for sure" but did warn "this is not the same for 2009/10, but we still have time for that". He went on to thank the town's mayor Alain Cottalorda for his support and urged him to continue. "This club brings a lot to this small town, it is a vehicle of communication," he added.
Elsewhere, Toulon's former All Blacks prop Saimone Taumoepeau has signed a contract extension, while wannabe All Black Sonny Bill Williams has confirmed he is set to make his boxing debut.
The controversial rugby league convert will fulfill a lifetime ambition when he takes to the ring in Brisbane on May 27 in support of the 'KO to Drugs' charity.
Williams was in the corner of Kiwi boxer Maselino Masoe - brother of Castres' former All Black Chris Masoe - when he fought (and lost) in Germany at the weekend. He will travel Down Under at the completion of the current Top 14 season, and is also due to represent the Barbarians when they take on the Wallabies in Sydney.
"My priority is keeping Toulon in the Top 14, the boxing comes second in my head," he told L'Equipe. Williams has been sparring as part of his training in France recently and said he was excited about his forthcoming four-round heavyweight bout. "When I was young there were two things I liked - rugby league and boxing," he added.