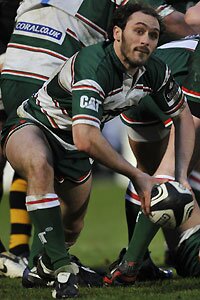 Determined to leave: Julien Dupuy
Photo: Michael Paler
Scotland internationals Hugo Southwell and Rory Lamont have joined the ongoing flood of British players heading to play in France?s Top 14 next season.
Reports in the French sporting media say that Southwell will sign for Stade Francais next week ? joining up with England internationals James Haskell and Tom Palmer, as well as Scottish team-mate Simon Taylor ? while Lamont has become the third Sale Sharks player to follow boss Philippe Saint-Andre to Toulon ? together with Juan Lobbe and Sebastien Bruno.
Southwell (28) currently plays for Edinburgh Rugby and has more than 40 Scottish caps to his name. He can play either on the wing or at full-back.
"Stade Francais is one of the best European teams," said Southwell. "It's a good experience an a great opportunity for me to come to Paris," he told the club's website. "I spoke with Simon Taylor at the Six Nations Championship and he had only good things to say about the club."
Top 14 Table / Top 14 Fixtures / Top 14 Transfers
Lamont (27) is also capable of playing wing and full-back, and could yet be joined in France by brother Sean, who continues to interest Brive.
Toulon, meanwhile, also expect to complete the signing of England fly-half Jonny Wilkinson once they have secured their Top 14 status.
A third British-based player is also on the verge to signing for a French team, with Saracens? Samoan prop Census Johnston set to clinch a two-year deal with defending champions Stade Toulousain.
The 27-year-old previously played in France before joining Saracens, winning the Top 14 Championship with Biarritz in 2006. Rumours in certain press reports that he was being signed to replace South African Dan Human are wide of the mark though, with the latter expected to sign a two-year extension with Stade Toulousain later this week.
And two British-based French stars are also likely to confirm their returns back home shortly, with Racing-Metro 92 set to unveil Sale?s Sebastien Chabal on Wednesday ? perhaps together with France captain Lionel Nallet and 21-year-old Springbok Francois Steyn.
Leicester Tigers? want-away star Julien Dupuy is also determined to move back home despite having a year left on his current contract. L?Equipe reported that the 25-year-old former Biarritz player has had ?contacts? with two Top 14 clubs, thought to be Perpignan and Stade Francais, as he seeks to move back to France for ?personal reasons?.
"I want to return to France," Dupuy told the French paper, adding: "This is not about rugby. It is going very well on that front here, but there is more than this in life."
Tigers boss Richard Cockerill remains intent on trying to keep Dupuy, even suggesting he could be a viable alternative for the France national team this summer following Sebastien Tillous-Borde?s injury, but Dupuy still wants to leave. ?They want to keep me, but I hope,? he said.