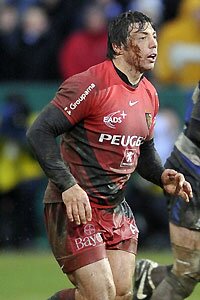 Disciplinarian: Stade Toulouse
scrum-half Byron Kelleher
Photo: Michael Paler
Stade Toulousain's three Heineken Cup triumphs marks them out as Europe's most successful club team, so when star player Byron Kelleher admits they've altered their approach this season it's wise for others to sit up and listen.
The French giants remain true to their attacking ethos – as witnessed by Sunday's five-try demolition of Sale Sharks – but they've had a long hard think about where they came unstuck in the previous two campaigns as they lost to Munster (in the 2007/8 final) and Cardiff Blues (in the 2008/9 quarter-final).
The latter loss was a particularly bitter pill to swallow, and prompted head coach Guy Noves to sit down with his star-studded squad and ask where it had all gone wrong.
"This year we've really talked about the reasons we've lost the H-Cup over the last couple of years," the former All Blacks scrum-half told frenchrugbyclub.com. "The nucleus of this team has been together for a couple of years now so this is our third season we've been together, and we really felt that we've lost in the last couple of years through discipline.
"Discipline has been a factor of French rugby and we really concentrated on that this week, talking about not speaking to the referee, controlling the emotion side of things that the French mentality has at times, and under pressure being able to communicate with one another - to angle that frustration and energy into speaking to one another, rather than talking with the referee and giving away penalties.
"So our discipline was a real key that we wanted to work on this year and that enables us to concentrate on the rhythm of our game a lot more as well."
Kelleher's comments are enlightening on several levels. Firstly, some might drag out the 'kettle, pot, black' theory when the 32-year-old starts mentioning about talking to referees. The ex-international is certainly not averse to the odd word here and there, sometimes rivalling the television commentators for his audible interpretation of the game. But he was good to his word on Sunday and stayed well clear of any confrontation or backchat with the officials.
Secondly, Kelleher has previously told frenchrugbyclub.com of his love for the French passion and vitality in its club rugby, likening it to a 'Latin' mentality. It's a facet of the game he feels released by after the stricter confines of New Zealand's ultra professionalism, but now he recognises that while it's admired in France it doesn't go down well with referees from across the Channel – and that means in Heineken Cup games. The tempers have had to be tempered, or as Kelleher himself put it 're-channelled' into driving the team on.
It's all about rhythm
The third comment that stood out was his reference to Stade being able to "concentrate on the rhythm of our game". This goes to the very heart of the type of rugby that head coach Guy Noves has been trying to promote since taking the club's reins in 1993. Noves is the rugby equivalent of Sir Alex Ferguson – hot tempered, hard-boiled, committed to attacking play and more successful than any of his European peers.
Not many rugby players talk about the team's "rhythm", but this is what marks out Stade from their rivals. They play, quite literally, to the rhythm pounded out by the supporters drums, lifting their game with sweeping pitch-length attacks executed by a commitment to keeping the ball alive through magnificent off-loads.
Sometimes it proves their downfall, but Noves simply refuses to countenance another way. The match must be won, yes, but it must also be won with style.
But Kelleher's comments about ensuring team and individual discipline confirm there's still room for pragmatism, This is, after all, a club that thrives on success, and without it they would merely become a testimonial side – good to watch, but ultimately meaningless.
The southwest giants have come in for some stick so far this season as they struggled to bind these qualities to good effect in their opening Top 14 games. Three away defeats and a home draw have set tongues wagging, but they got back on track with a 30-12 away win at Montpellier last weekend and followed up by savaging the Sharks on Sunday.
For Noves it's all about timing. An early season loss or two is irrelevant if you lift the French title in May. Last year the club ran out of steam at the business end of the season and the wise old coach is determined for that not to happen again this time around. To that end he's been rotating players to retain fresh legs, although even he knows that certain positions require consistency.
The half-back combination is crucial in terms of understanding and providing team momentum, and last year Noves seemed unsure which was his best pairing out of a multi-skilled quarter featuring Kelleher, Jean-Baptiste Elissalde, Frédéric Michalak and David Skrela.
The latter is yet to feature this season due to injury, but Michalak began the campaign as Toulouse's starting 10. The French international won rave reviews from Noves for his form in pre-season but has failed to take that on into the Top 14 and has now been usurped by Elissalde.
Kelleher has not been without problems himself this campaign – with a well-documented drink-driving incident sidelining him for several weeks – but is now back to full fitness and thriving on his partnership with Elissalde. They dominated the half-back region against Montpellier and were integral again on Sunday, until Elissalde was replaced once the bonus point had been secured.
"We really understand one another's play"
"This is our third season together now and I think that we really understand one another's play," said Kelleher. "That's important because we are the ones that drive the team, we are the ones that make decisions, and as long as we're two brains thinking as one that's beneficial for the team."
Kelleher's combative nature dovetails perfectly with Elissalde's calm approach, and the beautifully executed cross-field kicks that led to two of Sunday's tries confirm that the latter is thriving in the 10 shirt. Indeed, the team appears to be gelling as a whole.
"We haven't been really happy with our form for the last month, or six weeks, so we've been really concentrating on that for the last two weeks," said Kelleher. "If you look at our squad, yes we are lucky to have a stack of internationals in our team, but we've been playing as individuals and not as a team. So, we've really worked on cohesion in the last couple of weeks to get some rhythm among our team, and to play as a team rather than as individuals."
People talk about outstanding teams where the sum is always greater than its parts, and if Stade Toulousain can achieve that – bearing in mind the fantastical quality of their 'parts' – then 2009/10 could see them become the first club side to lift the Heineken Cup four times. In an era where so much emphasis is placed on defence it would be a welcome achievement indeed.