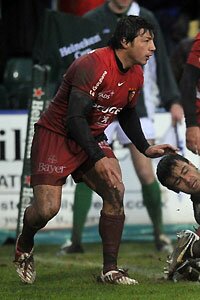 Winning is not enough: Stade
Toulousain's Byron Kelleher
Photo: Michael Paler
Former All Blacks scrum-half Byron Kelleher has become Guy Noves? go-to man at Stade Toulousain. A beacon of the fire that breathes through a squad determined to end the season with yet another French Championship. Clermont Auvergne ? last year?s beaten finalists ? stand in their way in Friday?s semi-final, but Kelleher ? only recently back from injury ? told frenchrugbyclub.com that nothing but victory would suffice to appease the demanding standards set by the club and its impassioned supporters.
At 32 and the veteran of three World Cups and 59 All Black caps Byron Kelleher has every right to be in the winding down phase of his illustrious career. That, however, could not be further from the truth as the gnarly number nine is now at the peak of his considerable powers and flourishing in the rugby-mad confines of his new environs at French rugby giants Stade Toulousain.
Instead of cashing in on his well-earned fame the former Otago and Chiefs scrum-half has embarked on a new journey, a quest that has seen his profile rise yet higher and his respect ? both on and off the pitch ? climb accordingly.
He is the heartbeat of Guy Noves? red and black machine, the embodiment of commitment and talent, and he?s revelling in ?part deux? of his stellar rugby career.
His puppyish enthusiasm for all things Gallic confirms his unabashed love affair with the French ? a fact borne out by the number of times he starts a sentence with ?The best thing about living/playing in France is??
Throughout the course of our interview Kelleher expounds on the theory that this is: (a) playing in the Heineken Cup; (b) the natural flamboyance of French club rugby; (c) the Stade Toulousain supporters; (d) the country?s varied cuisine; (e) the challenge of bedding down in a new environment and (f) the French ?joie de vivre?.
Top 14 Table / Top 14 Fixtures / Top 14 Transfers - The story so far...
Often when you start a new relationship it?s the differences that make you fall in love, and there?s no shortage of contrasts for the man who added a dash of colour (red) to his traditional warrior outfit (all black). And perhaps that?s the key for this fiercely determined but free-spirited scrum-half.
Playing for the All Blacks ? as he did for over a decade ? is a serious business. That?s not to say that pulling on the Stade Toulousain shirt is free of responsibility, just that in France there is a different perspective to rugby.
He freely admits he was seduced by his new homeland while travelling the globe in his All Black guise ? ?I realised that I took quite a fancy to the French way of life,? he says ? but many players have peered over the fence and admired the iridescent grass only to return 12 months later with an enlarged bank account but diminished enjoyment.
The most important thing for anyone relocating to a new country is integration. This can be relatively straightforward for say a South African coming to London, but embracing a totally different language, let alone the accompanying culture and cuisine, can be a step too far for many.
For Kelleher, though, it was exactly that trip into the unknown that appealed. Accomplishments and accolades had flowed his way for more than 10 years back ?home?, but it?s clear he still felt in some way unfulfilled. And that wasn?t simply his triple failure to land a World Cup winner?s medal that urged him on in search of pastures new.
?I wanted a challenge in life outside of rugby as well, and that was to learn another language, another culture and a different way of thinking ? understanding not just the Anglo-Saxon way but also the French-Latin culture. So, I really took to that when I decided to leave New Zealand and the All Blacks,? he explains.
?It was the next challenge for me and I wanted to indulge in life here, and I didn?t want to just come for a short period of time to clip the ticket and return back to New Zealand, or to go over to another team or another country. I said ?No matter what, I will stick with it and fight through the highs and lows and really have a crack at understanding and learning a new life?. And that?s exactly what happened.?
So, how is the French?
?Oh, it?s not too bad. I?m speaking pretty good French, and I?m also probably understanding more what people are saying to me than actually speaking it. I?ve noticed that listening and understanding is a lot easier to do than speaking,? he reflects.
Those familiar with Kelleher?s running match commentaries to referees might doubt his last assertion, but there?s no questioning the sincerity of his willingness to learn.
?I?ve got a few jokes that I hold aside for the boys in French and that certainly helps you to integrate into the team, and into their way of life as well. People love seeing you make an effort but to me it?s not making an effort ? I want to learn the culture, I want to learn the way of life here, so it?s important for me to do that. I?m enthusiastic to learn the different mentality and the different way people think, in a Latin based culture compared to the English culture.?
It is this wholeheartedness that has made Kelleher such an icon in France already ? not only in Toulouse, but nationwide. His playing talents were never in doubt, but his devotion to establishing a new life has won widespread admiration.
Bus-top Haka
It?s a two-way symbiosis that he reads like a comic and his well publicised bus-top Haka after Toulouse had won last year?s championship ? available on Youtube  ? was the perfect example.
The Haka, to Kelleher, is a deeply moving moment. It?s not to be taken lightly and it?s not just for show. Indeed, during his time in an All Black shirt he helped develop an updated version so New Zealand?s younger generation could properly relate. It was no less frightening ? the climax of a drawn thumb across the neck confirmed its intensity ? but it was an earnest attempt to re-connect with its true values.
In France Kelleher was constantly asked to perform it, but steadfastly refused as he felt its core essence would be diminished. The exception, however, came after last year?s glorious Top 14 play-off triumph against Clermont Auvergne in the Stade de France.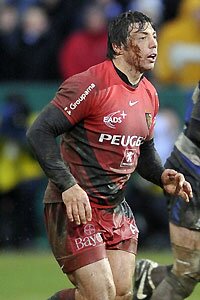 I?m playing for people that help
me in my life: Byron Kelleher
Photo: Michael Paler
?I think it?s been a while since they had an All Black playing for Toulouse and the French really respect New Zealand rugby.  There?s great rivalry but there?s also great respect between the two countries, so as a long-term All Black who had just recently arrived in Toulouse I wanted to make sure that they could understand I was here for the right reasons ? for my play.
?I had been asked many times to perform the Haka but I said ?Well, it?s not just about a performance?. To me it?s quite a spiritual thing and I like to keep it that way. I decided it was an appropriate moment [after the Top 14 championship final] and the guys called me up on top of the bus to do it. I did it to the guys straight after the game over the Bouclier ? that was the most important ? and then after that the fans deserved to receive one as well, so I thought it was the appropriate time to do it.?
It was the culmination of an exceptional debut season ? a season which brought Toulouse their first domestic triumph in seven years and within a whisker of pulling off the Top 14 and Heineken Cup double. Kelleher?s contribution was massive ? as his Top 14 Player of the Year award testified ? but his affinity with Toulouse is what drives him on.
?I feel I?m not just playing for a club anymore ? I?m playing for people that help me in my life and have built a relationship with me to integrate into this fantastic city and fantastic rugby team. Now I feel as though I want to give everything I can to them before I finish playing my rugby.
?It?s given me another breath of fresh air and I always stumble on my words when I have to talk about what?s happened to me here because it?s been amazing,? he adds.
?For me to come over here and be adopted by the city is just an incredible feeling and the supporters have just been the best thing ever for me. Therefore I think it?s an ?obligé? for me to give back as much as possible. I just feel young again, and really enthused with the experience, so that?s a great combination.?
And that relationship with the Toulouse fans is integral to the club?s whole ethos.
?They have a lot of passion and the experienced players here stay true to that. It?s great that I have the same mentality as them. Winning sometimes is just not enough ? we like to win with flair.?
The attraction of that less structured approach ? meaning more scope to be off-the-cuff ? was also a key factor in Kelleher?s decision. The intensity that accompanies pulling on the revered All Black shirt can be stifling, he admitted. By contrast, the red and black of Toulouse can be liberating.
?French rugby is fantastic to play in ? it?s electrifying and it?s flamboyant and they create something out of nothing, which suits my style of rugby.?
It?s an approach which has helped turned Kelleher, or BK as they call him here, into a national treasure.
?I?ve been adopted by not only Toulousains, but also a lot of people in France. I think they just see the effort ? not the effort, that?s the wrong word - the passion of me wanting to learn and wanting to participate towards their style of rugby and the way they think about things. It?s not just ?Okay, I?m an All Black and I?m turning up telling you what to do?. I think that?s what the difference between English culture and Latin culture is. It?s a bit more relaxed and if you adapt to it and get used to it, it?s a lot easier because there?s a lot more stress in the way they train in England and New Zealand.
?When it comes around to style of play I think that rubs off as well, because the stress that builds up to a game in New Zealand when you prepare for matches is quite intense. Whether that made a player who wasn?t experienced enough ? I?m not talking about myself, but players in general ? whether that makes a player hide in his little nut shell because he is too afraid to exploit or expose his natural ability and skills compared to in an environment where he feels comfortable and is relaxed and is ready to get on the field and be himself and play what he needs to do. I think that is the difference.
Flamboyant
?I think over here you get to see a lot more flamboyant rugby because players are relaxed and they?re not scared to try things that they are instinctively good at. Whereas in New Zealand sometimes there is a lot more pressure by coaches and players around you to perform to a level consistently every time.?
But where does that leave Kelleher ? himself an ?étranger? ? on the tricky but topical question of overseas players in Top 14. Even Sports Minister Bernard Laporte supported the recently agreed limit that will be phased in over the next three seasons as the ever-stronger euro continues to draw more and more players from foreign climes.
?I really believe that the top teams need to have the majority of the guys in the team as French,? says the Dunedin-born scrum-half. ?You?ve got to have that ?équilibré? ? the balance, like we do at Toulouse [where they currently have nine of the French squad on their books].
?You look at how many overseas players were in French competitions last year and then how many of them have left? A lot of them come over and just clip the ticket, which is not good for the environment and it?s not great for the teams. They grab their money and they leave. To me it?s about building your team, it?s about building a spirit within the team and then that filters on and flows into the city or province that you?re playing for. That?s something I?m quite passionate and proud about, and I hold in high regard. I think that?s part of rugby. I really believe that rugby has this great aura about itself ? it has this way of spirit, of forming teams and holding teams together over a certain amount of years. Whereas in other sports, especially soccer, it?s all about the money at the end of the day,? he reflects.
And there?s no-one better at forming a squad ethos than Stade Toulousain?s veteran coach Noves ? the most decorated coach in European rugby.
?I had been told many strict stories beforehand about Guy?s reputation as a coach and as a person. He?s a competitor, a fighter and he always wants to win. That?s a fantastic attitude to have. People can sometimes look at that and become a little bit negative but at the end of the day we are a sport and we want to compete and win, so I love that touch that he?s got.
?He certainly overlooks things as well outside of the team, just makes sure that he?s got his players honest to one another and honest to the cause of playing for Stade Toulouse. He creates a real live feel within the club and the club itself is well and truly supported by some great people in some great positions.?
Heineken Cup failure in Cardiff was an unexpected low-point for Top 14?s defending champions this season, and even with some indifferent league form of late Kelleher still believes the club?s squad has greater depth than last season - especially in the half-back department where the addition of Frédéric Michalak and David Skrela has brought heightened competition. No player is guaranteed their place, but it?s a situation he?s familiar with owing to his long-running rivalry with Justin Marshall for the All Black number nine shirt.
?At the start it was difficult because Fred plays differently to Jean-Baptiste (Elissalde) and Skrela is a different 10 altogether, so for me as a nine it is definitely about adapting, but I?ve noticed that?s the way it is here ? you take it on board and you go with it. I?ve just adapted to it and made sure that I?m a piece that fits into the jigsaw puzzle. We have a week of preparation and we know the overall general plan of the team and we just make sure that we build each combination stronger and stronger each time we play with each other.?
All?s well on the pitch then, but what about away from the pressure zone of the rugby pitch. How does Monsieur Kelleher relax his mind and aching limbs?
?I got two weeks off for Christmas so I went back to New Zealand which was fantastic. I went up to Cairns and went out diving around the Great Barrier Reef. Here in the summer time it?s great to get out on the back of a boat and do some fishing or get up to Bordeaux and go to some chateaux. But just discovering different things in France is fun. One of the great things for me is I?m a great food lover and to go to different districts in the areas to taste their specialities is just fantastic. You?ve got Bouillabaisse in Marseille, in Aix-en-Provence you?ve different rose wines and whites, you?ve got frois gras in Auch and all that sort of stuff, so it?s great for me to intermingle into these different communities. In France I?ve really noticed that the village represents a meal or a style of cooking as well as the history that goes with it, so it?s got a real feel to it and I really enjoy that.?
He?s also started a charity ? the BK9 Foundation - to help underprivileged kids pursue their sporting dreams and is a partner in a business venture that recycles household plastic waste into freight transportation pallets.
So, Kelleher remains as busy off the pitch as he is on it. But there is a reason ? he?s building for his future outside of rugby, a future that will be played out in France.
?When I went back to New Zealand at Christmas it was the first time I had been back there since the rugby World Cup, but I?m happy to be based in France now. I?m happy being in Toulouse and I want to create things for myself in my time passing through the jersey here to make sure that I can intermingle into society and create something for myself.
?I love France, it?s a fantastic spot ? a really great place in the world. I?ll never forget where I came from or where I?ve been, but I?ve known my culture in New Zealand and respected that. Now I want to change my life and have a different view of things. I?m really enjoying France and see myself staying here for a long time.?
Beyond playing?
?Oh yeah, for sure,? he replies, before clearing up any possible doubt: ?Definitely?.
With that it was ?au revoir? to Toulouse?s favoured son and off for yet more training, no doubt to be followed by a decent glass of red and perhaps a hefty bowl of ?cassoulet?.
* Parts of this interview were first published in International Rugby News