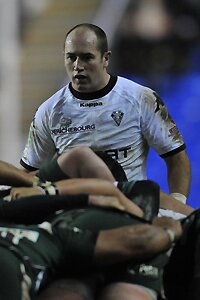 Looking for a win: Shaun Perry
Photo: Michael Paler
As one of only two teams yet to register a single point in this year?s Heineken Cup you might think that Brive had little to play for in Saturday?s final pool game, but that could not be further from the truth. Indeed, the fact Brive remain point-less is all the motivation the one-time European champions require.
Their home match against third-placed Scarlets in Pool 6 presents the Limousin club with the ideal opportunity to sign off with a win and send them into the remainder of the French domestic season in good spirits. It would also help continue to wash away the pain of a traumatic first half to the season that saw them dispense with veteran head coach Laurent Seigne as they dropped ever nearer the Top 14 relegation zone.
The mere fact they were remotely close to the drop zone was an understandable source of deep inner unrest, and Seigne paid the inevitable price as lack of confidence fatally eroded the team?s well being.
But now, three months later, the smile is back on Brive rugby, with the French market town once more abuzz with anticipation as the final Heineken Cup pool match looms on Saturday evening. After just two defeats in their last eight league games they stand once more on the verge of the end-of-season play-off places ? they are just four points adrift of sixth-placed Toulon ? and the desire and belief are both back in abundance. Recent home wins against mighty Stade Toulousain (27-21) and defending champions Perpignan (29-9) have bolstered self-confidence, as has the playing return of long-term absentee Riki Flutey. Former England and Bristol scrum-half Shaun Perry is certainly keen to maintain the upward momentum, especially as a top six finish would also guarantee a return to the Heineken Cup next season.
?That was our pre-season?s target, although to be honest we had hoped to be doing a bit better than we have done in the Heineken Cup. But as far as the league goes you want to finish in the top six, you want to get into the play-offs with the new structure and you want to be in the Heineken Cup next year because that?s what the big-name players want to play in,? he told frenchrugbyclub.com.
?It would be a massive disappointment to finish the Heineken Cup this season without any points, and as a player you want to go away to the likes of Leinster and play in the big games, and you want to try and come away with a win. We?ve got Scarlets at home on Saturday and we?ve targeted that game as one we can win, and even though we can?t qualify we can still make it difficult for the teams that want to qualify. Even though we can?t do it ourselves we can still play a big part in our group, and it is also leading up to our next league game [at home to Montauban] and we want to win that as well - so you do need to keep momentum going and keep the team playing together, and that?s what we?ll try to do.?
Last weekend?s 27-10 away defeat at defending champions Leinster continued Brive?s encouraging form of late, so what?s made the difference?
Lack of confidence
?We had a few defeats when we shouldn?t have lost and we had a few draws where we could have scraped wins, but I think we did just lack that bit of confidence,? reflected Perry. ?The last few wins have built up the boys? confidence and now we?re looking forward, especially after the hard-fought win at Albi, and in the conditions that we played in. I think a few months ago we might have lost that game but the boys dug in and ground out the win, and I think that?s the sign of a team that?s improving - when you can go away and not play well but still win. It was against the bottom of the league but still a win is a win.?
That 17-15 victory may not have been the standout result of recent months ? how can it compare to downing Stade Toulousain or Perpignan ? but the mere fact that Brive battled their way to the win obviously brought the team great pleasure.
?You take the same satisfaction really ? a win is a win. We need the points because we want to be in the top six, and we?ve had a few results against us,? he confirmed.
Perry is still finding his feet in Top 14 after crossing the Channel in the summer and some of the lessons have proved particularly harsh. ?Yeah, we had 50 points put on us at Clermont, and at the beginning of the season Toulouse put more than 40 points on us, so we have been on the other end of a few defeats and I do think it helps that you take a defeat like that and then you realise ?hang on, we need to do this and we need to do that?. Thankfully I think the squad has improved and got tighter and I think it?s showed in the games.?
Top 14 Table  / Top 14 leading scorers / Top 14 Results / Top 14 Fixtures / Top 14 Transfers
The return of Flutey has also helped, both on and off the pitch, with the Kiwi-born centre at last injury free after months on the sidelines. ?He?s a great player. He?s an international and a British and Irish Lion, and his experience is amazing. I think he?s only played three games for Brive and of those three we?ve won two and drawn one. I think his experience speaks for itself and he?s a great player on the pitch. He orders people around and helps, so fair play to him.?
Flutey?s influence could be crucial come kick-off time on Saturday evening, but Perry?s input cannot be discounted either. His terrier-like determination and quick-thinking rugby brain have helped inject both pace and passion into Brive?s back line this season, and he?s clearly thriving in his new environs. That doesn?t mean he?s not self-critical though.
?I think I?ve had some good games - I think I?ve played really well in some games - but I think sometimes I do let myself down, just like against Albi when I dropped two balls ? although the conditions didn?t help. But I think I?m doing well, and the coaches seem to be pleased with me. I?m loving it in Brive, it?s a great place to live, a great squad and we are improving. I?ve got another year left and I would love to stay further but it?s down to the club at the end of the day.?
Another five-star performance against Scarlets wouldn?t go amiss then, especially if it can help shake the ?point-less? tag.