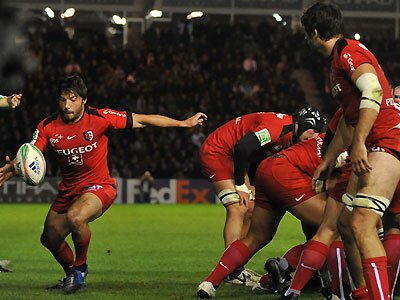 Eye on the ball: Stade Toulousain's Byron
Kelleher has targeted Heineken Cup success
Photo: Michael Paler
Public humiliation is not to everyone's taste but the inner pain felt by French rugby 12 months ago has acted as a spur rather than a noose following the abject failure of its seven representatives in the 2008/9 Heineken Cup. Only Stade Toulousain made last season's quarter-finals, but even they were sent packing with their heads bowed after being out-fought and out-thought by Cardiff Blues in the last eight.
That left the semi-finals without a single representative from Top 14, and led to a period of national wailing that culminated in some serious summer recruitment and a re-think on how to approach this season's competition. The net result of that has been a greater emphasis on progressing in Europe's premier club competition, with the possible conclusion that France could provide four of the eight quarter-finalists this time around.
As we head into the final weekend of group matches Top 14 sides Biarritz Olympic and Stade Toulousain are already guaranteed their presence in the last eight, with Stade Francais and Clermont Auvergne also well placed to join their Gallic brethren. Indeed, it is the English clubs who are facing Heineken Cup obliteration this time around, although much can change on the final 80 minutes of pool rugby.
Only Perpignan and Brive go into this weekend with nothing but pride to play for, but that can also be a mighty stimulus when you have players of the calibre of Riki Flutey and Nicolas Mas in your ranks. The Catalans have had an awful campaign to date, losing four of their five pool matches in a season when they were expected to be one of the strongest challengers. A home game against Benetton Treviso does at least give the French champions the chance to finish with a win, and also to make up for their shock 9-8 defeat in Italy in the opening round of matches.
Brive, meanwhile, have fared even worse than Perpignan, although their expectations were considerably lower. They remain one of only two teams without a single point - Viadana are the others - but their form of late has shown a considerable up-turn and they harbour genuine hopes of finishing with a win against the Scarlets.
Elsewhere, it's a a question of whether Biarritz and Stade Toulousian can get the wins required to secure home berths in the quarters, while Stade Francais and Clermont are merely seeking the victories which will see them progress - regardless of whether they play at home or away in the knockout stages.
French redemption? I wouldn't bet against it, especially with the considerable carrot of a Paris final being dangled in front of Top 14's elite.
Perpignan v Benetton Treviso, Stade Aimé Giral, Pool 1, Friday 21.00
Such great things were expected this season from the reigning French champions, but their 2009/10 Heineken Cup campaign has been nothing short of disastrous. Four defeats from five tells its own tale and the Catalans have no-one to blame but themselves. It all started with their opening round shock defeat away to Benetton Treviso, so Friday's match does at least afford them the opportunity to end with a whiff of revenge in their lungs as they seek to close with a resounding victory. They may be out of the qualifying positions but don't let anyone fool you that this match doesn't matter either, especially after a worrying slump in form that has seen them lose six of their last eight games in all competitions. That is simply unacceptable for a club that harbours hopes of blooming into one of Europe's genuine heavyweights. One of their ongoing problems is the lack of a high-calibre fly-half, something they seem set to address this summer following confirmation that South African Steve Meyer has already been released to sign for the Natal Sharks with immediate effect following the back injury to Juan Martin Hernandez. The Catalans need a win here for their own well-being, but more than that they need a convincing performance. The return of Nicolas Mas, Marius Tincu, Gerrie Britz, Damien Chouly, David Marty and Jérôme Porical should at least ensure that.
Verdict: Perpignan win
Viadana v Clermont Auvergne, Stadio Luigi Zaffanella, Pool 3, Saturday 14.35
Perennial under-achievers Clermont Auvergne may be third in their pool going into this match but France's form team have a quarter-final berth in their sights as they seek to emerge from arguably the toughest group in this year's competition. Confidence, or lack of it, should certainly not be a problem for Vern Cotter's side after stringing together five wins from their last six games, including impressive victories against Leicester Tigers, Brive, Toulon the Ospreys and - perhaps most significantly - Stade Toulousain away. They have firepower throughout the side and are currently oozing class as they build the type of momentum and self-belief that often ends with silverware. The "chokers" label will persist until trophies are finally put on the table, but there's a more clinical edge to their play at present, and a bonus-point win at Viadana should ensure their presence in the last eight for the first time since 2001/2. Their recent high-calibre performances have been acknowledged by France coach Marc Lièvremont, who this week included six Clermont players in his 30-man squad for the forthcoming Six Nations. Top 14 and Heineken Cup double? Anything remains possible at this time for the high-flying 'Jaunards'.
Verdict: Clermont Auvergne win
Edinburgh v Stade Francais, Murrayfield, Pool 4, Saturday 15.45

With qualification still not secured and a feeling of persecution pervading the Stade Francais corridors it could just be that Edinburgh feel the full force of the Paris giants' anger this weekend. The severe ERC bans handed out to Julien Dupuy and David Attoub have seemingly brought the French club even closer together, and there's also the little matter of this season's final being played in Paris to focus their already aggrieved minds. Injuries and bans may still be denting their playing resources - how can you not miss someone of the calibre of Sergio Parisse - but their is still more than enough talent within the squad to ensure Saturday's trip to Scotland is a fruitful one. Full-back Lionel Beauxis will have extra incentive to perform after being overlooked by national coach Marc Lièvremont, while (conversely) restored centre Mathieu Bastareaud should have been given added self-belief after such a speedy recall to 'Les Bleus'. Both players have been in good form of late, while the likes of James Haskell, Julien Arias and Rodrigo Roncero have seen enough of Murrayfield while on international duty not to be overly daunted. "What we have to do is stick together as a team, play well and focus on what we have to do to get that win. We must show the same amount of solidarity that we showed against Bath, and communicate better among ourselves," Haskell told ercrugby.com this week. They may only need a losing bonus point to guarantee their progress but the outside chance of a home quarter-final should ensure against complacency.
Verdict: Stade Francais win
Brive v Scarlets, Stade Amédée Domenech, Pool 6, Saturday 19.00
Brive may have lost all five of their pool matches to date - and failed to even register a defensive bonus - but as scrum-half Shaun Perry confirmed to this site they have targeted this match for several weeks now as one they can win to end this year's campaign on a high. Top 14 has been their overriding priority for some months now, and their recent upturn in form has brought with renewed confidence as they continue to bloom under new head coach Ugo Mola. Four wins from their last five league games underlines the revival, especially their last two home games have seen victories over Stade Toulousain and Perpignan respectively. The addition of Scarlets' scalp would further enhance their self belief, and the 1996/7 champions are determined to end in style and continue that momentum to ensure they return for another crack at this competition in 2010/11. England centre Riki Flutey should make his Heineken Cup debut in Brive colours, while French duo Alexis Palisson and Fabrice Estebanez will no doubt be boosted by their call-ups to the national side this week.
Verdict: Brive win
Biarritz Olympic v Glasgow Warriors, Pool 2, Sunday 13.45
The 2006 finalists have generally saved their best form this season for the Heineken Cup and go into this final round as one of only two teams - Stade Toulousain are the other - already assured of a quarter-final berth. Thus, Sunday's Pool 2 match is all about winning again to ensure a home tie in the last eight - an invaluable asset when the competition turns to its knockout phase. The injury-enforced absence of Dimitri Yachvili, Damien Traille and Fabien Barcella is a blow, but the Basques still have plenty of talent to ensure they end the group stage on a winning note. Their 22-18 win in Scotland in round one set them on their way earlier in the season and there's no reason to suggest they can't complete the double at the Parc des Sports Aguiléra. England centre Ayoola Erinle already has a winner's medal - from 2004 with Wasps - and is keen to add another. "As long as we knuckle down and do our basics well, hopefully we can get a win and a home tie in the quarters," he told ercrugby.com. Glasgow cannot qualify, but Erinle is aware that teams with nothing to lose can pose difficulties at this stage of the tournament. "When you start chasing bonus points without securing the win, then you can come unstuck quite easily," he warned. "Our first and overriding thought will be to win the game. If we can achieve that then we'll look at the bonus point." Securing a home quarter-final would be "massively important" he confirmed, adding: "In any competition you want to play at home, in front of your own fan base. I think we can achieve that as long as we keep our heads and train well."
Verdict: Biarritz Olympic win
Sale Sharks v Stade Toulousain, Edgeley Park, Pool 5, Sunday 15.00
Stade Toulousain are the final French team in action but Guy Noves' outfit are once again at the forefront of clubs chasing European glory as they seek to add to their three Heineken Cup trophies. Stade are quite simply the best in the business in terms of results and a trip to Manchester affords them another chance to showcase their considerable talents. The bitter memories of last season's quarter-final defeat in Cardiff are also etched into the players' minds, with Sunday's game giving them opportunity to ensure they play at home in this season's last eight. Former All Black scrum-half Byron Kelleher is bidding to become only the ninth Kiwi to win the Heineken Cup and the 33-year-old is acutely aware of tradition of success at the south-west giants. "The Heineken Cup is enormous for Toulouse and as the club have not won the competition for a few years there is even more desire to put that right," he told ercrugby.com. While admitting that the Paris final was "an extra incentive" he also stressed that Stade would not be getting ahead of themselves this season - a criticism that was aimed at them last year after their costly home defeat by Glasgow Warriors in round five. "The players are thriving on the opportunity of touching the trophy and bringing it back to Toulouse again," he added. Club and national captain Thierry Dusautoir backed up those sentiments as Stade go in search of a fourth title to add to those won in 1996, 2003 and 2005. "We really want to win at Sale," he said. "At this stage of the competition we all know how important it is to host a quarter-final at home. It is good that we are already qualified but the qualification will not mean much if we don't win the Heineken Cup at the end of the season," he added. Stade have already secured their 12th quarter-final appearance in 15 seasons but, unlike most clubs in this competition, overall victory remains their benchmark. "We really want to win the tournament this year - it is essential for us," confirmed Dusautoir.
Verdict: Stade Toulousain win
| | | | |
| --- | --- | --- | --- |
| Friday 22/01/10 | | | |
| Munster v Northampton Saints | Thomond Park | Pool 1 | 20.00 |
| Perpignan v Benetton Treviso | Stade Aimé Giral | Pool 1 | 21.00 |
| Saturday 23/01/10 | | | |
| Ospreys v Leicester Tigers | Liberty Stadium | Pool 3 | 13.35 |
| Viadana v Clermont Auvergne | Stadio Luigi Zaffanella | Pool 3 | 14.35 |
| Bath v Ulster | The Recreation Ground | Pool 4 | 15.45 |
| Edinburgh v Stade Francais | Murrayfield | Pool 4 | 15.45 |
| London Irish v Leinster | Twickenham | Pool 6 | 18.00 |
| Brive v Scarlets | Stade Amédée Domenech | Pool 6 | 19.00 |
| Sunday 24/01/10 | | | |
| Newport Gwent Dragons v Gloucester | Rodney Parade | Pool 2 | 12.45 |
| Biarritz Olympic v Glasgow Warriors | Parc des Sports Aguilera | Pool 2 | 13.45 |
| Harlequins v Cardiff Blues | Twickenham Stoop | Pool 5 | 15.00 |
| Sale Sharks v Stade Toulousain | Edgeley Park | Pool 5 | 15.00 |