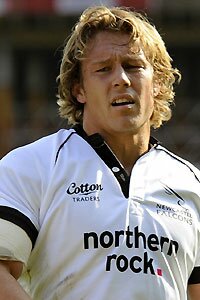 Jonny Wilkinson: French fancy
Photo: Michael Paler
The comings and goings at Toulon over the next two weeks are set to make fascinating viewing now that the cash-laden club has secured its Top 14 status.
The season-long battle finally came to a successful conclusion at Dax on Friday night, but less than 48 hours later the club was already waving goodbye to Jerry Collins, the former All-Black flanker and cousin of player-coach Tana Umaga.
Top 14 Table / Top 14 Fixtures / Top 14 Transfers
Collins was an influential figure in the club?s fight for safety and one can only speculate on the exact reasons for departure (on a two-year deal to the Ospreys).  It may be a purely personal preference to play in Wales, but one thing is for certain; Toulon president Mourad Boudjellal will have known about this development for some time, and ? together with incoming director of rugby Philippe Saint-André ? will have planned accordingly.
The comic book multi-millionaire ? that?s his profession, not a description ? has been unfailing in digging deep to finance the growth of Toulon?s squad, and England World Cup hero Jonny Wilkinson is now set to become his latest stellar signing. Wilkinson, who will be 30 shortly, had been holding off finalising the deal until Toulon?s Top 14 status had been assured, and the Newcastle Falcons player is now due in France this week to complete a medical and personal terms.
The ?medical? aspect is obviously important for a player with such an injury-laden past, but it would be wrong to focus overly on that. Boudjellal is first and foremost a businessman, and a very successful one at that. He has watched with interest the ongoings at other clubs ? most notably at Perpignan and Stade Francais ? and has learnt accordingly.
Back in April he switched Toulon?s home match against Stade Toulousain to the neighbouring city of Marseille, hosting it at the Stade Velodrome (capacity 60,000) instead of the intimate (and intimidating) Stade Felix Mayol (13,700). Not only was the game a financial success ? it was sold out ? but a playing success too as Toulon defeated the reigning champions 14-6.
It was a gamble ? giving up ?home? status and risking a half-empty stadium ? but Boudjellal has seen the lucrative success up at Stade Francais where president Max Guazzani has moved four games this season to the Stade de France. The fact the Paris club has failed to win any of those four matches ? against Stade Toulousain, Clermont Auvergne, Perpignan and Harlequins ? has somewhat diluted the club?s joy, but Toulon had no such problems.
Boudjellal was delighted by all aspects of the game in Marseille and is now planning more for next season. And one way he plans to draw in the crowds is by signing big-name players that will entice punters from outside rugby?s hardcore support. Perpignan showed him the way to do this when they unveiled All Black fly-half Dan Carter earlier this season. His signing led to a dramatic leap in season-tickets, shirt sales and various other money-making operations ? including plenty of PR work with the club?s sponsors ? and Boudjellal is hoping that Wilkinson?s arrival will have a similar impact.
The French love Wilkinson ? partly because he has spoken in French on national television after an international match, partly for the three-syllable relish commentators use for pronouncing his name ('Wil-Kin-Son') ? and his capture will definitely bring in new fans ? including the much sought after package of women and children. The likes of Boudjellal and Guazzani understand that rugby must open itself to a wider audience to compete with football and the sacred sporting dollar (or euro). Men, aged 30 and upwards, are already tied in, but now these more ambitious clubs are keen to include families, children, women, and a generally younger (and higher spending) demographic. Guazzani even started the infamous Dieux du Stade calendar that appeals equally to gay men and women ? according to my wife.
There are no signs that Boudjellal is preparing for a Toulon All-Star calendar ? not yet anyway ? but by signing Wilkinson he is definitely trying to widen the fan base. And if Wilkinson?s ailing body should fail him yet again? That is the gamble, but not as risky as you might think. The impact of his signing alone will provide a financial boom for the club, and as Perpignan showed after Carter got injured just five-games into his six-month stint ? there is still plenty an injured player can do in terms of working to raise the club?s profile.
That is the main reason behind the fact Carter remained in France beyond his operation, when the All Black medical team would have preferred him to fly home so they could closely supervise his recuperation. The Catalans, rightly, insisted that Carter was still under their ?ownership? due to the terms of the contract, and sent him off to meet and greet sponsors, potential backers and fans. By all accounts Perpignan president Paul Goze is very happy with his return having at first feared a massive loss.
So, even if Wilkinson?s playing input is limited, his overall value to the club is potentially enormous. Hence the rumoured ?800,000 pa salary. He will also prove a draw card to securing the services of other high profile players who may otherwise remain untempted by a club that just avoided relegation and definitely won?t be playing Heineken Cup rugby for at least another season.
Which brings us nicely back to Collins. Why would Toulon allow an internationally renowned player to leave now? Unless they have already lined up an attractive replacement?
Collins certainly should have a hot-line to the top ? via cousin Umaga ? so he may well have read the situation and left before pushed. It has not been any easy season for the 28-year-old and he has had to contest with injury, an off-field accusation of assault and a team struggling to win. Maybe he just fancied a change of environment, but whatever the reason reason for him leaving you can be sure Toulon won?t lack for star-dust next season.
Stellar signings
The ever-improving Sonny Bill Williams has signed for another year, and inspirational captain Joe Van Niekerk ? without doubt Toulon?s player of the season ? has also extended. The tyro coach Umaga has undoubtedly struggled at times this year but Boudjellal has now addressed that too. A mid-season locum consultancy from former Springbok coach Jake White partially helped, and now the president has secured the expert services of former Gloucester, Bourgoin and Sale Sharks coach Saint-André.
The ex-France international has had a discreet hand on the tiller for the last three months, and has also been overseeing an aggressive recruitment campaign. Part of Umaga?s problem at the beginning of the season was pulling together a disparate group of international players into a cohesive and tight unit ? something that Saint-Andre is particularly adept at. Interestingly, the captaincy of Collins failed to do the trick, and it wasn?t until Van Niekerk took over in mid-season that fortunes began to change.
Next year Umaga?s work will be primarily with the backs ? his acknowledged area of expertise ? while the forwards will be under the experienced stewardship of Aubin Heuber. Saint-André will take overall control of the club?s direction and is already planning a massive overhaul of its training and medical infrastructure.
He has also been busy on the recruitment front and has already secured the services of nine players currently plying their trade in Britain and Ireland, with Wilkinson?s capture set to make that 10. These are players he knows and trusts ? a mixture of hardened professionals and seasoned internationals.
Three are following Saint-Andre directly over from Sale, with French hooker Sébastien Bruno being joined by Scottish full-back Rory Lamont and Argentina?s Juan Martin Lobbe ? who is also Sale?s captain. Other players already signed up for duty include Leinster?s Felipe Contepomi, Cardiff?s Jamie Robinson, Saracens? Kris Chesney, Newcastle?s Tom May and Munster?s Timmy Ryan, while the arrival of Clermont duo Pierre Mignoni and Laurent Emmanuelli confirms that recruitment will not be solely from the British Isles.
Boudjellal told reporters at the weekend that he would not confirm further signings until a full squad announcement on May 18. ?I am going to let the season finish, and 48 hours after the match against Montpellier we will reveal the squad for next season,? he said.
?We have two or three little bits to finalise this week. In securing our safety, it is easier to sign players. But I?m not going to talk about all this any more before May 18. Certain players are being spoken of everywhere. Some things being said are true, but others aren?t. Certain players who haven?t been spoken of have also signed,? he added tantalisingly.
That leaves the door ajar for a big-name signing to replace Collins, and with the current economic climate Boudjellal shouldn?t be short of potential takers. Watch this space for further developments.