Top 14: Munster's Ryan signs for Toulon as worried Andrew issues yet more threats
30 April 2009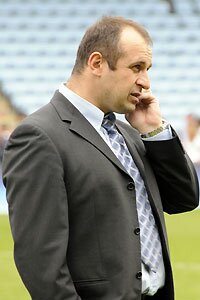 Busy man: Toulon's director of
rugby Philippe Saint-André
Photos: Michael Paler
Munster prop Timmy Ryan has signed for Top 14 outfit Toulon as Philippe Saint-André continues his ongoing recruitment campaign.
Ryan, 24, has had limited opportunities with the Heineken Cup champions this season an follows a host of other British and Irish players heading to the south of France.
The promising tighthead said it was too good an opportunity to turn down, although he didn't rule out a return to Munster in the future.
Top 14 Table / Top 14 Fixtures / Top 14 Transfers
"While I believe it will benefit my game in the short term to experience a foreign rugby culture, I would hopefully see myself returning to Munster at some stage in the future an continuing my career in what is a superb set-up," he said.
Ryan impressed against the touring All Blacks in November, but has only played just five first team games for Munster all season.
He follows Leinster's Argentine fly-half Felipe Contepomi to Toulon, together with Saracens' Kris Chesney, Bristol's Joe El Abd, Cardiff's Jamie Robinson, Newcastle's Tom May and Sale trio Sébastien Bruno, Juan Martin Lobbe and Rory Lamont.
The Top 14 side is currently coached by All Blacks legend Tana Umaga, and already includes international stars Jerry Collins, Joe van Niekerk and Sonny Bill Williams. Umaga is presently fulfilling a unique player-coach role - the first of its kind in Top 14 - and Toulon have also signed French duo Pierre Mignoni and Laurent Emmanuelli from Clermont Auvergne.
They remain favourites to land England's injury-prone fly-half Jonny Wilkinson, pending confirmation that they will remain in Top 14 next season and that the 29-year-old passes a stringent medical. But as Saint-André confirmed today that Wilkinson remains president Mourad Boudjellal's top target, it would appear when rather than if the England World Cup hero finally signs on - for a reputed €800,000 pa.
The ongoing British player-drain to France continues to worry the RFU, with director of elite rugby Rob Andrew again issuing a warning that crossing the Channel could prove harmful to an individual's England prospects, especially if they are not release for training days.
But with the likes of James Haskell, Riki Flutey, Tom Palmer, Andy Goode, Jamie Noon and Iain Balshaw all plying their trade in Top 14 next season it appears that the warnings are having a limited affect.
"We've made it very clear we cannot stop people going, but we can try to protect the integrity of the England programme and clearly if you cannot come to training you are putting yourself at a massive disadvantage," warned Andrew.
"We are saying they will not be picked in the England squad. We will be meeting some of the clubs to ensure that if a player wants to play for England he will be released. For any England elite player it's about taking responsibility for their own career an deciding how much they value playing for England," he added.
Andrew is planning his own cross-Channel trip to meet up with representatives at Stade Francais - who have signed Haskell and Palmer - and Brive - who will have Flutey and Goode both on their books next season.
And RFU chief executive Francis Baron also added his weight to the threats when he said that Martin Johnson would have to make "a judgment call about which players have complied" before naming England's next elite squad on July 1.
Elsewhere, Bourgoin have included Benjamin Boyet, Morgan Parra an Yann David in their 26-strong squad for Saturday's European Challenge Cup semi-final against Worcester Warriors.
All three return after being among a number of players rested for last week's battling 13-6 Top 14 defeat at Stade Toulousain.
Worcester coach Mike Ruddock said Bourgoin's decision to rest players might give them an advantage, or not. "That could work for them, but it could be that doesn't work so well in terms of match rustiness and cohesiveness," he theorised.
In classic sports-speak he said winning in France would be "a big ask", an admitted that his team would draw on their experience of playing against Bourgoin in the pool stages. "We did lose away and we have got memories of that," he added.
Meanwhile, down in ProD2, fading play-off hopefuls Pau have announced the release of five players just two days before a crucial Midi-Pyrenees derby away to fierce rivals Tarbes. Hookers Florian Cazalot and Johane Luro, together with lock Sorin Socol, flanker Damien Costanzo and winger Nicolas Mouret have all been shown the door.