Feature: Hypocrisy abounds after French plunderers give English rugby a reality check
By Colin Spiro, 18 February 2009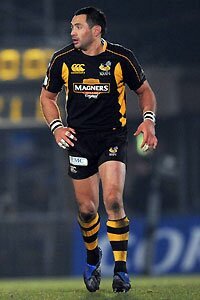 Brive's latest signing: Wasps
and England star Riki Flutey
Photo: Michael Paler
And so it has come to pass. After months of speculation and rumour, three of England's leading talents have confirmed they're upping sticks and heading for the land of cheese, garlic, and – most importantly – bucket loads of euros… or that's what the British press would have you believe.
'The English game is in crisis and these selfish mercenaries have put cash before national honour', has been the general tenor of the response to news that Riki Flutey, James Haskell and Tom Palmer have all signed to play in Top 14 next season.
Emergency meetings have been called for amidst much wailing and gnashing of crooked teeth – best keep the clichés going – and some (most notably Bath coach Steve Meehan) have even called for those tempted abroad to be banned from playing for England.
Few have seriously asked whether playing in Top 14 might actually benefit the players' development and, therefore, England's too. Just ask Andy Goode why he believes he's earned an England recall this season and he'll bounce straight back saying that playing at Brive has broadened his horizons and actually improved him as a player and person.
From next season he'll be teaming up on a weekly basis with England's current inside centre (Flutey) – surely a benefit for international continuity. And as for Haskell, how can he not improve while playing alongside such a formidable presence as Italian captain and IRB Player of the Year nominee Sergio Parisse, or his compatriot Mauro Bergamasco?
But no. That would be to concede that the French might actually have something over the English, and we can't have that can we?
And we haven't even gone into the whole 'lifestyle' choice that Brive CEO Simon Gillham has been at pains to emphasise.
And if you think that's sportsman's tripe trotted out to satisfy sponsors and team-mates then: (a) you don't live in France and (b) you haven't spoken to the players.
As one of those living in France (in the south if you were wondering) and regularly speaking to any number of 'foreign' players, I can confirm that 'lifestyle' is something that is very much at the forefront of most professionals' minds.
Many have wives and children – though not all – and once the typical British reserve about speaking another language has been overcome, they actually find that France can be a pretty special place to live.
Excellent education and healthcare puts England's to shame. Then there's the wine, the food, the ski slopes, the beaches, the weather, the emphasis on quality of life, the determination to have two-hour lunch breaks, the total lack of shops open on Sundays, the importance of family life and, perhaps most importantly, a pure and deep-rooted passion for rugby.
These are all factors a player must take into consideration before moving abroad. Certainly, it may not be to everyone's taste, and playing in Paris is markedly different from plying your trade in a small town such as Brive. But each has their attractions.
Then, of course, there is the money. At present the French can offer to double or triple the salaries of most Guinness Premiership players and that seems to offend some quarters in England who appear to believe the Red Rose country has a divine right to… well, everything really.
How the Aussies and Kiwis must be crying into their morning fix of Weet-Bix as they read about the triple defection from Wasps. For years they have decried the pulling power of European clubs, with many of their leading lights ditching their international careers in favour of amassing some hard-earned pounds.
Ah, those were the days. When the pound outshone the euro and every self-respecting Wallaby or All Black turned first to England in search of their final nest egg. Well, there wasn't much wailing and gnashing of teeth back then – just glee at the capture of yet another Southern Hemisphere star.
Now the boot is very much on the other 'pied' and it's time for the English to watch their talent drift offshore. Other players linked with summer moves across the Channel include Jonny Wilkinson, Iain Balshaw, Shaun Perry, Jamie Noon and Ireland's Geordan Murphy.
Food for thought, certainly, for the Premiership's kingpins, but please don't squeal.