Top 14: All Blacks legend Tana Umaga, 36, confirms playing return with Toulon
19 March 2010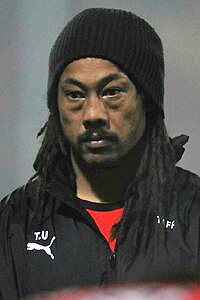 Comeback king: Tana Umaga
Photo: Michael Paler
All Blacks legend Tana Umaga is set for a sensational playing return with Toulon after signing as a 'medical joker' until the end of the season.
The 36-year-old former New Zealand captain has agreed to strap on his boots once more after Toulon winger Christian Loamanu dislocated a hip setting up a try in the club's recent league win over Castres.
Umaga's playing return has echoes of last season when (as then head coach) he decided the best way to oversee Toulon's fight against relegation was to take to the field again.
Top 14 Table  / Top 14 leading scorers / Top 14 Results / Top 14 Fixtures / Top 14 Transfers
His on-field presence for the last nine games proved decisive as the Cote d'Azur club successfully staved off the drop, with Umaga scoring a try and earning wide-scale plaudits for his level of play.
Now he is set for a repeat outing, although the club's circumstances are significantly different this time around. Instead of fighting off relegation Toulon are currently fifth and set for the end-of-season play-offs. They are also in the ACC quarter-finals as they chase silverware on two fronts.
Umaga's position has also changed, with the former head coach having stepped aside to take charge of the club's backs, allowing Philippe Saint-André to take the reins. The latter has been instrumental to Umaga's decision to play again, joining forces with club president Mourad Boudjellal to persuade the 36-year-old to return.
It means Umaga will now have a high-profile send-off with the club he has served so loyally since joining when they were still in ProD2. There are four regulation league games still to go - plus the play-offs and the ACC - after which Umaga will return to New Zealand to take up a player-coach role with Counties Manukau.
The club's decision to turn to Umaga came after it failed to expedite the arrival of London Wasps winger Paul Sackey - who has signed for next season. They also considered bringing in Lote Tuqiri on a short-term contract, but in the end decided that Umaga - who remains fiercely competitive and fit - would be best suited to replace Loamanu.
Umaga's playing return had been sign-posted by Toulon colleague (and frenchrugby.com columnist) Joe El-Abd on Thursday.
Writing in his exclusive blog, he told FRC: "While the news of him leaving cannot be read as good news for Toulon, the possibility of him retaking the field can?t be described as anything other than exciting. Having spoken to some of the players who played with him last season it's clear that he would be a huge inspiration to the team. The question I guess that most people will be asking is whether at 36 he will still be able to play to the level everyone remembers of him?
"Well, from his performances in training it is clear that he hasn?t lost it. He often takes part when we play conditioned games of touch and it?s rare that he plays on the losing team. However, I must say that this is in no small part due to the fact that he bends the rules more than most No 7?s I?ve either played with or against!
"In addition to his undoubted skill level in touch, it?s clear that he still has the physical attributes to compete at the highest level of the game. A couple of weeks ago he joined in when we did some hill runs and made everyone sick when he lead his group in seven out of the seven runs. It?s clear that he is what we call a ?closet? trainer. As for the contact side of the game, I can only imagine the level of intensity that he would bring. When he played he was feared for his ball carrying ability and he was also one of the best players in the world at the breakdown. He coaches the team in the contact area and he has managed to take us all onto another level in this facet of the game.
So the answer to the question is a resounding 'Yes, he does still have it'. So, are the rumours going to become a reality? As they say there is no smoke without fire and I am sure that the club and Tana are currently exploring the possibility of making it happen. Only time will tell but the fact that he has taken a player-coach role next season would suggest that he still has the hunger as a player."