Feature:
A season in decline - How it all went wrong for Paris giants Stade Francais
29 March 2010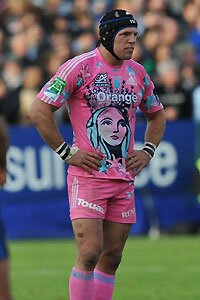 Where did it all go wrong?
Stade's James Haskell
Photo: Michael Paler
The 2009/10 season has proven a tumultuous one for French giants Stade Francais, with the flamboyant Paris outfit stumbling from one crisis to another, both on and off the field.
Rarely have they been out of the French (or international) headlines, with last week's announcement that Leinster's Michael Cheika will become their third head coach in less than 12 months just the latest in a seemingly never-ending stream of eye-catching stories to emerge from the club.
Their latest defeat - a 44-23 hammering by Perpignan - means they are currently languishing in ninth position in Top 14 with just three matches to go and are set to miss out on the end-of-season play-offs for the first time since 2000/01. And this despite the number of clubs involved in those play-offs being expanded from four to six this season.
Indeed, they are now closer to the relegation zone - seven points - than to the play-off places - 10 points.
Mathematically they still have a chance of making it, but their next match is at home to high-flying Clermont Auvergne and they have now lost four of their last five league games as their season threatens to end in abject failure. The fact the team currently blocking their path in sixth place is Paris rivals Racing-Métro 92 has not eased the situation either.
Optimists point out they also remain in the Heineken Cup, but an away quarter-final at three-time champions Stade Toulousain – who trounced them 0-29 at the Stade de France recently – doesn't suggest further progress.
And yet confidence abounded back in August, especially after an opening-day 22-22 away draw at Jonny Wilkinson's Toulon. Highly regarded Julien Dupuy was freshly arrived from Leicester Tigers, while English trio James Haskell, Tom Palmer and Ollie Phillips had also joined from across the Channel.
But here we are, seven months later, with a season in tatters and a reputation increasingly tarnished by mishaps and misadventures that have proven costly.
The signings of Dupuy, Benjamin Kayser and Haskell may have captured their pre-season headlines, but perhaps it was the release of Argentine playmaker Juan Martin Hernandez that began their problems.
'El Magico' had been an integral part of Stade's championship-winning side of 2007 and had no desire to leave, before being unceremoniously told he was no longer required. The truth of the matter is that Stade were forced to cut their costs after agreeing a £200,000 compensation fee to Leicester for Dupuy's signature – and Hernandez was the fall guy.
He left in an understandable huff, packed his bags for a season in Durban and will return to Paris this summer to sign for Racing-Métro. Dupuy, meanwhile, went on to collect a 23-week playing ban that effectively ended his season before Christmas.
In many ways the Dupuy-Hernandez saga encapsulates the problems Stade have had all season, with the impetuosity of president Max Guazzini also playing a significant role. His marketing skills may be 'par excellence', but patience – another crucial asset in team ownership – is not his forte.
He may ultimately have finally made the wisest decision of a troubled season by announcing the appointment of Cheika, a widely respected Australian who has the added attribute of being able to converse in French. But isn't that where it all began some months ago with Ewen McKenzie in charge? Time will tell if Cheika is given a freer hand than McKenzie, and for Stade's sake one must hope that lessons have been learned.
Timescale of a season in decline…
Aug 21, 2009: Stade lose 38-24 away to Bayonne in their second league game of the season.
Sept 02, 2009: Stade lose 35-40 at home to lowly Montauban.
Sept 06, 2009: Stade lose 30-22 away to Biarritz, leaving them with a playing record of lost three, drawn one after four rounds of Top 14.
Sept 08, 2009: Stade sack Australian head coach Ewen McKenzie, with Guazzini turning instead to former Biarritz coach Jacques Delmas, with Didier Faugeron as his assistant.
Sept 11, 2009: McKenzie admits there had been "a problem in the philosophy between the club and myself".
Sept 12, 2009: Stade start life under Delmas with a 44-18 home win against high-flying Castres, going on to register a six-match unbeaten run under their new coaching structure.
Sept 26, 2009: Stade gain an impressive 9-9 away draw at Stade Toulousain, but pay a high cost after Italy captain Sergio Parisse ruptures knee ligaments and is ruled out for at least six months.
Oct 24, 2009: Stade suffer their second 'home' defeat of the season, going down 14-20 to Perpignan at the Stade de France.
Nov 21, 2009: Stade lose 20-18 to city rivals Racing-Metro 92 in Top 14.
Nov 28, 2009: Stade suffer a third home defeat in Top 14 as Toulon travel to the capital and win 22-18.
Dec 12, 2009: Stade lose their first Heineken Cup match of the season, going down 23-13 away to Ulster. More significantly both Julien Dupuy and David Attoub are subsequently cited for eye-gouging Ulster's Stephen Ferris.
Dec 18, 2009: Dupuy is banned for 24 weeks by ERC, subsequently reduced to 23 weeks on appeal.
Dec 30, 2009: Stade's season-long quest for an away league win in Top 14 continues as they crash 25-23 at Montpellier after a late rally by the home side.
Jan 16, 2010: Stade's troubles continue as a scrum-half crisis forces them to play Bath in the Heineken Cup with Scottish full-back Hugo Southwell sporting the No 9 shirt due to the enforced absences of Dupuy (suspended), Noel Oelschig (injured), Charlie Davies (injured) and Benjamin Tardy (ineligible).
Jan 19, 2010: Attoub is banned for a massive 70 weeks after his delayed ERC hearing is finally convened. Attoub had contested the validity of a photograph capturing the incident and maintains his innocence to this day.
Jan 28, 2010: Stade are well beaten by table-topping Castres as they lose on the road again, this time 32-14.
March 05, 2010: Guazzini accuses the RFU of holding flanker James Haskell "hostage" by not allowing him to return to play against Stade Toulousain when England have a free weekend.
March 06, 2010: Stade are humiliated 0-29 at the Stade de France by Stade Toulousain. Guazzini subsequently makes a public apology for his team's inept showing. It is their fourth home defeat of the season.
March 13, 2010: Stade lose again, this time 24-16 away to Brive as they virtually kiss goodbye to any hopes of making the play-offs.
March 19, 2010: Stade confirm that Delmas will not have his contract renewed in the summer, turning instead to Leinster's Cheika as their new 'director of rugby'. No decision on Faugeron is announced. Cheika talks about the need to develop a "culture of excellence" but admits there is much work to do. "In every team, in every business, in every government, there are bad periods. The important thing is how you react when things aren't going well," he adds.
March 27, 2010: Stade concede seven tries as defending champions Perpignan thrash them 44-23 to complete the league double over them. It is their fourth loss in five league games and leaves them 10 points off the play-off zone with just three matches to play.
March 29, 2010: Midi Olympique reveals that Stade are €2.5m in debt for 2009/10, prompting a summons to the league's financial watchdog the DNACG.