Shaun Perry feature: '
I would love to pull on the England shirt again and sing the anthem'
By Colin Spiro, 26 August 2009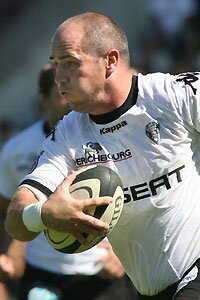 Shaun Perry: A new beginning
© Diarmid Courreges
England's 2007 World Cup scrum-half Shaun Perry talks to FRC about moving to Brive, the joy of French rugby, his previous life as a welder, going wild boar hunting with Steve Thompson (or not), the excitement of the Heineken Cup and his burning ambition to pull on the Red Rose once more.
When Shaun Perry gave up welding to turn professional in 2005 the feisty Wolverhampton-born scrum-half could barely have imagined the sporting odyssey on which he was about to embark.
Within 11 games of making his Premiership (and professional) debut for Bristol – at the none too tender age of 27 - he was called into the England 'A' squad. By August of the following year he was in England's Elite Player Squad and on November 5th 2006 he unleashed his own fireworks by scoring a 65m breakaway try on full international debut, against the All Blacks no less.
Life for the former Dudley Kingswingfield player had certainly taken a dramatic turn for the better, and with the 2007 World Cup looming on the horizon it seemed that one of rugby's late bloomers was about to complete a fairytale rags-to-riches scenario.
Perry did indeed make England's World Cup squad, and even started in the first two pool games, but a South African hammering forced a personnel rethink and the stellar rise was followed by an equally dramatic fall.
Top 14 Table 2009/10 / Top 14 try-scorers 2009/10 / Top 14 Transfers / Top 14 Fixtures 2009/10 /
Form and confidence dissipated as quickly as they had soared, and then luck deserted him too as a run of injuries largely sidelined him for the next 18 months. First it was a fractured windpipe – sustained by a stray boot against Harlequins – and then it was a shoulder problem he picked up in pre-season ahead of the 2008/9 campaign.
When he eventually did make it back Bristol were in a sorry mess and relegation back to National One loomed. Perry did his best to try and lift the team but the dye had already been cast and his mentor, team coach Richard Hill, was preparing to pack his bags – also for France as it later transpired.
But in a strange way relegation could yet turn out to be the best thing that happened to Perry. Necessary cost cutting meant the international scrum-half was politely asked to find a new club and Top 14 outfit Brive came a calling. It was, as Perry freely admits, a dream move, the fulfilment of another sporting ambition – or just the latest installment in a roller coaster ride that would carry health warnings if open to the public.
"I think the new start I've got here in Brive will do me the world of good," says the 31-year-old. He made his debut in Brive's hugely impressive 30-9 demolition of Montpellier (on the opening weekend), and won rave reviews to boot, but experienced the flipside with Brive's equally emphatic 38-0 defeat against Stade Toulousain on Saturday.
'I needed a different challenge'
"I've only been professional for five seasons so I've only ever known Bristol rugby as a professional outfit," he told FRC as he reflected on his switch to Brive. "I had a bit of experience with England, but as a professional I've only been involved with one club and I think that I needed a different challenge and a different start somewhere. After being over here with England in the World Cup I always wanted to come and play in France. Thankfully Brive gave me that opportunity to come across, so once they said they were interested there was never really any doubt in my mind."
The pursuit of his dream has come at a cost though, with his wife still back in Bristol due to work commitments, although she hopes to join him in Brive next season. "It can be awkward, but it's the sort of sacrifice you've got to make," he says. "I wanted to experience a different culture and a different league – a whole different style really – and that's what the French championship is. It's the main reason I came across.
"Unfortunately for Bristol we got relegated and they made it clear that they needed to release some players and I was one of those players that needed to go, but sometimes you need that kick to get things moving. When the opportunity came up to come across to France I took it because I've always wanted to come out here and play," he explained.
Mind you, that foresight wasn't apparent when he opted to give up French at school, and the language barrier is just the latest hurdle that Perry is determined to overcome. Not for him the fluent French press conferences that have earned the likes of Jonny Wilkinson and Tom May early plaudits, but he's working on it.
"It's one of those decisions I made at 13 because I didn't realise I'd need it at 31, but I'm really digging in with the language. I've got my French lessons that I'm doing and I really want to embrace the culture and speak the language. It can be hard at times when you find yourself speaking English with the other English boys, but it's quite good as well because some of them do speak French quite well. Nooney [fellow new-signing Jamie Noon] is quite good at the moment and when he's speaking French I can understand a bit of what he's saying, but the French boys do lose me a bit with the speed," he conceded.
For the moment he's letting his rugby do the talking, but he knows the importance of speaking the lingo if he wants to fully integrate. "That's the way it is really. You're out here playing for a French club and you should speak the language. If you're not then I think you could struggle because playing the French style of rugby is part of being in the French culture really."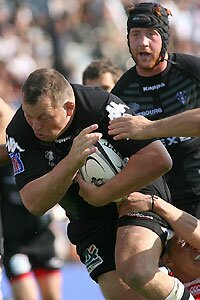 'I struggle to trust him with a
rugby ball, let alone a gun!' -
Perry on Steve Thompson
© Diarmid Courreges
Of course, the likes of fellow England internationals Andy Goode and Steve Thompson have helped him settle in, with the latter even offering Perry the chance to join him on his beloved 'chasse', hunting for wild boar. It's an opportunity the ex-Bristolian has so far turned down. "I struggle to trust him with a rugby ball, never mind a gun," he shivered.
Hunting aside, Perry is delighted with what he's so far encountered at Brive, backing up his hopes for a more attack-minded approach to the game. Backs coach Hugo Mola is renowned for his "heads up" philosophy, and Perry is thriving on the change.
"In the English Premiership we do tend to kick a lot more and a put a lot more emphasis on playing rugby in the opponents' half, whereas I think the French style is just to go out there and play, and I think that sort of rugby suits the way I play. That's why I found Saturday [against Montpellier] more tiring than a Premiership game, but at the end of the day from a supporter's point of view it's much better to watch because the players are there to play rugby. That's what the French style is. When I looked at the backs when we had the ball they were attacking, and it's quite exciting," he beamed.
"The French style of rugby is to actually play rugby, and that's what the boys do. That's why I'm over here – to try and experience that and to add more strings to my bow really," he says.
Another major difference is the climate, although Perry was spared the 37C temperatures on the opening day as Brive kicked off at 8.30pm. "I still found it quite hard though," he conceded. "I sweated an unbelievable amount and the ball got quite slippy at times. Normally in England it's the rain making it wet, not the boys sweating all over it, but I don't mind playing in the heat. That's what it's all about really."
The No 9 battle was certainly white hot in round two as Brive travelled to Stade Toulousain, re-uniting Perry with former All Blacks scrum-half Byron Kelleher – the man he made his international debut against. The result, and performance, didn't quite go as planned, but it was another experience that Perry was happy to lap up.
"I think as a professional rugby player every game should get the juices going because that's what you do. That's what I love doing, I love playing rugby. The hard days are Monday, Tuesday, Wednesday – when you're getting flogged, training hard and doing your weights leading up to the weekends – but the weekends are the part of the job that you enjoy."
This season he's also got the Heineken Cup to look forward to. "I had a brief encounter with it at Bristol but it does excite me. When you speak to a coach they say that the Heineken Cup is as close as you're going to get to an international, so to be involved in that cup is amazing really," he enthuses.
International aspirations
Good performances in that competition could put Perry back in the international frame, especially with Brive certain to be watched by the national selectors due to the presence of Goode, Riki Flutey, Noon and Thompson. Does he still harbour international aspirations as he seeks to add to his 14 England caps?
"Every player does," he replies emphatically. "I would be lying to you if I said 'No, I don't', and in the back of my mind I would love to pull on the England shirt again and sing the anthem, but to get there I know there are building blocks that you need. And those building blocks are to play well for Brive week in and week out, and to stay injury free. If I can do those two things and get my performances going then the rest will take care of itself," he says confidently.
You can't help but notice that Perry has an almost boyish enthusiasm for the sport; something he admits is probably the result of not having turned pro until he was 25. "I still have that hunger because I had to work a 40-50 hour week as a welder, and I do need to pinch myself every now and again because everyone wants to play sport professionally. Even when you're a kid and kicking the ball around the playground you think 'I wouldn't mind doing this for a living'. I'm one of the luck few that get the opportunity to do it week in and week out, so it's all a bit surreal, but I'm enjoying it. I'm working hard with Brive, they've got great coaches and great facilities – what more could you ask for as player?"
Riki Flutey interview: 'Playing for England was huge, but the Lions was something else'
* Extracts from this interview were published in The Rugby Paper, on August 23rd 2009