Riki Flutey interview: 'Playing for England was huge, but the Lions was something else'
By Colin Spiro, 23 August 2009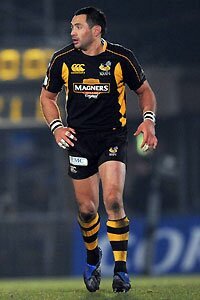 Lions' Pride: England and
Brive centre Riki Flutey
Photo: Michael Paler
England centre Riki Flutey talks to FRC about moving to Brive, the joys of fatherhood, his French ancestry (really!), his relationship with 'Johnno', the struggle to learn a new language and how he came within a whisker of being sent home from the British Lions' tour.
Riki Flutey tends to polarise views. New Zealand born and bred, he played for the All Blacks age groups right through to the verge of the senior team before a stalling career led to him decamping to England and throwing in his lot with the 2003 World Cup winners. His shortened vowels are a giveaway, and he makes no apologies for switching alliances, but while some welcome his undoubted talent with open arms others are sent into fits of apoplexy by his utilization of a system many see as flawed.
Pulling on the red rose proved hard for some to stomach, an indigestible taster that turned out merely to be the hors d?oeuvre. This summer he went on to represent the British and Irish Lions, in the process entering the record books as the first person to ever play both for and against the hallowed team.
Again, there was outcry in some quarters, while others took the pragmatic approach. This was, after all, a now common occurrence in international sport and Flutey had merely played by the qualification rules. So, while some coughed and spluttered, others rejoiced at his inclusion. He?s rugby?s equivalent of Marmite, or should that be Vegemite given his Antipodean background? You either love him or hate him.
For the record your correspondent falls firmly into the latter category having seen more than his fair share of players capitalising on family backgrounds, or residency rules. Flutey has, after all, done nothing wrong whatsoever, and lest we forget it was Martin Johnson who asked him to become an England player and Ian McGeechan who beckoned him aboard the Lions? South African odyssey.
Certainly Flutey ? who has now joined French Top 14 side Brive from London Wasps - sees no problem with his choices. For him the thrill of international rugby is what it?s all about and, as it?s subsequently emerged, he?s even got an English grandfather.
?I remember the day ?Johnno? phoned me up and asked me to Richmond to have a meeting with him and talk to him about whether I would play for England,? he recalls. ?Initially, when I heard the message I thought ?Johnno, jeez! Crikey, he?s given me a call?. He was keen to get me involved and as I?ve said before I have no regrets whatsoever in making the decisions I?ve made. I?ve always wanted to play my rugby at the highest level and unfortunately I didn?t get those opportunities in New Zealand, or I didn?t take the opportunities I was given in New Zealand is more like it. And then I got this opportunity.?
Top 14 Table 2009/10 / Top 14 try-scorers 2009/10 / Top 14 Transfers / ProD2 Transfers / Top 14 Fixtures 2009/10 / Pre-season friendlies
The kid from Wairarapa had always seemed destined to pull on the silver fern, but life didn?t quite work out as planned back in New Zealand and the dazzling teenager became a frustrated twenty-something as his own strength ? his backline versatility ? became his undoing. No-one was quite sure, Flutey included, what his best position was after stints at everywhere from nine to 15.
?When I was in New Zealand I was on the bench and I would start every now and again, but at that stage I was putting in so many individual skills sessions I didn?t know whether I was going to be practicing my half-back passing, my goal-kicking for 10 or my catching the high ball for full-back. So, to come over to England and play in one position has been absolutely fantastic. I?ve been putting all my energy and efforts into one position and 12 is a position I absolutely love playing.
?I grew up as a youngster coming through the New Zealand age grades playing nine and 10 and I suppose, to be honest with you, when I was playing 10 I enjoyed playing in that position. But I also remember doing so much kicking practice and kicking I?d always go into a game feeling 85%, but not bad enough to not play. And my kicking was going all over the place. One season it would be 80-85%, another season it would be 40%, and that sort of pressure played on my mind a little bit, so it was great to get the opportunity to move to 12. I play 12 as if I?m playing 10, because when you?ve played 10 and nine before you know what the pressures those positions have in terms of trying to run a game. I tend to find space and so I?m just their sort of third eye and communicate to try and help out and look for mismatches, and be a left-footed kicking option as well.
Finding his niche
?I absolutely love playing 12. When I was in New Zealand it didn?t bother me that I was getting moved around in so many positions because as a youngster and a young professional player I was rubbing shoulders with Jonah Lomu, Tana Umaga and Christian Cullen. I was learning off these guys ? the best ? and I was watching them and copying them and getting tips off them. Just being in amongst them and being part of the squad. I was always part of the 22, in the travelling squad, but I had that utility thing over my head.
?But then I got to 25 and I thought ?Well, if I want to go anywhere with my rugby I need to make some decisions?, so when I got the opportunity to play for London Irish I grabbed it,? he said.
Having finally found his niche ? initially with London Irish, and then with Wasps ? it was only a matter of time before Johnson came calling. Flutey had always struggled for regular first team rugby with the Wellington Hurricanes, but consistent selection in the Guinness Premiership allowed the potential to bloom with spectacular results. His three-year residency qualification did the rest and international rugby duly followed.
?It was huge to represent England,? he enthused.  ?It was fantastic, and then to go on and represent the British and Irish Lions was something that I would never ever have dreamed of doing, coming from New Zealand obviously. But it was something that everyone in New Zealand was aware of, my family especially. My dad always followed the British and Irish Lions and I remember as a young kid he had a videotape collection and a lot of the rugby stuff was of the British and Irish Lions, so it was very, very special and the tour was amazing. We had a fantastic time and we all got on really, really well.
"There were no egos whatsoever"
?I suppose the major challenge for Ian McGeechan and the coaches was to try and get the players to come together and be as one and enjoy each other?s company, and from day one we did that. They didn?t have to do anything or say anything, we all just clicked straight away. There were no egos whatsoever and everyone was on the same level, it was just unfortunate that we lost. We were obviously gutted that we lost the series but to win the final Test [in which Flutey made his Lions test debut] was a good way to finish the tour.?
It was the climax to an amazing journey that has seen Flutey criss-cross the globe in search of fulfilling his dream. It made the sacrifice of leaving home, and all his family and mates, worthwhile. And yet it was so nearly over before it had even properly begun.
?Most of my early part of the tour I was in my bedroom icing my knee because I got injured in the first game [against the Royal XV] and I just needed to get that right otherwise they were going to send me home, so I did everything I could to stay on the tour and get my knee right. From when I hurt my knee I stayed up every two hours through the night for the first three or four nights, icing it to get the swelling down. I think if I didn?t do any of those things I would have been the first guy to have gone home through injury,? he reflects.
Before the tour he had talked about being a ?sponge?, ready to soak up all he could from the eclectic collection of players surrounding him. Is that how it worked out?
?Yeah mate. It was just interesting watching different guys with different skills and it was amazing to be around so many talented players. It was very special because you want to get on the training field yourself and prove you?re at the level that?s required of being a Lion, and it was what everyone was doing, it was just amazing. It?s hard to put into words, it was just awesome.?
Being in and around the likes of Brian O?Driscoll and Jamie Roberts proved an eye-popping experience and Flutey hopes to use that now to improve his own game as he reaches the peak of his own career. At 29 he is keen to seize every opportunity that comes his way, hence the move from Wasps to Brive that stunned some in the English establishment when it was announced (together with the departures of James Haskell and Tom Palmer to Stade Francais) back in February.
For Flutey the temptation to try another culture, both on and off the field, was too good to turn down, but he was shrewd enough to know it could jeopardize his burgeoning England career and sought wide-ranging advice before he signed.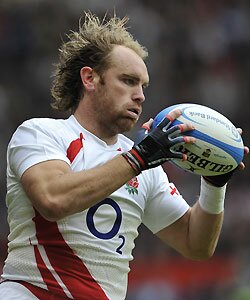 Goode vibes: Flutey is looking forward
to playing with his England colleague
Photo: Michael Paler
?Right from the day when Brive approached me, and when I was deciding to look over at Brive, I kept England rugby in the loop and I kept Wasps in the loop. I didn?t hide anything and I was keeping them informed of all the communications involved between me and Brive, and they appreciated that.  I said to Johnno and Brian Smith [England backs coach] that if I wasn?t going to be selected in the England squad because I was leaving then I wasn?t prepared to move over to France, and that was my only issue when I spoke to Brive. I told them that I wanted to keep playing international rugby and playing at the highest level and if they weren?t prepared to release me then I wasn?t prepared to come over, because playing at the highest level right now means everything to me.
?I want to test my ability up against the best in the world and right there and then Brive were fantastic about it all. They?ve got great communications with England Rugby Union and Johnno and Brian understood that I?m not 21, I?ve got a family and that you sometimes have to look after No 1. But they said if I?m still playing very good rugby over there then they would still consider me. So I took this opportunity to come over to France because I knew if I was playing well and playing consistently that I would still have a chance of representing England.?
So did he actively seek the move to Brive, or was it an opportunity that just arose?
?It was a bit of both because I?ve always wanted to experience French rugby because my great-great-great grandfather was French,? he somewhat stunningly reveals. ?He was a French whaler and came out to New Zealand, so there is a bit of blood there although we don?t know nothing about our family history from him. We don?t know anything about the French side of things, we just know my family tree from the guy that arrived in New Zealand really, so it would be nice to dig out some family history stuff and look more into it.?
Flutey has already hired private investigators to trace his maternal family history, discovering that his mother ? who was adopted ? had an English birth father. This was after he made his England debut ? amid the furore over his perceived opportunism ? and he insists was done for his mother?s sake rather than for any self-justification.
But that?s all ancient history now. The future is with Brive, an ambitious club determined to break the recent ?Big Four? hegemony enjoyed by Perpignan, Stade Toulousain, Clermont Auvergne and Stade Francais. Multi-millionaire Daniel Derichebourg has just sold the club, but not before splashing the cash in an effort to build an international squad worthy of challenging, and Flutey has joined the likes of fellow England internationals Jamie Noon, Steve Thompson, Andy Goode and Shaun Perry in a team being tipped for great things.
His summer commitments with the Lions mean he?s frustratingly sidelined until the end of August as he observes a statutory ?rest period?, but that?s allowing him valuable time to bed in with his wife and two young children.
?It?s just been great,? he admits. ?This is my second week now and everything?s been good. The people at Brive have been absolutely fantastic in terms of helping us out and getting us all sorted with the house and all the bits and pieces that were needed, and we?ve also got a friend of my wife?s family from New Zealand staying with us. She grew up in France for 13 years, she?s fluent in French and she?s a teacher as well. She?s been in London for about six months and she wanted to come over to France and go to places where she grew up, so it?s fantastic having her, she?s been a huge help just with the whole language barrier bit and sorting out all the bits and pieces.?
It?s all a far cry from the somewhat inward looking teenager that Flutey confessed to being back in his youth.
?I was just talking to my wife a little while ago and she remembers when I was 20 or something and I didn?t really want to go on holiday to Australia or even the islands, I was happy just to stay in my comfort zone and travel around New Zealand for my off-seasons and my breaks. But once I got the opportunity to move over to England and experience a different way of life and a different style of rugby - to experience something new altogether - I have absolutely no regrets whatsoever in terms of decisions I?ve made. And that was a huge step,? he affirms.
?Moving from New Zealand to London was tough because I was happy with where I was at in terms of progressing with my rugby and I had all my best mates. I was playing rugby with all my best mates who I grew up with and we were going through the professional rugby ranks together, but it?s been absolutely fantastic and this move now from England to France is an even bigger challenge for me in terms of putting my head down and learning a new language. But having my family here and knowing my children are going to grow up bi-lingual is just fantastic. It just makes me want to get into learning the language and being part of the French culture straight away.?
If all goes well he could make his Top 14 debut away to champions Perpignan on ?. The wait is proving difficult, although it is allowing him crucial time to get his body right for the season ahead.
?I need to do some pre-season training, a bit of fitness work just to sort little niggly injuries out before I play, whether it?s in two, three or four weeks? time. The boys are training out there every day and I?m just keen as, jumping out of my bloody shoes to get out on the training field, but I have to hold myself back because I know I have to get my niggly injuries right and get my body in good shape to play my first game,? he says.
?It?s just the knee that I injured on the Lions tour. I need to do more and more rehab on that and get that sorted out, and the shoulder that I came off in the third Test for. So it?s just getting those things sorted. I said to the coach that I?m here for the long term and I want to get myself right now so that I can play right through to the end of the season as opposed to coming back too early for the first game and doing a bit of damage.?
The joys of fatherhood
In the meantime he?s able to take in his surrounds as he settles in to the Limousin lifestyle. The pace is somewhat slower than London?s hectic environs, but that suits Flutey just fine. The self-confessed wild days of his youth are over and now he?s got other responsibilities to keep him occupied, namely a wife and two kids. It?s added a new perspective for him, releasing the shackles somewhat on a player whose intensity was sometimes his own undoing.
?It?s chilled me out a hell of a lot. It?s just fantastic coming home and having the ability to switch off from rugby, having that balance in my life,? he says. ?Just coming home and being in the countryside and being with my family. I remember before I had children and being in New Zealand I used to come home and analyse my game and guys that I?d be going up against, watching videos of games until midnight or so. But now I?ve got to get my children to bed, I?m a dad,? he adds with obvious delight.
It?s been a hell of a journey, including a four-day spell en route in an Argentinean police cell back in 2001, but the Kiwi-born centre has finally found tranquility. Flutey the England star, Flutey the British Lion and now Flutey the doting dad pursuing his career in France. Who would have thought it?
?Yeah, it?s turned out all right hasn?t it,? he reflects. Not bad at all for the boy from Wairarapa.
 ?I?m just looking forward to this massive challenge that?s ahead of me. I?m looking forward to playing alongside a couple of guys that I?ve played with for England ? Jamie Noon and Andy Goode. I?m familiar with what their strengths are and how they run a game and if I do get the opportunity to play alongside them it will be absolutely fantastic, and also just to experience the French flair and French rugby ? you know, the free-flowing game they play over here is something I?m reasonably used to coming from New Zealand. I?m just really looking forward to finishing off my pre-season training and getting myself into the best shape I can to play my first game and to play well.?
He may have surprised himself with the route that he?s taken, but now, at long last, Flutey is finally fulfilling his potential.
* Extracts from this interview were published in The Rugby Paper, on August 23rd 2009