Exclusive: Ross Skeate - 'Wilkinson would bring vast experience and quality to Toulon'
14 May 2009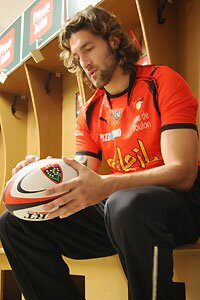 Ross Skeate: Eye on the ball
© RossSkeate.com 2008
South African second row Ross Skeate says Toulon's turnaround in results – which culminated in Top 14 survival last weekend – had nothing to do with coaching.
Toulon appeared destined for the drop after winning only three of their first 15 games, but Tana Umaga's outfit hauled themselves away from the drop zone with five wins and a draw in their last 10 matches – including a morale-boosting 14-6 home win against Stade Toulousain.
Top 14 Table / Top 14 Fixtures / Top 14 Transfers
"I think we just got used to each other," explained Skeate, who was among a plethora of new arrivals after Toulon secured promotion as ProD2 champions in 2007/8. "The seasons here are quite long and the major thing was the guys took a few months to get to know each other. I think that was the major reason [for the upturn in results]. There was no real revolution of coaching or anything like that. The guys just got used to playing with each other.
"In the last couple of years Toulon have had a history of changing a lot of players and that's really ended up messing up a few combinations, and we found ourselves unsettled," he told frenchrugbyclub.com.
"It's been a season when we should have probably done better, but we've lost a few narrow games in the final minutes and we should have ended higher than we have done," admitted the 26-year-old.
The most painful of those late defeats was the 29-32 home reverse by Perpignan on March 14, when a last-ditch David Melee drop-goal robbed Toulon of a hard-earned draw. But the match was also significant for other reasons, with the England and British Lions fly-half Jonny Wilkinson looking on as a guest of the club from the stands.
The much-injured Newcastle Falcons star has been pursued all season by Toulon president Mourad Boudjellal, and is set to be unveiled after this weekend's fixtures – Toulon have a sell-out home game against Montpellier - when the club will confirm its squad for next season.
While incoming director of rugby Philippe Saint-Andre has been busy discreetly remoulding his side for 2009/10, he recently made clear that Wilkinson was very much Boudjellal's signing, admitting the multi-millionaire president had the 'right' to chose one or two players.
His rumoured arrival has certainly had the players talking, with Skeate admitting that a fit Wilkinson would be a huge asset as Toulon seeks to push on next season.
'Wilkinson is a great player'
"Obviously everyone knows what a great player he is," he said. "I know Mourad and he likes to have a team with the best players in the world in it, and Wilkinson is that, along with others like Tana Umaga. From a players' point of view Jonny is proven to be one of the best fly-halves around. Obviously he's had massive injury problems, but hopefully he overcomes those if he does sign."
In addition to the obvious star-dust that Wilkinson will bring – together with commercial spin-offs – Skeate admitted that the England World Cup hero would also add "vast experience and quality too".
His precision placekicking may have spared Toulon from their nervous flirt with relegation this season as well, although Skeate was full of praise for the input of fellow South African Conrad Barnard since his mid-season arrival from the Cheetahs.
The 29-year-old's booming boot has been integral to the team's belated revival, with Barnard notching three crucial penalties in last week's vital relegation-saving victory at Dax.
"Certainly in the first half of the season we really stuffed it because we missed a lot of points, but they brought in Conrad, who has played really well in the last couple of weeks," confirmed Skeate.
Wilkinson is set to be among a whole raft of new signings for Toulon this summer with Sebastien Bruno, Pierre Mignoni, Felipe Contepomi, Jamie Robinson and Rory Lamont among the 11 players to have already agreed to join. Clearly Saint-Andre - who officially starts work with Toulon today - feels the squad needs extensive strengthening, and the likes of Jerry Collins and Sisa Koyamaibole, Orene Ai'i and Martin Jagr have all been allowed to depart.
It will inevitably lead to another period of bedding in for the new-look squad next season, but Skeate believes Toulon will be better placed than at the beginning of this season.
"I think the nucleus of the squad is more there now than at the beginning of this year, but it will take some time for the team to settle. Obviously Philippe Saint-Andre is the most important change and I think he will be very good for Toulon. He will bring more professionalism to the set up – planning-wise, logistic-wise and training-wise – which is really something we do need at the moment.
"Obviously a few of my friends are leaving and I wish them well, but I think the future looks good and we should be really pushing on in Top 14 next season," said Skeate.
He admitted the loss of Collins would be hard – on a personal and playing level – but said the team spirit now fostered under the captaincy of the inspirational Joe Van Niekerk would stand them in good stead. No one appreciates the Springbok's input more than fellow countryman Skeate, who has now formed an excellent second-row partnership with the seasoned international - who is 29 today.
"Joe's probably one of the best players in Top 14, and certainly the best in our squad. He plays at an amazing level week-in and week-out, and I think it was one of the best things to happen at Toulon this season when he was given the captaincy [in mid-season]."
Skeate also hailed the playing input of Umaga, whose worldly experience proved a calming factor during the season run-in after he surprisingly came out of retirement in a bid to halt the slide towards relegation. "He's played amazingly well for a guy that's been out for two years, but he's a legend. He gave the team direction by leading, by playing and by putting his body on the line."
As for Skeate himself, he said his first season in Top 14 had proved exhausting but rewarding. His input for Toulon was recognised by a call-up to play for the French Barbarians, but sadly a fractured eye-socket put paid to that opportunity. Still, at least if afforded some respite from the weekly battles of league action, and allowed him to fire up for the end of season reinvigorated.
"It's been a great experience," he enthused. "It's been trying at times but one that I've really enjoyed. It's been a really positive experience."
So much so that he snubbed a surprise mid-season offer to return home to South Africa to play Super 14 with the Stormers. He admits he will probably return to play in his country of birth at some stage in the future, but for the moment he's happy to be part of Saint-Andre's Toulon revolution.
And judging by his playing time this season, it appears the feeling is mutual.
* Ross Skeate writes a regular column on his French experiences at Toulon on www.rossskeate.com