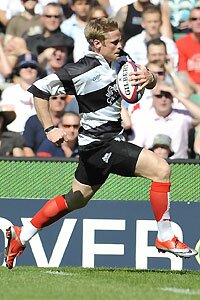 "I would definitely love to
play for my country again"
Photo: Michael Paler
For a man who has won rugby?s top honour ? the World Cup ? Iain Balshaw remains refreshingly modest and level-headed. Perhaps it?s the sea air that drifts in from the Atlantic coast, or maybe it?s his new-found happiness at one of France?s most successful clubs, but on the field Balshaw remains an exacting opponent, ever-ready to unfurl his raking legs and go for the try line.
It seems that  his summer move from Gloucester to Biarritz has allowed him to finally find his spiritual home ? in a rugby sense at least ? with the likes of Damien Traille, Dimitri Yachvili, Takudzwa Ngwenya and Karmichael Hunt all sharing his own taste for free-running and attack-minded adventure.
Not that it comes at any price, you understand, for Balshaw appreciates more than most just what it takes to get to the very top. Talent is one thing, but discipline and drive are also vital components for any team eyeing success ? and Biarritz are certainly doing that.
The Basque club was the first to qualify for this season?s Heineken Cup quarter-finals ? after winning four of their first five pool games ? but that would mean nothing if they fluff their lines today (Sunday) and fail to nail down a home tie by beating Glasgow Warriors at the Parc des Sports Aguilera.
Their domestic form has been frustratingly inconsistent this season so Balshaw ? who will start on the bench ? is acutely aware there is no room for complacency. The recent sudden loss of his father to cancer has also focused his mind, as well as help put things in perspective. ?Off the field it?s not been particularly great in terms of family-wise, but it?s one of those things,? he told frenchrugbyclub.com. ?It?s been tough but that?s professional sport, you have to get on with it,? he added.
Crowd favourite
Niggling injuries have also proved frustrating in keeping him off the park, but his brilliance has shone through when fit and he?s already become a firm crowd favourite among the Basque heartland?s rugby cognoscenti.
Qualification for the last eight may be secure, but Balshaw is astute enough to know there?s still plenty of improving to be done if Biarritz are to progress all the way to the Paris final and go one better than they did in 2006.
?We?ve been a bit up and down recently. We put in some good performances and then we seem to not turn up in games ? especially a couple of the away games. We?re not fronting up and that?s been disappointing because the potential is there and we know we?ve got good players and a good system but we just haven?t been delivering, so in that respect it?s been disappointing,? he admitted.
That lack of consistency has been particularly apparent in Top 14 ? where Biarritz remain two places outside the play-off berths ? and Balshaw was honest enough to admit that the Heineken Cup had proved a beneficial distraction in helping overcome that.
?Sometimes when your standards slip and you haven?t performed well for a couple of games it?s quite nice to get out of one competition and focus on another, and I think that?s what the Heineken Cup has done for us. To get the first four wins was great,? he reflected. Defeat at Gloucester ? his old stomping ground ? proved a double edged sword last weekend as it was still enough to see them qualify, but a home win against Glasgow is now imperative on Sunday afternoon.
The match prior to that saw Biarritz lose 25-15 to Stade Francais in front of a sell out crowd at the Stade de France, but once more it was a lack of focus and discipline that cost the Basques dear, something that Balshaw says still needs to be overcome if they?re to harbour serious ambitions of winning a trophy in his debut season in France.
Top 14 Table  / Top 14 try-scorers / Top 14 Results / Top 14 Fixtures
?The reason that we didn?t perform well in Paris was down to too many individual errors. It wasn?t because the guys weren?t up for it or weren?t focusing, we just made too many basic errors. We turned the ball over 15 times and we gave away 10 penalties that we shouldn?t have done, and you can never win games like that. It was disappointing because we were going there to win and I think in parts of the game we were the dominant team, but unfortunately we just slipped up ? turning the ball over four of five times in their 22 and coming away with no points, and when they?ve got a goal-kicker like Beauxis he?s going to kill you.
?We gave them a soft try early doors in the second minute of the game when I think Bastareaud ran through six of our players. Well, if we want to get through to the knockout stages of the Heineken Cup and Top 14 then that just can?t happen, so we were disappointed with what happened in Paris. Unfortunately there?s been for or five games where we?ve played away from home this season and that has happened. We?re trying to address that each week but now there?s a new focus on the Heineken Cup and we?re very positive about it.?
Biarritz will be without a triumvirate of injured French internationals ? Damien Traille, Fabien Barcella and Dimitri Yachvili ? but the recent return of Imanol Harinordoquy has proved a welcome boost. ?He?s a world class player. When he?s fit he?s probably the number number eight in the world. It?s a great boost for the club, but one player doesn?t make your team. It needs the other guys now to galvanise and step up to the mark as well,? said Balshaw.
The former England full-back has also been impressed with Karmichael Hunt, the Australian rugby league star who joined in mid-season. ?He?s pretty switched on,? said Balshaw as he reflected on the classy nature of Biarritz?s back line. ?We know we?ve got the talent, we know there?s class players throughout the squad. The unfortunate thing at the moment is we?re just not being consistent, and I think that?s the frustrating thing both for coaches and players. We know we can perform well for two weeks and then we don?t click for two weeks or one week. We just need to find a good level of consistency,? he added.
You can almost here Clive Woodward ? his former England coach ? nodding in agreement, and Balshaw highlighted Castres? surprise success this season as an example of just what can happen if you get that right.
Winning mentality
?I think once you get that winning mentality it makes your team grow and it?s a question of finding that. When we click there?s no doubt about it we are one of the best teams, but the thing about the best teams is they win when they need to and unfortunately at the moment we are trying to get to that stage but it?s just not happening for us. Hopefully we can put something together in the Heineken Cup and then we?ve got the derby against Bayonne, so these next few games are very important for us.?
Despite his acute awareness of Biarritz?s failing he remains delighted at the club and has no regrets whatsoever at having moved in the summer.
?Oh it?s great,? he beamed.  ?It?s a fabulous set and the fans are fantastic. I came to a great place to play rugby and I?m really, really enjoying it. My family is also very happy, and that?s important because it means I can focus on playing.?
And learning French?
?Yeah. I?ve got lessons every week, four hours a week and at first I was just totally lost. When you here everyone around the changing room chatting? but now, with each week I keep practising and each week you seem to pick up a bit more. I don?t know when my first interview will be in French once I?m confident enough I definitely will do one, although I?ll probably do half French half English.?
That seems to sum up Balshaw perfectly. A free spirit who enjoys the flair aspect of French rugby, but who also acknowledges the traditional English strengths of English club and international rugby.