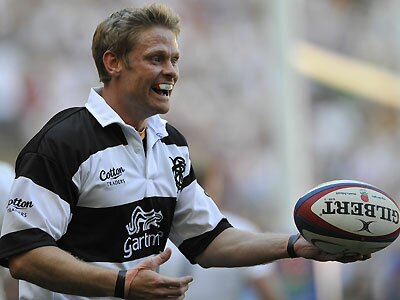 "I've got no doubts that I made the right
decision": Biarritz winger Iain Balshaw
Photo: Michael Paler
The Heineken Cup is without doubt Europe's premier club competition, and for the ever-increasing numbers of ex-pat Brits in France it offers a welcome opportunity to parade their skills in a series of high-profile games.
For the likes of James Haskell, Tom Palmer (both Stade Francais), Jamie Noon and Steve Thompson (both Brive) it provides a superb window to showcase their talents to a Europe-wide audience – which will no doubt include England's selectors – but for Biarritz's Iain Balshaw all he can do is look on with envy, for the time being anyway.
The England World Cup winner is still only 30 and harbours genuine hopes of adding to his 35 international caps, but torn transverse abdominal muscles (picked up in the recent Basque derby against Bayonne) have ruled him out of both opening rounds. Even more agonizing for the multi-skilled runner is the fact Biarritz's second game is at home to Gloucester on Saturday, the team he left in the summer as part of the ongoing British exodus to France.
"I'm gutted to be missing that match. I would have loved to have played against Gloucester, but hopefully I'll be fit for the rematch at Kingsholm in January," he told frenchrugbyclub.com. "It's frustrating but it's just one of those things. There's nothing that can be done about it - I got a knock and that was that."
But Balshaw hasn't let the injury dampen his spirits and the former Stonyhurst pupil says he's been reinvigorated by the new challenge of playing and living down on the Basque coast. "I'm loving it. I've really, really enjoyed my first three to four months. I've been frustrated because I got this knock in the Bayonne game, which has put me out for about six weeks and is a little bit frustrating, but it's part and parcel of the game. But apart from that I'm loving it," he said.
Indeed, the move to France has been the fulfilment of a lifelong ambition for Balshaw.
"It was always something that I'd thought about, probably since when I was about 26. Ever since I had started playing I had always wanted to play in either the Super 14s – or Super 10s at the time I first started – or come and play in France, so having played 14 years in the premiership I spoke to my wife about it and we thought it would be quite a nice thing to come and do for three or four years - to experience the lifestyle, the culture, and for the kids as well. It's a great opportunity for them to come and learn to speak a new language."
Balshaw's three-year-old son and five-year-old daughter are both now enrolled in French schools – "They're loving it at the moment" – and the player himself admits he's never been happier, even if learning French is testing his linguistic skills to the limit.
"I really wanted to win the Premiership, but it wasn't to be"
"It was something we'd always talked about and something I'd always wanted to do. I had one more year to go at Gloucester but the timing was right," he affirms. "The year earlier I was very close to coming over but held back because I wanted to try and win the Premiership, because I've been to three or four finals and never managed to do it and I really wanted to do it, but it wasn't to be. Then, halfway through last season my wife and spoke and I just said 'Let's not wait another year, what do you think about coming across to France?' At the time I also wasn't getting picked in the national team, so to me it was as good a time as any to come across and hopefully have a good four or five years here."
He scouted around Top 14 to see which clubs were most likely to be interested, but always had a hankering for the coastal charms and traditions of Biarritz – Heineken Cup runners-up in 2006 and French champions in 2002, 2005 and 2006.
"Everyone I spoke to before I came across told me that the best place to come and play your rugby - and for lifestyle and culture - would be in the Basque country. My French friends all said the same thing, that that's a fabulous place to come and play. I had actually been here previously – I had holidayed here a couple of times and I played against Biarritz for Bath and Gloucester. I also played here as a 13 and 15-year-old in a junior tournament that used to be held here. That was the first time I saw the place and at the time I thought it would be amazing to come and play and live here… and here I am."
He admitted the transition was "awkward at first", although primarily due to the language difficulties – something he's addressing with French lessons four times a week courtesy of the club – but has no regrets whatsoever about crossing the Channel.
The much talked about 'French flair' was another major attraction for Balshaw, a free-spirited runner who has finally found a collective group of like-minded souls.
Crazy moves
"Games are certainly not as structured as with English teams. Probably the likes of Bath and London Irish are more like French teams because with the French there's no real structure in terms of 'in this part of the field you do this and in that part of the field you do that'. It's more open rugby and 'play what you see', and there's a lot more emphasis on players making the right decisions, which I really enjoy. Some of the boys pull off some crazy moves in training and it's great to see," he says with clear relish.
"It's great, I love it, and that was probably another reason for me coming over - to experience that as a style of rugby. There's something about the French flair, and it's something that I always knew I would enjoy and something that I knew I would like to get into. I'm still settling in - I think I've only played four games - but what I've seen so far I'm very happy with."
Balshaw's Biarritz career may still be in its infancy but he's made a big impression in the games he has played, exhibiting his love of running to the delight of the Basques' fanatical support. Two tries in the 39-6 home win against SCA Albi earned him a standing ovation at the Parc des Sports Aguilera, and the appreciation is obviously mutual.
"The atmosphere in the grounds here is fantastic - constant band playing and singing. In the game at Anoeta [San Sebastien, northern Spain] against Bayonne everyone had been talking about it all week saying it's the derby, and coming from back home where we had Bath v Gloucester I thought it would probably be the same as one of those, but it wasn't, it was totally different to anything else I have ever experienced. It was fantastic, apart from getting injured, but the whole day, the crowd was great. I've really enjoyed it so far, the people are very friendly around the town – they always stop to say hello and listen to me babble on in my crap French."
Speaking the language is integral to settling in – as any foreign player will tell you – but the cosmopolitan mix at Biarritz means communication is always possible.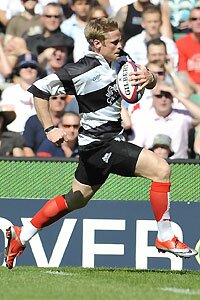 "I would definitely love to
play for my country again"
Photo: Michael Paler
"All the guys in the team speak very good English. Every day everyone speaks French – the coaches, the players – but obviously when some of the English guys don't know what's going on it gets translated as well. On the field in the games I've played in there are times when I tried to shout French to the boys but then it just reverts to English and we end up chatting in English. They can all understand English, but half the time they just end up laughing at me. There's also other English speakers here, which helps. There's Magnus [Lund], Ayoola [Erinle] and Campbell Johnstone, so there's about five or six English speaking lads."
Top 14 Table / Top 14 try-scorers / Top 14 Results / Top 14 Fixtures
Mind you, if the strains of French rugby ever do get too much Balshaw needs only pick up the surfboard and stroll down to the beach. It certainly beats the river Severn for relaxation, although so far he's restricted his efforts to boogie boarding.
"There's been some stressful moments but I've got no doubts that I made the right decision," he said emphatically. "I loved playing in the Premiership but I just felt that after 13 years playing over there and while my body is still in good nick – I played well last year – hopefully I can do the same for the next two or three seasons for Biarritz and enjoy my rugby, and the lifestyle and the opportunity to experience different cultures and also to hopefully learn another language. It's just an opportunity that I couldn't pass up."
Balshaw was also honest enough to admit that the money on offer was also attractive, although not the main reason for moving. "I can't beat around the bush. When people say they didn't come here for the money it's a lie. Financially it's better for my family to be playing here, I'm not denying that, but that was definitely not the sole reason for coming here. It was an opportunity for my children because it's a huge thing for them to be able to learn another language, and also for the experience of playing in Top 14."
And what about Rob Andrew's mantra about wannabe England internationals being out of sight and out of mind by playing in France?
"For me I think if you're playing in a competition like this with so much quality and so many good teams, then if you're playing well over here the England selectors cannot overlook you," he reasoned. "I would love to play for my country again, definitely, but if I don't then it's not be," he added with the relaxed air of a man content with his lot.
Parts of this article were published in The Rugby Paper on Sunday 11th October 2009.