By Colin Spiro, 14 April 2011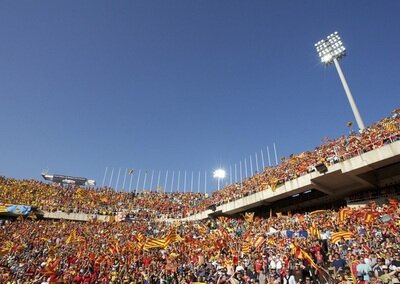 Awash with colour and noise
at Barcelona's Estadi Olympic
Photo: Eoin Mundow/Cleva Media
Think of Barcelona and what springs to mind? The city's famous unfinished Gaudi cathedral, the buzzing central street of La Rambla, or perhaps an image of Lionel Messi netting his latest dazzling effort for Catalan footballing giants?
Not for me, not any more.
For me Barcelona will now be forever linked with rugby, and that's not a sentence I ever expected to be writing.
When Perpignan announced that their Heineken Cup quarter-final against Toulon would be switched to Barcelona it seemed too good an opportunity not to pop across the border from my French Pyrenean base and sample what the Catalan heartland had to offer.
By Colin  Spiro, 25 March 2011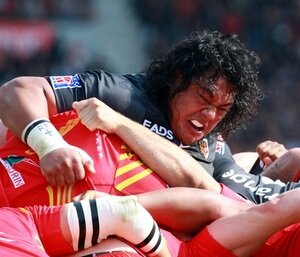 Getting to grips with the job in hand: Toulouse
and Samoa prop in action against Perpignan
Photo: Eoin Mundow/Cleva Media
If there's one thing the French love more than off-the-cuff back moves then it's a pile-driving scrum pummelling the opposition's pack into the dirt.
They may admire their free-running backs - just look at the esteem in which Serge Blanco is still held - but they revere their props.
Just look at last season's Heineken Cup final - the all French affair between Stade Toulousain and Biarritz. Space was at an absolute premium, meaning such free-spirited runners as Takudzwa Ngwenya, Iain Balshaw and Maxime Médard were largely cosseted in a final where the pack proved king. Both sides have fiercely powerful front fives, and last season's mighty clash is set to be repeated in two weeks time when they come face-to-face again in this season's Heineken Cup - although this time at the quarter-final stage and across the Basque border in San Sebastian.
By Colin Spiro, 20 February 2011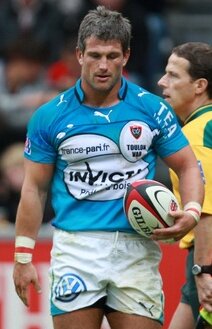 Tough call:
Tom May
Photo: Eoin Mundow
/Cleva Media
(Toulon and England centre Tom May talks exclusively to frenchrugbyclub.com about why he's leaving at the end of the season, what he'll miss about France, and Sonny Bill Williams' extraordinary rugby skills...)
As the ongoing influx of internationals to Toulon continues to gather pace, former England centre Tom May is bucking that trend by leaving the ambitious French club to return to England.
But May?s decision to sign with Northampton Saints is not that of a disenfranchised Brit abroad, but rather a more calculated one resulting from Toulon?s never-ending squad recruitment.
Welsh centre Gavin Henson recently arrived from Saracens, Australian Matt Giteau confirmed last week he would be joining in the summer and rumours of signings continue unabated.
?It?s going to be very difficult to play a lot of rugby here in the future,? admitted May. ?There?s a lot of guys coming here, and there?s going to be a lot of big names playing in the same positions. From my perspective I?m coming towards the end of my career and I want to play as much as I can in the years that remain. I know it?s also going to be difficult to play at Northampton but I?ve got more of a chance there I suppose, and going to one of the top clubs in the UK is a fantastic opportunity,? he explained.
29 March 2010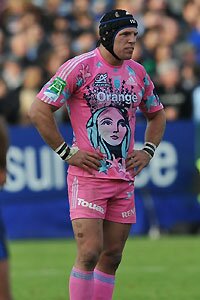 Where did it all go wrong?
Stade's James Haskell
Photo: Michael Paler
The 2009/10 season has proven a tumultuous one for French giants Stade Francais, with the flamboyant Paris outfit stumbling from one crisis to another, both on and off the field.
Rarely have they been out of the French (or international) headlines, with last week?s announcement that Leinster?s Michael Cheika will become their third head coach in less than 12 months just the latest in a seemingly never-ending stream of eye-catching stories to emerge from the club.
Their latest defeat - a 44-23 hammering by Perpignan - means they are currently languishing in ninth position in Top 14 with just three matches to go and are set to miss out on the end-of-season play-offs for the first time since 2000/01. And this despite the number of clubs involved in those play-offs being expanded from four to six this season.
By Colin Spiro, 19 March 2010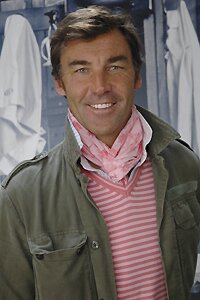 'The epitome of French
coolness and class'
Photo: Eden Park
On the eve of France's Grand Slam showdown with England FRC talks to former France fly-half (and Grand Slam winner) Franck Mesnel.
Franck Mesnel was once dubbed ?the epitome of French coolness and class?, and it?s certainly hard to refute that tribute, although you won?t find him draped around an espresso in a Paris café puffing away happily on a Gitanes. The coffee, the café and Paris, yes, but smoking is not on the Mesnel agenda.
He looks as fit and fresh now, aged 48, as he did in his prime ? and what a prime! Mesnel trained as an architect but found himself at the centre, or rather fly-half, of the now famed back quintet at Paris side Racing Club de France (now known as Racing-Metro 92) that gave birth to the sobriquet ?Le Showbizz? in the mid 1980s. Not satisfied with playing a flair minded counter-attack game, the capital?s then number one club also took to indulging in a number of ?jokes? while simultaneously engaged in all the seriousness that was and remains French club rugby.
23 January 2010, by Colin Spiro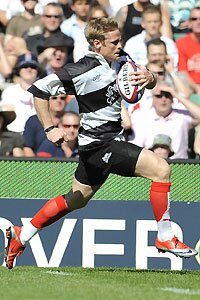 "We've been a bit up
and down"- Balshaw
Photo: Michael Paler
For a man who has won rugby?s top honour ? the World Cup ? Iain Balshaw remains refreshingly modest and level-headed. Perhaps it?s the sea air that drifts in from the Atlantic coast, or maybe it?s his new-found happiness at one of France?s most successful clubs, but on the field Balshaw remains an exacting opponent, ever-ready to unfurl his raking legs and go for the try line.
It seems that  his summer move from Gloucester to Biarritz has allowed him to finally find his spiritual home ? in a rugby sense at least ? with the likes of Damien Traille, Dimitri Yachvili, Takudzwa Ngwenya and Karmichael Hunt all sharing his own taste for free-running and attack-minded adventure.
23 January 2010, by Colin Spiro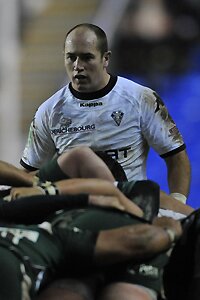 Looking for a win:
Shaun Perry
Photo: Michael Paler
As one of only two teams yet to register a single point in this year?s Heineken Cup you might think that Brive had little to play for in Saturday?s final pool game, but that could not be further from the truth. Indeed, the fact Brive remain point-less is all the motivation the one-time European champions require.
Their home match against third-placed Scarlets in Pool 6 presents the Limousin club with the ideal opportunity to sign off with a win and send them into the remainder of the French domestic season in good spirits. It would also help continue to wash away the pain of a traumatic first half to the season that saw them dispense with veteran head coach Laurent Seigne as they dropped ever nearer the Top 14 relegation zone.
The mere fact they were remotely close to the drop zone was an understandable source of deep inner unrest, and Seigne paid the inevitable price as lack of confidence fatally eroded the team?s well being.
By Colin Spiro, 31 December 2009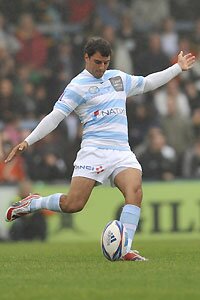 Racing to the top:
Jonathan Wisniewski
Photo: Michael Paler
The end of 2009 takes with it a hatful of rugby memories, but if ever one match encapsulated the fortunes of two teams then it was the 23-19 away win for in-form Racing-Métro 92 at Top 14 strugglers Bayonne.
For Pierre Berbizier's Parisians the four-point win was their ninth in succession in the league, taking them within two of Stade Toulousain's all-time record as they continued their inexorable rise up the table.
Top 14 Table  / Top 14 try-scorers / Top 14 Results / Top 14 Fixtures
Their achievement is all the more remarkable for the twin facts that this is their maiden season in Top 14 (after running away with the ProD2 title in 2008/9) and that they lost five of their first seven games.
That dodgy start left Racing 13th after seven rounds but it was a somewhat misleading picture as five of those seven games were away from home in a lopsided start to the fixture list, and their only defeat in the capital was a narrow 18-14 loss to champions Perpignan.
By Markus Findlay, 10 December 2009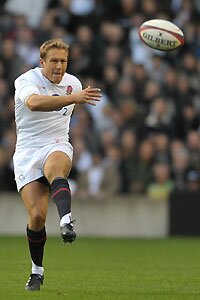 It started with a kick...
England's Jonny Wilkinson
Photo: Michael Paler
[In the summer of 2009 a young UK-based student called Markus Findlay came to France to investigate (as the above headline suggests) the cultural role of rugby within the French playing heartland of the south west. His trip was part-funded by a scholarship called the Charles de Gaulle Bursary which was awarded by The British Council. What follows is the part II of the end product he was required to submit, and it's even got a section in French for those keen to test their linguistic skills]
On that ever so special November day in 2003, when a certain Jonny Wilkinson kicked the drop-goal that would bring the Rugby World Cup to the Northern Hemisphere for the first time in history, my own passion for the sport was sparked - just as with many of my generation. It captured the heart of the nation and made a huge impact on the sporting community. The golden Web Ellis Cup even made a celebratory visit to my home, the rural market town of Nantwich in Cheshire, the newspaper cutting of which still mounts my bedroom wall, now faded and bleached by sunlight. It is fair to say that I would probably not be writing this article had that kick not bisected the posts in the dying minutes of the game.
By Markus Findlay, 04 December 2009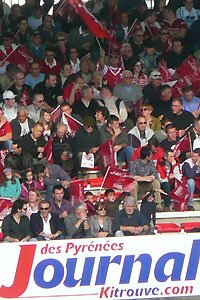 Tarbes fans soak up
the atmosphere
Photo: Colin Spiro
[In the summer of 2009 a young UK-based student called Markus Findlay came to France to investigate (as the above headline suggests) the cultural role of rugby within the French playing heartland of the south west. His trip was part-funded by a scholarship called the Charles de Gaulle Bursary which was awarded by The British Council. What follows is the end product he was required to submit, and I was so impressed that I decided to publish it on the website in two parts, starting with the first installment today - Ed] 
Rugby?s personal attraction extends beyond the varied nature of the game, one where all aspects of skill are incorporated. The unique emphasis on inclusiveness and interdependence are the reasons why I am so passionate about rugby. I believe there is a universal appreciation for great spectacles of athleticism, similar to the times of antiquity where athletes were idolised for their physical qualities. This enthusiasm for rugby (and sport in general) is widespread in the southwest of France, and not dissimilar to the complete awe for the ancient athletes of the past.
By Joe El Abd, 21 October 2009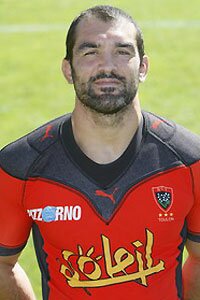 Sheer physicality:
Joe El-Abd
© RCN Toulon
Toulon flanker, FRC columnist - and former YTS at Brighton & Hove Albion - Joe El Abd this week reflects on the differences and similarities between the professional sporting worlds of rugby union and football.
I have just finished reading a book called 'Woody and Nord ? A football friendship'. It?s about Gareth Southgate and Andy Woodman and their lives in the world of football, and well worth a read if anyone?s interested. While reading the book myself I got thinking about the differences between the two sports, something that I find particularly interesting given that I have two brothers who both play football - Adam for Brighton & Hove Albion, Sami for Hayes & Yeading - and it?s often a subject that comes up in conversation.
I am sure you have all heard of the description often used to highlight the differences between the two sports of ?Football is a game for gentlemen played by thugs, while rugby is a game for thugs played by gentlemen?. It?s a phrase I love to use to wind up my brothers with. While it's true to say that footballers haven?t done much to help themselves off the pitch in the past, to label them all as thugs is also probably a bit unfair (especially when regarding the recent headlines in the rugby media).
13 October 2009, by Colin Spiro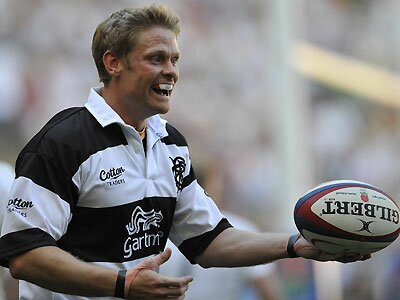 "I?ve got no doubts that I made the right
decision": Biarritz winger Iain Balshaw
Photo: Michael Paler
The Heineken Cup is without doubt Europe?s premier club competition, and for the ever-increasing numbers of ex-pat Brits in France it offers a welcome opportunity to parade their skills in a series of high-profile games.
For the likes of James Haskell, Tom Palmer (both Stade Francais), Jamie Noon and Steve Thompson (both Brive) it provides a superb window to showcase their talents to a Europe-wide audience ? which will no doubt include England?s selectors ? but for Biarritz?s Iain Balshaw all he can do is look on with envy, for the time being anyway.
The England World Cup winner is still only 30 and harbours genuine hopes of adding to his 35 international caps, but torn transverse abdominal muscles (picked up in the recent Basque derby against Bayonne) have ruled him out of both opening rounds. Even more agonizing for the multi-skilled runner is the fact Biarritz?s second game is at home to Gloucester on Saturday, the team he left in the summer as part of the ongoing British exodus to France.
12 October 2009, by Colin Spiro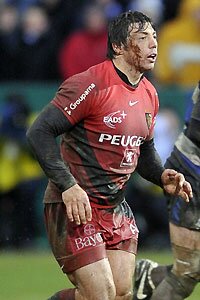 Disciplinarian:
 Byron Kelleher
Photo: Michael Paler
Stade Toulousain?s three Heineken Cup triumphs marks them out as Europe?s most successful club team, so when star player Byron Kelleher admits they?ve altered their approach this season it?s wise for others to sit up and listen.
The French giants remain true to their attacking ethos ? as witnessed by Sunday?s five-try demolition of Sale Sharks ? but they?ve had a long hard think about where they came unstuck in the previous two campaigns as they lost to Munster (in the 2007/8 final) and Cardiff Blues (in the 2008/9 quarter-final).
The latter loss was a particularly bitter pill to swallow, and prompted head coach Guy Noves to sit down with his star-studded squad and ask where it had all gone wrong.
By Joe El Abd, 08 September 2009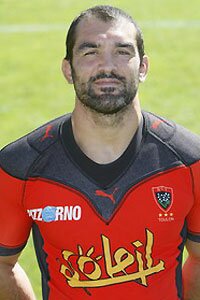 No ordinary Joe:
Toulon's  Joe El Abd
Toulon flanker, and former Bristol captain, Joe El Abd has joined FRC as a regular columnist - giving us the inside line on life down on the Cote d'Azur, what it's like to move from the Guinness Premiership to Top 14 and generally telling us how it is for a professional rugby player in the modern era. This week he talks about money - and why it's not just the pull of the Euro that's attracting Britain's players across the Channel.
Is money the only reason why so many British players have moved to play rugby in France?s Top 14 this season? Certainly if you read or listen to most of the British media that is impression you would get, but as one of those who has moved ? from Bristol to Toulon ? I can give you a more complete perspective on the reasons for crossing the Channel. While it is clearly a fact of life that money plays a part in most work related decisions, for most players money is only one of many factors that makes a move out to France hard to resist. Let me explain.
By Colin Spiro, 05 September 2009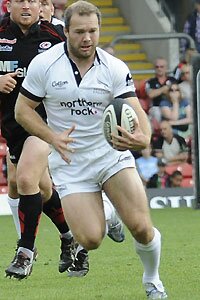 Awestruck:
Ollie Phillips
Photo: Michael Paler
England sevens captain and Stade Francais winger Ollie Phillips talks to FRC about moving to Paris, the awesome atmospheres within French rugby grounds and why confidence still remains high despite a sticky start to the new season.
He?s played in the biggest international sevens tournaments in the world ? indeed, he is the current IRB Sevens Player of the Year ? but nothing prepared Ollie Phillips for the unique atmosphere in French grounds following his summer move from Newcastle Falcons to Paris giants Stade Francais.
A hamstring strain prevented the 26-year-old from playing until Wednesday ? when he made a try-scoring debut against Montauban ? but he was still awestruck after travelling to San Sebastien for Stade?s groundbreaking match against Bayonne two weeks ago.
27 August 2009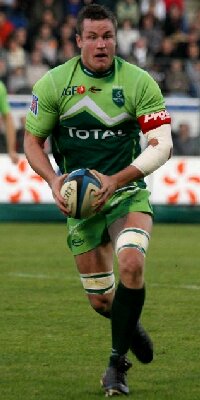 'No players objected':
Pau's Paul Dearlove
In the latest of his exclusive columns for FRC, Pau captain Paul Dearlove tackles the 'Bloodgate' scandal currently dominating the British (and global) game - including his own experience with the club-sanctioned use of blood capsules - and he asks where is the line truly drawn between acceptable and unacceptable levels of 'cheating'...
?If you?re not cheating ? you?re not trying!?
I have heard this from many coaches and players and I understand the mentality. Rugby is a game with many areas requiring interpretation and this opens the door to all types of games within the game.
But what is cheating? Slowing the ball down for two or three seconds is against the laws, but is it cheating? Holding or obstructing an opposition supporting runner for even the shortest moment can save a try - this is also unlawful but teams train strategies with dummy runners for exactly this purpose. I could go on but anyone who has played or watched a game of rugby could pinpoint innumerable examples of players ?cheating?.
By Colin Spiro, 26 August 2009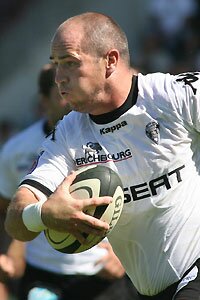 Shaun Perry:
A new beginning
© Diarmid Courreges
England's 2007 World Cup scrum-half Shaun Perry talks to FRC about moving to Brive, the joy of French rugby, his previous life as a welder, going wild boar hunting with Steve Thompson (or not), the excitement of the Heineken Cup and his burning ambition to pull on the Red Rose once more.
When Shaun Perry gave up welding to turn professional in 2005 the feisty Wolverhampton-born scrum-half could barely have imagined the sporting odyssey on which he was about to embark.
Within 11 games of making his Premiership (and professional) debut for Bristol ? at the none too tender age of 27 - he was called into the England ?A? squad. By August of the following year he was in England?s Elite Player Squad and on November 5th 2006 he unleashed his own fireworks by scoring a 65m breakaway try on full international debut, against the All Blacks no less.
Life for the former Dudley Kingswingfield player had certainly taken a dramatic turn for the better, and with the 2007 World Cup looming on the horizon it seemed that one of rugby?s late bloomers was about to complete a fairytale rags-to-riches scenario.
By Colin Spiro, 23 August 2009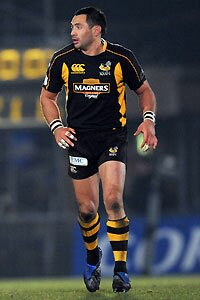 Lions' pride:
Brive's Riki Flutey
Photo: Michael Paler
England centre Riki Flutey talks to FRC about moving to Brive, the joys of fatherhood, his French ancestry (really!), his relationship with 'Johnno', the struggle to learn a new language and how he came within a whisker of being sent home from the British Lions' tour.
Riki Flutey tends to polarise views. New Zealand born and bred, he played for the All Blacks age groups right through to the verge of the senior team before a stalling career led to him decamping to England and throwing in his lot with the 2003 World Cup winners. His shortened vowels are a giveaway, and he makes no apologies for switching alliances, but while some welcome his undoubted talent with open arms others are sent into fits of apoplexy by his utilization of a system many see as flawed.
Pulling on the red rose proved hard for some to stomach, an indigestible taster that turned out merely to be the hors d?oeuvre. This summer he went on to represent the British and Irish Lions, in the process entering the record books as the first person to ever play both for and against the hallowed team.
22 July 2009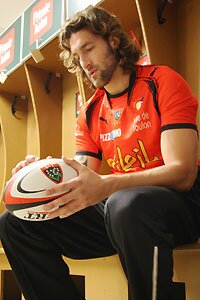 Ross Skeate:
Focused
© RossSkeate.com 2008
Frenchrugbyclub.com catches up with Toulon lock, and friend of the site, Ross Skeate as Jonny Wilkinson's new club prepare for their opening pre-season friendly against Brive on Friday.
Toulon lock Ross Skeate said the big-spending Top 14 side has targeted Heineken Cup qualification as their sole aim for next season.
?For us obviously in Europe you want to play in the Heineken Cup, so either winning the European Challenge Cup or finishing in the top six will give us that opportunity, so I think as a squad we?re pretty focused on that and what that means.
Top 14 Table / Top 14 Transfers / ProD2 Transfers / Top 14 Fixtures 2009/10 / Pre-season friendlies
?With so many games it means winning your home games and then playing well away, that?s something that we?re trying to get going. We need to start the season well and of our first four games three of them are at home, so we really need to get maximum points out of those first four and then go from there,? said the South African second row.
27 May 2009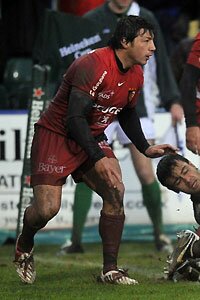 Winning is not enough: 
 Byron Kelleher
Photo: Michael Paler
Former All Blacks scrum-half Byron Kelleher has become Guy Noves? go-to man at Stade Toulousain. A beacon of the fire that breathes through a squad determined to end the season with yet another French Championship. Clermont Auvergne ? last year?s beaten finalists ? stand in their way in Friday?s semi-final, but Kelleher ? only recently back from injury ? told frenchrugbyclub.com that nothing but victory would suffice to appease the demanding standards set by the club and its impassioned supporters.
At 32 and the veteran of three World Cups and 59 All Black caps Byron Kelleher has every right to be in the winding down phase of his illustrious career. That, however, could not be further from the truth as the gnarly number nine is now at the peak of his considerable powers and flourishing in the rugby-mad confines of his new environs at French rugby giants Stade Toulousain.
14 May 2009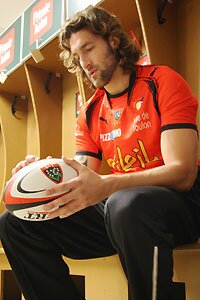 Ross Skeate:
Eye on the ball
© RossSkeate.com 2008
South African second row Ross Skeate says Toulon?s turnaround in results ? which culminated in Top 14 survival last weekend ? had nothing to do with coaching.
Toulon appeared destined for the drop after winning only three of their first 15 games, but Tana Umaga?s outfit hauled themselves away from the drop zone with five wins and a draw in their last 10 matches ? including a morale-boosting 14-6 home win against Stade Toulousain.
Top 14 Table / Top 14 Fixtures / Top 14 Transfers
?I think we just got used to each other,? explained Skeate, who was among a plethora of new arrivals after Toulon secured promotion as ProD2 champions in 2007/8. ?The seasons here are quite long and the major thing was the guys took a few months to get to know each other. I think that was the major reason [for the upturn in results]. There was no real revolution of coaching or anything like that. The guys just got used to playing with each other.
By Colin Spiro, 10 May 2009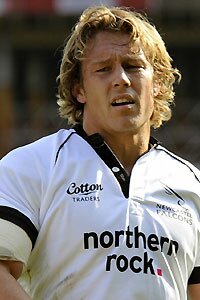 Jonny Wilkinson:
French fancy
Photo: Michael Paler
The comings and goings at Toulon over the next two weeks are set to make fascinating viewing now that the cash-laden club has secured its Top 14 status.
The season-long battle finally came to a successful conclusion at Dax on Friday night, but less than 48 hours later the club was already waving goodbye to Jerry Collins, the former All-Black flanker and cousin of player-coach Tana Umaga.
Top 14 Table / Top 14 Fixtures / Top 14 Transfers
Collins was an influential figure in the club?s fight for safety and one can only speculate on the exact reasons for departure (on a two-year deal to the Ospreys).  It may be a purely personal preference to play in Wales, but one thing is for certain; Toulon president Mourad Boudjellal will have known about this development for some time, and ? together with incoming director of rugby Philippe Saint-André ? will have planned accordingly.
By Colin Spiro, 26 April 2009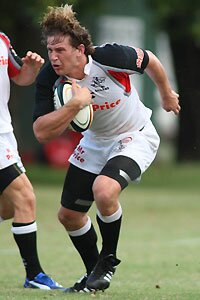 Wanted: Mercurial
fly-half Francois Steyn
Photo: Steve Haag
Back Page Sport.com
Racing-Metro 92 confirmed their promotion to Top 14 on Sunday, becoming the capital?s second club in France?s premier division.
But who, or what, are Racing-Metro 92, and what are their chances of making an impact in the top flight given the struggles of Toulon and Mont-de-Marsan this season?
Of last year?s two promoted clubs Racing bear strongest comparison to Toulon as they will go up on the back of sustained league success and bankrolled by an ambitious multi-millionaire.
For Mourad Boudjellal read Jacky Lorenzetti, the uber-wealthy boss of real estate giants Foncia who isn?t shy of investing his millions into Racing.
02 April 2009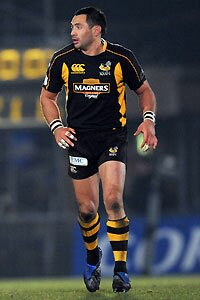 Centre of attention:
Brive-bound Riki Flutey
Photo: Michael Paler
In the second of a two-part exclusive interview Brive CEO Simon Gillham explains why he was so riled by BBC commentator Ian Robertson, Brive?s unique take on transfer policy, his relationship with Rob Andrew, the club?s future plans and why Steve Thompson should be playing for England again.
Part I: The secrets behind Brive's French success 
On February 17th 2009 Brive announced they had signed England centre Riki Flutey. It was a big enough story on its own ? one of England?s best players moving across the Channel to play in Top 14 ? but when his club London Wasps also confirmed that international colleagues James Haskell and Tom Palmer would be joining Stade Francais all hell suddenly broke lose.
It was a huge story - three England players announcing they were moving to France in one day. The (largely one-eyed) media uproar was unprecedented, and, as Brive?s CEO, Simon Gillham fell well and truly into the firing line.
01 April 2009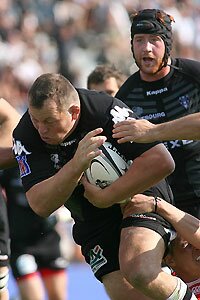 On the charge:
 Steve Thompson
© Diarmid Courreges
In the first of a two-part exclusive interview Brive CEO Simon Gillham explains how the former European champions have turned themselves from a team struggling to retain Top 14 status into a League of Nations collective now pushing once more for major honours. Gillham who, remarkably in this day and age, performs his CEO duties unpaid, takes us behind the scenes to help explain one of the stories of the season as the 2008/9 Championship draws to a thrilling climax.
Sport, like politics, is a fickle environment with little room for sentiment as fortunes oscillate between success and failure. Lose and you?re out; win and you?re a hero.
Five games into this season?s Top 14 campaign ?big spending? Brive were being barracked for cobbling together a motley crew of ageing internationals seemingly intent on enjoying a final pay day in the sleepy surrounds of a once mighty fallen giant. They were win-less, bottom of the league and had just four points to their name.
By Colin Spiro, 23 February 2009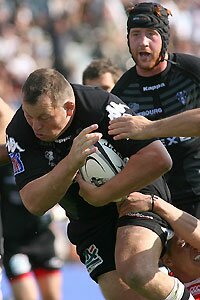 C'est la vie:
Steve Thompson
© Diarmid Courreges
After a dramatic week that saw current England stars Riki Flutey, James Haskell and Tom Palmer sign to play in Top 14 next season, FRC talked to Brive?s former England international Steve Thompson about the attraction of earning and living in France, and how he's made a remarkable playing comeback after breaking his neck.
Anyone wondering why England centre Riki Flutey opted to sign for French club Brive this week should pay a quick call on Steve Thompson.
The England World Cup winner and former Northants star heads a growing enclave of British players at the ambitious Top 14 side, and has even been instrumental in the recruitment of some.
Fellow World Cup winner Ben Cohen followed over on Thompson?s recommendation, as did Irish duo Christian Short and Damien Browne ? all three from Northampton. Even former England and Saracens centre Ben Johnston came over via the veteran hooker after a failed medical had, ironically, scuppered a proposed move to Northampton.
By Colin Spiro, 18 February 2009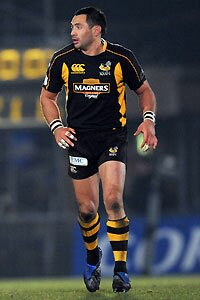 Brive's latest signing: Wasps
and England star Riki Flutey
Photo: Michael Paler
And so it has come to pass. After months of speculation and rumour, three of England?s leading talents have confirmed they?re upping sticks and heading for the land of cheese, garlic, and ? most importantly ? bucket loads of euros? or that?s what the British press would have you believe.
?The English game is in crisis and these selfish mercenaries have put cash before national honour?, has been the general tenor of the response to news that Riki Flutey, James Haskell and Tom Palmer have all signed to play in Top 14 next season.
Emergency meetings have been called for amidst much wailing and gnashing of crooked teeth ? best keep the clichés going ? and some (most notably Bath coach Steve Meehan) have even called for those tempted abroad to be banned from playing for England.
Few have seriously asked whether playing in Top 14 might actually benefit the players? development and, therefore, England?s too. Just ask Andy Goode why he believes he?s earned an England recall this season and he?ll bounce straight back saying that playing at Brive has broadened his horizons and actually improved him as a player and person.
By Colin Spiro, 12 December 2008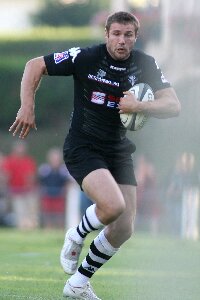 Ben Cohen: French connection
© Diarmid Courreges
Ben Cohen talks to FRC about his move to Brive and how having twins has changed his perspective on life.
"I genuinely do think that French rugby is behind ? not necessarily on the pitch, because they can go and beat anyone of their given day ? but I think behind the scenes they are" - Ben Cohen
England World Cup winner Ben Cohen says he has no regrets about joining French Top 14 side Brive, where he is currently plying his trade with fellow Brits Andy Goode, Steve Thompson and Barry Davies.
The 30-year-old winger would love to still be playing for his country but is resigned to life on the international hard shoulder after deciding to up sticks and move to France in 2007.
Up until then Cohen had been a one-team man, racing in for more than 100 tries for his beloved Northampton Saints before the relationship broke down when he was overlooked for the captaincy.
A brief break from the game was followed by his transfer to Top 14 side Brive - or Club Athlétique Brive Corrèze Limousin to give it its full name - with whom he is now enjoying his second season as they fight for Heineken Cup qualification.
09 December 2008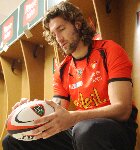 Skeate: Eye on the ball
© RossSkeate.com 2008
"Structured rugby has its place, but I wanted to be in the French league that was full of flair and running sort of rugby" - Ross Skeate
At 6ft 7ins Ross Skeate is used to making a big impression, but Toulon?s new South African lock is hoping that it?s his game ? not just his frame ? that sets tongues wagging in Top 14.
The 26-year-old joined Toulon from Western Province last month and said he is already relishing the change of continents and rugby styles as he begins to settle in to life in the south of France.
?They are a great bunch of guys and when I arrived they were really easy to get along with and people like Jerry Collins ? who I played with for the Barbarians ? have really helped me find my feet. We are a very tight squad,? said the imposing second row.
But how did a talented South African - capped at school, under-19 and under-21 level ? come to ply his trade down in the harbour town of Toulon?
?Basically I found myself in a position where I didn?t want to be, playing-wise and career-wise, and I thought something fresh would challenge me. I needed a new obstacle and to experience a new way of doing things,? he explained.
?That was really the major reason for my decision ? that I needed a fresh challenge and I needed to get better as a player. I wasn?t getting enough game time (in South Africa) so I decided to come out here and face a new challenge.?
by Johnny Lidgate 03 December 2008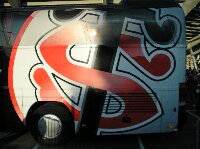 Free-wheeling: Stade Toulouse
We at FRC wanted to know just why French giants Stade Toulouse are consistently regarded as the best team in Europe, so we sent special correspondent Johnny Lidgate along to the Ernest-Wallon to find out why. Here's what he thought...
One club stands above all others in European rugby.
They are three-time Heineken Cup champions - a record - and 17-time champions of France, also a record.
They are the Rouges et Noir from the Ville Rose and to the Anglophone ear even their nickname has a certain cachet compared to the sub-American monikers - Force, anyone? - of say, the Super 14.
I write, of course, of French aristocrats Stade Toulousain.
The city of Toulouse nestles in the heart of French rugby's heartland, the south west of the country.
by Colin Spiro 19 November 2008
Part III:
More than just a game
?In the finals of the last two world cups in 2003 and 2007 there has been just one try and people have played for just not losing the game; we don?t play to win the game with motion and creativity. We need that.?
In the third and concluding part of our exclusive interview with Bernard Lapasset we found out what makes the IRB chairman tick, how best to integrate Argentina, why the ELVs are proving so contentious and where he sees the future of his beloved game going.
Being chairman of an international sporting body is an onerous task, especially in terms of the amount of time spent travelling, meeting and greeting. There are endless functions to attend, dignitaries to speak to and issues to address, especially when trying to drive an expansionist vision through what some perceive as an archaic organisation.
The onset of open professionalism, the growth in popularity of the Rugby World Cup and the push for Olympic inclusion all mean that Lapasset has a full and diverse diary which takes him constantly around the globe.
?I have no more house, no more family, no more team, no more language. My language is different now, it?s totally changed,? he laments jokingly when reflecting on his hectic schedule.
Bernard Lapasset Interview Part I:  My Olympic Dream
Bernard Lapasset Interview Part 2: My Hopes and Fears For The Game
by Colin Spiro 29 October 2008
Part II: My hopes and fears for the game
"The selector is the agent. The agent is monitoring the game in the world and that is crazy. We need to change that.?

In the second instalment of our exclusive three-part interview with Bernard Lapasset the IRB chairman talks about the Rugby World Cup, spreading the game globally and his concerns about European money unbalancing the sport. (Bernard Lapasset Interview Part I:  My Olympic Dream)

Rugby union?s profile has never been higher.  Players? earning powers are continuing to soar, as is the income from sponsors and television, but not everything about rugby?s current status is pleasing the IRB chairman, and he is particularly concerned about the financial strength of British and French clubs.
?The problem of money is difficult because the maximum money is concentrated in Europe. There are a lot of players coming from the southern hemisphere ? from South Africa, Australia and New Zealand ? and we must be careful because we could destroy the value of players in Europe.
?A lot of people say ?Oh, Bernard, but the money is in the north?, but the money is not the true value of the game. The value of the game is having players coming through and to promote good players into the national side. We have the money but we don?t have a good system for developing good players in rugby in the north.?
The emerging north-south divide is something that concerns Lapasset greatly, and one he says needs urgent addressing.
?We are not the same calendar in the north and the south, so we could destroy totally the competition in the south. We must think all the time how we are going to promote the game because we are not the best against the bet at the moment,? he warned.
by Colin Spiro 21 October 2008
Part I: My Olympic dream
?I think the Olympics needs rugby. We have the possibility to extend the value of the Olympic movement in the world.?

Big crowds, big money, big television audiences and even bigger television revenues. The world economy may be experiencing ?le credit crunch? but these are boom times for rugby union as it seeks to establish itself as a truly global sport.
Rugby has seemingly never been in ruder health, but for one man that is not enough. There are a series of vast challenges that lay ahead, demanding his full-time attention and an almost missionary zeal as he seeks to spread the good word around the world.
His name is Bernard Lapasset, the current chairman of the International Rugby Board ? presently in his second three-year term - and the man widely responsible for ensuring the last Rugby World Cup, hosted by his native France, was deemed such a success.
Not satisfied with having already laid a sufficient legacy for most normal men Lapasset is now steering the IRB through a maze of other ventures designed to cherish, nurture and develop his beloved sport ? a role that requires him to jet-set around the world in search of new markets, new methods and new alliances.
Here, in an exclusive three-part interview with French Rugby Club, Lapasset talks about rugby?s continuing push to be included in the Olympic Games, why Russia and Brazil are getting him excited, the ongoing confusion over ELVs, the expanding north-south monetary divide and how the IRB is planning to integrate Argentina more fully into the top-level of international rugby. Oh, and why he also had three breakfasts a day when he was in Beijing recently.

Read More...
10 September 2008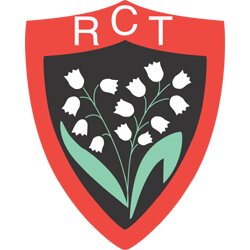 Patience, it seems, may not be a word that flows freely from the loquacious tongue of Toulon?s wealthy but demanding president Mourad Boudjellal.
Having successfully bank-rolled the club back into Top 14 the comic book magnate ? that is he made his fortunes in the industry, not that he is cartoon like ? is apparently now seething that his superstar team isn?t flying high at the head of the league playing free-flowing rugby for fans to drool over.
Okay, that might be a slight exaggeration but it has been widely reported in the French press this week that Boudjellal has had ?talks? with coach Tana Umaga following the club?s first defeat of the season, 18-25 away to fellow newcomers Mont-de-Marsan. That?s right, FIRST defeat of the season. Next thing you know, Umaga will be getting the dreaded ?vote of confidence?.
Now, it is true that the new Top 14 season is only three games old, so that?s a loss rate of 33.33% - unacceptably high for an ambitious club - but it?s also true that Toulon began with an excellent home win against championship aspirants Clermont (22-16) and followed up with a draw (3-3) against big-spenders Brive.
By Colin Spiro 29th August 2008
There are many reasons I started this website but the main one is a growing love of the French club rugby scene ever since moving down to the Pyrenees two years ago.
As a kid I idolised Jean-Pierre Rives with his unkempt hair and Serge Blanco with his unparalleled flair, but it wasn?t until actually living in France that I began to appreciate the true passion for the game, especially down here in ?Le Sud?.
It?s the colour that gets you first, then the noise as the team and supporters entwine in L?espirit de clocher.
You can admire the free running and the willingness to entertain, or you can relish ?Le combat?, with its potential for ?bagarres generales? (all-in brawls) to explode at any moment.
Whatever it is that draws you in, and it could just be the burgeoning numbers of etrangieres, it is impossible to deny that French club rugby is a vibrant amalgam of pride, skill and fervent parochialism ? as all the best sports are.
That?s what I want to share with you and here in this section I?ll be picking out favourite clips from You Tube to help illustrate that belief. They are, of course, all personal selections, but I hope you enjoy them nonetheless.
Money Talks:  The Sonny 'Bill' Williams transfer saga
By Colin Spiro 19th August 2008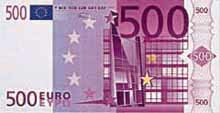 His name conjures images of the Wild West and until recently his rugby prowess was largely unknown within the Union world, but Toulon's protracted and controversial signing of Australia's National Rugby League star Sonny 'Bill' Williams could have a seismic effect on the future of rugby - Union and League - both here and in the southern hemisphere.
Firstly, now that it has been resolved, the transfer is a massive coup for the newly promoted Top14 club currently trying to build a squad fit for survival under the tutelage of coach and Tana Umaga.
The former Canterbury Bulldogs player not only continues the drift of code-switchers from southern hemisphere rugby league - following the signings of such players as Craig Gower (by Bayonne last year) and Mark Gasnier (by Stade Francais this year) - but also confirms both the draw of the Euro and the lure of playing club rugby in France.
11 August 2008

It?s been a frantic off-season of transfer activity in France with the cash-happy Top14 clubs busier than a rum-soaked stag on a night out in Ibiza.
There?s been the usual plethora of ageing internationals heading down to the ?Le Sud? for a sunshine swansong in the land of good living, but the arrival of southern hemisphere giants like Dan Carter, Jerry Collins, Mark Gasnier and of course the controversial Sonny ?Bill? Williams has stirred up some something of a hornets nest down under. Here in France it?s produced nothing more than the archetypal Gallic shrug ? ?your loss is our gain? type of thing ? with the likely knock-on effect of increased crowds, revenue, television interest and, guess what, even more power in next year?s transfer market.  Read More...