Exclusive: 'Toulon have one aim this season, qualify for the Heineken Cup' - Ross Skeate  
22 July 2009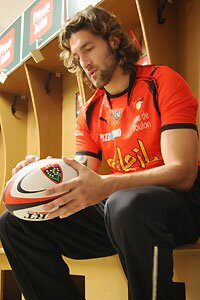 Ross Skeate: Eye on the ball
© RossSkeate.com 2008
Frenchrugbyclub.com catches up with Toulon lock, and friend of the site, Ross Skeate as Jonny Wilkinson's new club prepare for their opening pre-season friendly against Brive on Friday.
Toulon lock Ross Skeate said the big-spending Top 14 side has targeted Heineken Cup qualification as their sole aim for next season.
?For us obviously in Europe you want to play in the Heineken Cup, so either winning the European Challenge Cup or finishing in the top six will give us that opportunity, so I think as a squad we?re pretty focused on that and what that means.
Top 14 Table / Top 14 Transfers / ProD2 Transfers / Top 14 Fixtures 2009/10 / Pre-season friendlies
?With so many games it means winning your home games and then playing well away, that?s something that we?re trying to get going. We need to start the season well and of our first four games three of them are at home, so we really need to get maximum points out of those first four and then go from there,? said the South African second row.
Toulon finished ninth last season after a yearlong struggle against relegation, but much has changed since the final days of 2008/9. Phillipe Saint-Andre has arrived as head coach from Sale Sharks, bringing with him a phalanx of British based players including England internationals Tom May and Jonny Wilkinson.
Expectations, correspondingly, have now risen. A good start to the 2009/10 campaign is imperative, and the fixture list has been favourable. As Skeate said three of their opening four games are at home ? against Stade Francais, Racing-Metro 92 and Clermont Auvergne, with the other match being away to newcomers SCA Albi.
The home games are all tough fixtures, but Skeate knows that success at home is imperative if that sacred top six slot is to be achieved. The second of those games sees them take on Racing-Metro 92 in a match switched to Marseille?s Stade Velodrome. The 57,000 capacity stadium is expected to be sold out and Toulon will be hoping for a repeat of last year?s experiment when they switched their ?home? match against Stade Toulousain, winning 14-6 in front an ecstatic sold out crowd.
?Looking back on last season we know that we should have done better and there was a lot of championship points that we missed. Had things gone our way and had we sorted out a few problems we could have been a top six team last year. I think we?re aware of that, but we also know that it?s a fresh start this season,? said the 26-year-old.
Skeate will be hoping to renew a powerful second-row partnership with club captain and fellow Saffer Joe van Niekerk, but he knows no-one has an assured starting slot in the revamped squad.
?Obviously we?ve got Jonny [Wilkinson] and guys like Tom May and Juan Lobbe, who all did really well in the Premiership last year, so we?ve got so much depth and talent in the squad it?s really helping to have that competition for places. It?s going to be tough in a lot of positions.?
The calming and authoritative presence of Saint-Andre has also been felt during a physical pre-season that has involved much hill running and bonding sessions.
?It?s been good,? said Skeate. ?Obviously we faced a lot of challenges here last year in terms of avoiding relegation and stuff, and then having Philippe here who has a lot of experience coming in and the guys he?s brought in means we?ve moved on from the great strides we made last year. Tana [Umaga] is still involved as well, which is great for us and great for the club.?
Skeate took a well-earned break back to South Africa in the off-season, although his two-week stay was dominated by rugby after being invited to play for the Southern Kings against the touring British and Irish Lions. 
?It was a really, really good experience,? enthused Skeate. ?I?m glad I did it because at the time I was unsure because it was during the only two week break I had at home.
It was pretty physical but we did well for a team that had only trained together for the five days before. We did push the Lions [losing 8-20] and I was pretty proud and happy how that went. Obviously it doesn?t come around very often so it was good to have a shot at them I guess.?
Now, though, the focus is very much on the forthcoming season, with their opening friendly at home to Brive on Friday evening.
?It?s a really good mix of guys and a well balanced squad with guys from different nationalities. Obviously it?s another big squad with a lot of new guys and it may take a little while to settle in and get to know each other, although hopefully not too long. But I think Philippe has done a really good job of pulling everyone together and putting the emphasis on doing things simply at the moment and then building from there,? said Skeate.
* Ross Skeate writes a regular column on his French experiences at Toulon on www.rossskeate.com