Feature: Contrasting fortunes in 2009 of in-form Racing-Métro and struggling Bayonne
By Colin Spiro, 31 December 2009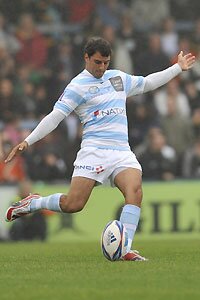 Racing to the top: Fly-half
Jonathan Wisniewski in action
Photo: Michael Paler
The end of 2009 takes with it a hatful of rugby memories, but if ever one match encapsulated the fortunes of two teams then it was the 23-19 away win for in-form Racing-Métro 92 at Top 14 strugglers Bayonne.
For Pierre Berbizier's Parisians the four-point win was their ninth in succession in the league, taking them within two of Stade Toulousain's all-time record as they continued their inexorable rise up the table.
Top 14 Table  / Top 14 try-scorers / Top 14 Results / Top 14 Fixtures
Their achievement is all the more remarkable for the twin facts that this is their maiden season in Top 14 (after running away with the ProD2 title in 2008/9) and that they lost five of their first seven games.
That dodgy start left Racing 13th after seven rounds but it was a somewhat misleading picture as five of those seven games were away from home in a lopsided start to the fixture list, and their only defeat in the capital was a narrow 18-14 loss to champions Perpignan.
The last of their five defeats was 9-6 away to current leaders Castres, but that was way back on September 19 - a seeming lifetime ago in light of the remarkable run of victories they have subsequently put together. With 11 league wins from 16 games they now have a victory percentage of 68.75% in Top 14 so far this season and are joint second on points with Clermont Auvergne.
Racing have an ideal opportunity to make it 10 straight wins when they play host to Bourgoin on Sunday, but they'll have to do it the hard way if they're to equal Stade Toulousain's record, with their next match after that being away to Perpignan. Given current confidence levels and results then nothing can be ruled out - especially after the Catalans were so comprehensively undone by Munster at the Stade Aimé Giral recently - but Racing won't worry overly even if they do lose in Perpignan.
Their true goals at the start of this campaign were to first secure their Top 14 status, and then to push on for the top six finish which would guarantee them Heineken Cup qualification and a league play-off berth. To that end they have now placed themselves in a superb position to fulfil their pre-season targets and minds have already begun looking further afield with former Stade Francais favourite Juan Martin Hernández said to have agreed to join for next season.  
Transfer coups
The Argentine's capture would be another transfer coup for Jacky Lorenzetti's club, following summer deals last year to secure the services of then France captain Lionel Nallet, national icon Sébastien Chabal and mercurial Springbok François Steyn. Some dismissed their triple recruitment as nothing more than window dressing in an attempt to attract sponsors and fans alike, but the French pair of Nallet and Chabal have both been reinvigorated since moving to the capital and renewing a sporting friendship that first blossomed when they were team-mates together at Bourgoin. The addition of Steyn has also been integral to the team's overall form once the South African completed his Tri-Nations duties.
Together they have helped strengthen an already formidable squad that Berbizier has been assembling for more than two seasons now. Racing ran away with the ProD2 title last season, earning the only automatic promotion slot in the process, but their cohesion and talent has stood them in better stead than Toulon - their predecessors as ProD2's 2008 champions.  Toulon had a season-long struggle to avoid relegation straight back down despite spending heavily, but Racing have been more restrained in their overall recruitment.
The arrival of Philippe Saint-André (and another raft of international players) has had the desired effect at Toulon this season, but they still lag five points behind Racing going into 2010.
Berbizier could certainly be considered as one of the most successful coaches during 2009, along with Perpignan's Jacques Brunel and the Castres duo of Laurent Labit and Laurent Travers. During the past 12 months Racing have won 24 of their 32 league games (75.0%), with their Top 14 ratio being 11 wins from 15 (68.75%). That last figure is down somewhat on Perpignan's 20 from 26 (76.92%) during their championship-winning season, but significantly better than Brive's - the team which finished sixth. The Limousin club ended 2008/9 with 13 wins from 26 (50.0%), but still did enough to claim a cherished Heineken Cup berth.
Brive scraped into Europe's premier club rugby competition just ahead of Bayonne, with both teams having ended the season level on 66 points. Brive owed their qualification to a fine mid-season run, while the Basques' early challenge for a top four finish petered out with some indifferent form from December 2008 onwards.
Bayonne results 2008/9  / Bayonne results 2009/10 / Racing-Métro results 2008/9 / Racing-Métro results 2009/10
Indeed, Bayonne - under the then lauded stewardship of head coach Richard Dourthe - were still fourth in Top 14 at the end of 2008, two points ahead of eventual runners-up Clermont Auvergne. All was going swimmingly for the Basques, especially as they were also a massive 13 points up on their 10th-placed local rivals Biarritz. Yet it was Biarritz rather than Bayonne who ended up qualifying for the Heineken Cup, with Dourthe's team winning just five of their subsequent 13 league games after January 1st 2009.
That slip in form has now become a full-blown crisis as Bayonne currently sit 13th in the league following 11 defeats in 15 games so far this season. They are three points adrift of 12th-placed Bourgoin and not even the November sacking of Dourthe has arrested their alarming slide. ProD2 surely beckons for the proud Basques unless they can somehow turn the proverbial corner. New head coach Thiery Mentières seems as lost as Dourthe did before undone by a player rebellion, hence the club's recent wooing of both Fabien Galthié and Eddie Jones.
Relegation would be a disaster for a club of Bayonne's ambitious, but the phrase "too good to go down" has been disproved too often to hold any source of optimism for the dispirited playing squad.
| | | | | | | | | | | | | |
| --- | --- | --- | --- | --- | --- | --- | --- | --- | --- | --- | --- | --- |
| Results in 2009 |   | 2008/9 |   |   |   | 2009/10 |   |   |   | Total |   |   |
|   | P | W | D | L | P | W | D | L | P | W | D | L |
| Racing-Métro 92 | 16 | 13 (81.25%) | 0 | 3 | 16 | 11 (68.75%) | 0 | 5 | 32 | 24 (75.00%) | 0 | 8 |
| Bayonne | 13 | 5 (38.46%) | 2 | 6 | 15 | 4 (26.67%) | 0 | 11 | 28 | 9 (32.14%) | 2 | 17 |
Bayonne's overall win and loss percentages during 2009 make sorry reading indeed, with their figures of nine wins from 28 games (32.14%) and 17 defeats (60.71%) standing in stark contrast to Racing's (see table). Perhaps more worryingly for Bayonne is the fact their 2009/10 league record is currently worse than that achieved by relegated Dax last season (who won seven out of 26 - 26.92% - and lost 18 - 69.23%).
That last comparison should be enough to send shivers up the spine of president Francois Salagoity. The question is 'What can he do in the short term to change it?'.
Another head coach - which would be their third of the season - could either inspire or confuse, while simple confidence (or lack of it) would appear to be the players' main problem.
This, of course, is all in complete contrast to the emotions currently coursing through Racing-Métro's squad, but if a week really is a long time in sport then a year can seem like an eternity.