Ollie Phillips interview: 'There's absolutely no reason why we can't beat anyone'
By Colin Spiro, 05 September 2009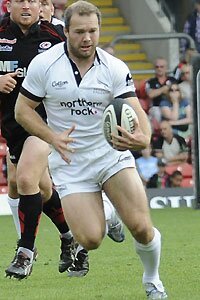 Awestruck: Ollie Phillips has
been stunned by the crowds
Photo: Michael Paler
England sevens captain and Stade Francais winger Ollie Phillips talks to FRC about moving to Paris, the awesome atmospheres within French rugby grounds and why confidence still remains high despite a sticky start to the new season.
He's played in the biggest international sevens tournaments in the world – indeed, he is the current IRB Sevens Player of the Year – but nothing prepared Ollie Phillips for the unique atmosphere in French grounds following his summer move from Newcastle Falcons to Paris giants Stade Francais.
A hamstring strain prevented the 26-year-old from playing until Wednesday – when he made a try-scoring debut against Montauban – but he was still awestruck after travelling to San Sebastien for Stade's groundbreaking match against Bayonne two weeks ago.
"I didn't play but I went down to watch and the atmosphere was absolutely amazing. I've never experienced that in English rugby," he enthused. "I've experienced it when I have played for England – in places like New Zealand, where the atmosphere there was absolutely amazing – but to experience it in a club game is just awesome. The noise that the Bayonne fans made - I have never heard anything like it before, and it was just constant, non-stop from start to finish. That makes it all so much more special and I just can't wait for the Stade de France games where you've got 80,000 people."
Top 14 Table 2009/10 / Top 14 Transfers / Top 14 Fixtures 2009/10 /
He'll have to wait another month for that – when Stade Francais play host to champions Perpignan on October 24th – but in the mean time he's concentrating on trying to help the Parisians overcome a stuttering start that has seen them win just once in their opening four games. The knives may not be out just yet, but Phillips' introduction to French club rugby has been interesting to say the least.
Appropriately enough for a former Newcastle player Stade appear to have adopted the Kevin Keegan philosophy and applied it to rugby – they've both scored and conceded more points than any other team, with their matches currently averaging more than 60 points per game.
"Yeah, at the moment we're just turning up and throwing the ball around and having some brilliant games of rugby to watch. I just hope that 'Domi' [backs coach Christophe Dominici] or Ewen McKenzie doesn't start offering to have a fight with Alex Ferguson afterwards," says Phillips.
Stade's current approach certainly makes for riveting viewing, and Phillips remains upbeat about their form despite Australian head coach McKenzie this week labelling their play as "catastrophic" following their 35-40 home defeat by previously win-less Montauban.
'If we weren't scoring there really would be something to worry about'
"The main thing is that we're scoring," said the England sevens captain. "If we weren't scoring there really would be something to worry about, because I think the easiest thing to fix is stopping people scoring. The hardest thing is to score against other teams, so at least we're breaking sides down. We're scoring 35 points, we're just letting 40 in against us.
"What's frustrating is the tries people are scoring against us, they're not really having to work for them. They are just breaking our line in first phase and then scoring – flattering and easy tries. Whereas if you're making sides work through 10-15 phases then sometimes you can take your hat off and say they've earned the try. Obviously fair play to the teams because they've run through good moves, but we're not making them work for the tries. We just need to tighten up on that and hopefully we can do that against Biarritz on Sunday."
The Basques have their own problems after losing three of their opening four games, so Stade appear to have an ideal chance to get back on track with a valuable away win. Phillips, who looks set to feature again, is certainly optimistic.
"Even after defeat against Montauban we were really well received. We came off and they were applauding us, because we're playing great rugby. If you look at us compared to any other side in Top 14 I think we are playing the best rugby. Our game against Montauban had 75 points, against Bayonne and Montpellier there was 60-odd points. We are definitely the most entertaining at the moment," he reasons.
"We're fun to watch because it's all nail-biting stuff, we nearly win it at the death. They're great games but we should be making it far easier on ourselves to win a couple, but that will come. The great thing is the scoring. I would be really worried if we couldn't break sides down and couldn't score points because then you've got problems, because that's harder to fix," he added.
Phillips clearly has no regrets about his summer move to Stade, a high profile club with correspondingly high levels of expectation.
"It's huge, it's a massive club," he admits. "There are people who would give their left arm to play for this club so I am pleased that I am playing for them. I've got this opportunity now - and all of us at the weekend have got the chance - to go down to Biarritz and win that game. That's quite a cool thing to say as well because when I was at Newcastle that wasn't necessarily the case. We'd go down to Leicester and we might as a team be expecting to win but no one else would be. It's brilliant now because there's absolutely no reason why we can't beat them. There's absolutely no reason why we can't beat anyone away from home."
Confidence, or lack of it, is clearly not a concern for Phillips, although he freely admits the whole change from the Guinness Premiership to Top 14 has been an eye-popping adventure so far.
'The talent in Top 14 is unbelievable'
"It's different obviously. It's different to the Premiership and everything else, but I love Paris - I think it's a brilliant city. I also love the French league. In terms of talent it's unbelievable with the players you play against. Some players you haven't heard of and you think 'Jesus Christ they're a good player'.
"I'm loving it, but obviously I'm struggling with the language still. I want to get much, much better at speaking the language, from a social perspective but also from a rugby perspective. It makes life so much easier if you can communicate what you want to say with ease. It's difficult when you are having to think constantly about what you're trying to say, and it's all in broken French and half the time they look at you as if to say 'What's he talking about?' It would also be quite nice to understand a team meeting from start to finish, but I am absolutely loving it.
"I'm so pleased I made the move, and despite the start I am loving the club, the team and everyone involved with the team. I just hope we start winning because teams are a lot better and happier places when you win, and I think it's even more apparent with the French culture – when you win everything's brilliant but when you lose it's really severe. In England I think the highs and the lows are less extreme – there's not massive exuberance and joyful banter when you win, but there's not the big over-reaction when you lose. That's just a case of getting to used to it, but that's just because they are passionate and I quite like that."
Phillips finally got his first taste of on-field rugby when he came on a substitute during Wednesday's 35-40 home defeat. It was a frenetic introduction to Top 14 and he marked it with a debut try.
"It's great to play for Stade and everything else - that's brilliant - I just wish we had won," he said. "I came on when we were 20 points down and I just ran around like a lunatic for 20 minutes. It was brilliant to score on my debut but to be honest that's part of my job – that's what I am being employed by Stade to do, and hopefully I can do the same at the weekend against Biarritz."
Stade had the chance to get a draw (at the least) against Montauban when Lionel Beauxis kicked through at the death, only for Phillips to ground the ball ahead of his fly-half and have the 'try' disallowed for being offside.
"It was very frustrating," he admits. "We had done all the hard work, I should have just left the kick and let 'Box' score it because we would have drawn the game and had the kick to win it. But I just didn't hear him screaming and I thought it had come off one of their guys' shins. So it was pretty frustrating, but we shouldn't have put ourselves in that position where we needed to win it at the last gasp."
The loss brought predictable wailing from the French media but Phillips says talk of a crisis is way off the mark.
"It's typical French culture to panic and be very animated, and they're very sort of colourful people, or even theatrical from time to time, but there's no point getting carried away. We've had four games, we've won one, drawn one and lost two – so it's not a great start to the season but there's still another 40 weeks of the season left and a long way to go in the competition."
A weekend win against Biarritz on Sunday would help allay the press attacks, and Phillips believes Stade have the talent to turn the results around – beginning with victory down on the Basque coast.
"I've gone into every single game that I've ever played wanting to win and it's brilliant now to be surrounded by a team where it's very tangible – it's there on a plate to be taken," he says.
"I'm looking forward to it. That's the other thing as well, I just don't know what to expect from French rugby. Bayonne was a massive shock for me. I was like 'Jesus, this would be amazing to play in'. We got a police escort in and then there was just thousands of people and it was like a cup final, and it was just a league game. It was brilliant, and it's going to be awesome in Biarritz I hope."
It remains to be seen if they'll be surfing to victory or be dumped by a Biarritz breaker, but Phillips is determined to enjoy the ride, whatever the outcome.