Top 14: France's velvet 'Revol'ution - Salary cap and overseas player quotas confirmed
03 April 2009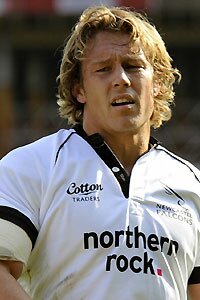 Plus ca change? Players like Jonny
Wilkinson will still be welcomed
Photo: Michael Paler
France's Ligue Nationale de Rugby (LNR) has confirmed plans for a revamped Top 14 with the introduction of foreign player quotas, salary caps, re-jigged end of season play-offs and a new penalty system for financial irregularities.
All four proposals were adopted by the LNR's executive committee on Thursday and are set to be phased in over the next three seasons, although the moves are less radical than many had wanted – more a velvet revolution than a radical re-think.
Pleas for a reduced league of 12, for instance, were not even discussed. National coach Marc Lièvremont was particularly keen on a trimmed Top 14, but LNR president Pierre-Yves Revol said reduction was never on the agenda.
"This competition is one that provides the most revenue," he said, adding that he hoped Top 14 would "enable the league and all clubs to improve their economy, because it remains fragile".
The two headline grabbing changes concern the introduction of salary caps and overseas player quotas, but a deeper look at both suggests creeping change rather than a complete overhaul.
The latter initiative stipulates that clubs in both Top 14 and Pro D2 must have 50% of their squad as 'home-grown' players in 2010/11, with that figure rising to 70% by 2011/12. On first glance those figures sound impressive, but even LNR president Pierre-Yves Revol admitted it "allows the Championship to remain open to the talents of the entire world".
The implementation of such measures – pending legal verification from Brussels – is not as dramatic as the figures might initially appear. When broken down in terms of a 35-man squad, for example, it means that up to 17 players could still be 'foreigners' in 2010/11 – more than an entire team – and even in 2011/12 that number could be as many as10, as the ratios merely apply to squad numbers, and not starting XVs.
Brive, who recently signed England centre Riki Flutey, are currently one of the most multinational squads in Top 14, but CEO Simon Gillham isn't overly worried about the new regulations.
"Our argument is that as long as it is all done in a respectful and legal way then we totally understand that the national team is at the tip – but it's got to be done properly," said Gillham. "Whatever measures are made will be phased in, so we're ok."
And judging by past experience elsewhere he also said the salary cap might be no more than window dressing.
"Everybody finds ways around salary caps," he suggested, although the LNR hopes to counter this by enabling the league's financial watchdog – the DNACG – to deduct points if it uncovers irregularities.
But Gillham is right. Rugby has a history of bypassing financial restrictions, stretching back to the amateur days were players weren't theoretically allowed to get paid at all.
Lucrative 'ambassadorial' roles with major sponsors are certainly one way around it, so it will be fascinating to see what the real impact of such a measure is.
It was a point acknowledged at the meeting by Stade Toulousain's Rene Bouscatel, who voted against every proposal according to La Depeche du Midi. "The truth remains a hidden payroll," he said.
English clubs, in particular, have been crying foul recently, claiming they can't compete with French wages due to the lack of a salary cap, but Gillham pointed out that it is the strength of the Euro that is currently giving Top 14 the edge.
This has been a major attraction to stars from the Southern Hemisphere in recent seasons, but now the focus has also fallen on Britain – due to the falling value of the pound - with the likes of James Haskell, Tom Palmer and Flutey already signed up for Top 14 duty next season.
In reality the quota will not stop top-grade international players from being lured to France, with the LNR accepting that signing players such Byron Kelleher (Stade Toulousain), Dan Carter (at Perpignan), Juan-Martin Hernandez (Stade Francais), Napolioni Nalaga (Clermont Auvergne) and Jerry Collins (Toulon) is good for the game.
What they don't want – and what this new legislation is trying to counter – is a job lot of journeymen or has-beens clogging up the system in preference to emerging French players.
One of the other measures agreed by the LNR – and set to be implemented next season – sees an extended end of season play-off. Currently the top four teams go into a play-off scenario, with first playing fourth and second playing third. The two winners then progress to a final – held at Stade de France – with the winners being deemed Top 14 champions.
But as from next season that play-off system will be expanded to include the top six teams, with those finishing first and second gaining automatic semi-final places, while the other four contest the remaining two slots.
Apart from providing two more games – and the attendant financial rewards they will bring – it's purpose is two-fold: (1) To properly reward the teams finishing in first and second place and (2) to keep the Championship race alive deeper into the season by opening it up to six teams.