Top 14: Hueber and Sackey out as Toulon react; Canal+ get TV rights for
€158.5m
11 May 2011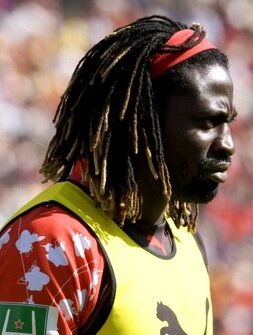 Not Toulon now: Paul Sackey
Photo: Eoin Mundow/Cleva Media
The shockwaves of Toulon's non-qualification for the Top 14 play-offs - and next season's Heineken Cup - are rumbling on.
Multi-millionaire club president Mourad Boudjellal let his feelings be known earlier in the week and two casualties have already been confirmed.
Former England winger Paul Sackey has been released after just one season at the club, while forwards coach Aubin Hueber has also been dismissed.
A club statement said Hueber would remain with Toulon, but would be "assigned to another mission".
Former La Rochelle head coach Serge Milhas has been tipped to replace Hueber following reports that he met Boudjellal and Philippe Saint-André on Tuesday.
The backs will also have a new coach next season with former scrum-half Pierre Mignoni retiring from playing duties to take up the role.
Sackey, who scored six tries in 20 games this season, never really established himself in the Toulon side and now finds himself surplus to requirements. "As he did not satisfy us we have decided to release him," said Boudjellal in a curt statement. There have been rumours in France Sackey may yet end up at Stade Francais.
Toulon have moved swiftly to replace him with Western Force winger David Smith agreeing a two-year deal with the Cote d'Azur club this week. The Samoan has started all 10 games for the Force in this season's Super Rugby, scoring twice. the 25-year-old has previously played for the Hurricanes and the Blues.
Force coach Richard Graham said Smith's departure was understandable. "As our marquee player David was only able to sign for one year at a time and he was upfront with us that there was a longer-term opportunity for him at Toulon," he said.
Graham described Smith as "a quality person" and someone who had "enthusiastically contributed to the club this season".
Gavin Henson will hold talks with Saint-André next week to see if he has earned himself a contract extension. The gaffe-prone centre has been recalled to the Wales squad for their upcoming match against the Barbarians, but only played three games for Toulon this season after joining in February.
During that time he also had a widely publicized bust-up with team-mates in a nightclub, earning him a one-week ban and "last-chance saloon" warning from Saint-André and Boudjellal.
The 29-year-old has not played for Wales since the 2009 Six Nations but is hoping to win selection for the forthcoming World Cup - a tournament at which he has never yet played.
Versatile All Black Ma'a Nonu is reportedly on his way to France next season, with Toulon boss Boudjellal claiming in an interview that the Kiwi had signed for Montpellier. The 28-year-old international, who has 56 caps, currently plays for the Hurricanes and would join Montpellier after the World Cup if Boudjellal is correct.
The player himself, however, has denied even having talks with Montpellier. "I don't know who writes these stories because it's all up in the air," he said.
But Nonu did admit he was considering his options as his contract with the New Zealand Rugby Union expires after the World Cup.
"Maybe you want to sit on the beach in the south of France, or you want to play 40-odd games in the UK, or go to Japan and eat sushi all day. I've played here [New Zealand] a long time. In the next couple of months I'll think about what I want to do," he added.
SU Agen have moved to strengthen their squad after ensuring their Top 14 status following an excellent second half to the season. Among the latest players to sign for them is Bourgoin winger Jean-Francois Coux, 30, who joins fellow new arrivals Marc Giraud (from Montpellier), Pat O'Connor (Waratahs) and John Schwalger (Hurricanes).
Agen have also confirmed that La Rochelle prop Jonathan Garcia, 26, and Bourgoin hooker Julien Janaudy, 21, are on their way.
The French press has additionally claimed that All Black hooker Andrew Hore and Stade Francais' Argentine international Juan-Manuel Leguizamon will sign with Agen in the near future.
Elsewhere, Brive have signed Stade Toulousain hooker Virgil Lacombe, 26, on a one-year deal with the option of another.
Perpignan's Julien Candelon has picked up a six-week ban from ERC following his dangerous tackle on Northampton's Lee Dickson in the Heineken Cup.
The suspension is fairly meaningless as Perpignan are now out of the Heineken Cup and their Top 14 season is also over - although it could count against him in any future disciplinary hearing.
Perpignan president Paul Goze, meanwhile, has lauded new arrival James Hook as one of Europe's top players. Goze spoke after Hook had been presented to the Catalan fans before last weekend's home defeat by Castres.
"For me he is the best player in Europe and, without diminishing the roles of the other players, the midfield triangle of Hook, Maxime Mermoz and David Marty is special," said Goze.
Biarritz's French international Damien Traille has been ruled out of his side's play-off semi-final away to Clermont Auvergne at the weekend. Traille hasn't played since picking up a foot injury in mid-April, and his participation against the defending French champions was considered too risky as he continues to recover.
Stade Francais full-back Hugo Southwell will miss his club's Amlin Challenge Cup final against Harlequins due to a knee injury. Southwell's injury was revealed by Scotland boss Andy Robinson after the head coach named the full-back in a 40-strong World Cup training squad.
Southwell's club colleague James Haskell will decide his future after the ACC final, with the result likely to sway his decision whether to stay at Stade or not. If the Paris club wins then it is guaranteed Heineken Cup rugby next year, but if it losses then Haskell is not short of suitors.
Bayonne, Toulon and Stade Toulousain are among French admirers, while his former club London Wasps now have a back row vacancy following their sacking of Sale-bound Andy Powell. A number of Super 15 sides are also thought to be monitoring the situation.
The Ligue National de Rugby has announced that Canal+ have won the right television rights to Top 14 for the next five years in a deal worth €158.5m, or €31.7m per season.
Elsewhere, relegated Bourgoin have been preparing for their new life in ProD2 by confirming two more signings with Albi lock Thomas Vervoort and Tarbes flanker Christophe André both committing to the ProD2 side.
Vervoort, 24, is the third Albi player to sign for Bourgoin next season, following Benjamin Sore and Pierre Saby to the club.
André, 25, has been signed to play across the back row, and is the seventh new arrival at Bourgoin for next season.
La Rochelle, the other side relegated from Top 14 this season, have signed Bayonne fly-half Sébastien Fauqué, 34, on a two-year deal. They have also signed 20-year-old Argentine Rodriguez Muedra to help plug the gap left by Rémi Tales' departure to Castres.
Fellow ProD2 side Carcassonne have also been busy in the transfer market, confirming four new arrivals for 2011/12 - their second season in ProD2 following promotion as Fédérale 1 champions.
Two of the new signings are Fijians - de rigueur requirements in ProD2 it seems - with centre Isak Katonibau, 27, and sevens specialist Joeli Lutumailagi, 25, both committed. Spanish international David Gugernadze, 28, has also joined from Fédérale 1 side Orthez, while Albi prop Christophe Lafoy, 30, completes the quartet.
The LNR has, meanwhile, confirmed that the ProD2 play-off final will be held at the Stade de la Méditerranée, Béziers, on Sunday May 22. This weekend's semi-finals feature Grenoble v Union Bordeaux-Bègles and SCA Albi v Mont-de-Marsan.
Feel free to share your views, thoughts and opinions on anything to do with French rugby in the frenchrugbyclub.com forum. Did Toulon get what they deserve? Can Montpellier or Castres really go all the way? How will Lyon fare next season? Join in the debate and get those Gallic (or should that be garlic?) juices flowing... Forum